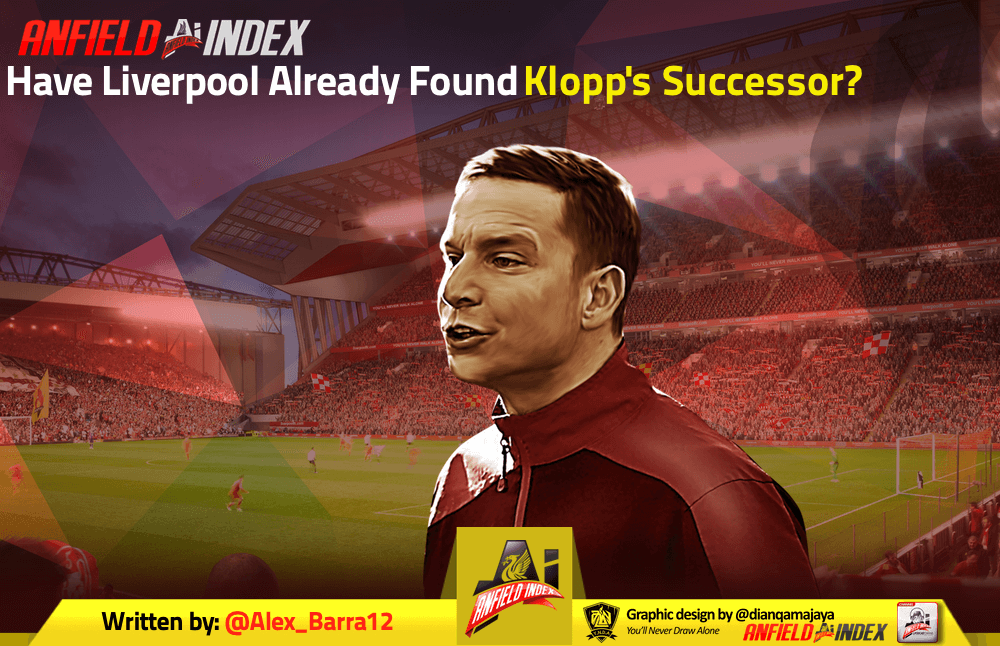 Have Liverpool Already Found Klopp's Successor?
"Our identity is intensity."
They were more than words – a tagline, or perhaps an often-repeatable motto, that anyone would think came from Jürgen Klopp himself.
But no, they came from his second in command, the man seemingly placed in charge of the Reds' Capital One Cup campaign: Pepijn Lijnders.

"All these boys from the city have so much passion and ambition as well. Take the Tottenham game, everybody says we had the most shots on target, we were constantly in the opposition half playing, creating, crossing, tackling, but the difference was made in the 30% we didn't have the ball. That's why we were able to play there, how we were protected and how our concentration was when we lost the ball. Our front three defended six players constantly, for ninety-five minutes. These young boys have to make that step."
It was a remark made in the pre-match press conference that only enhanced the reputation the Dutchman is building: that he is a true Jürgen Klopp acolyte, and that he is best positioned to succeed Liverpool's larger-than-life German when he eventually bows out of Anfield.
It's not difficult to see why that is: the way he speaks about football; with a kind of giddy, childish reverence, mirrors that of his superior, and much of what Klopp has implemented at Liverpool has only come via the new environment fostered by the German, as he turned an entire football club "from doubters to believers." He achieved such a feat by collectivising the idea of the club; no longer was there room for star-studded individuals and their egos to reign supreme, the team was the priority.
It is a mentality seemingly instilled in the players not only from the top man, but his subordinates too.
"If you have players around, players like Millie, Henderson, Lallana, Gini, Virg, Bobby, players who never whine, never complain or excuses in the hardest moments they never give up and never give up our way, they always put the team above themselves, and for a young player you couldn't have a better environment to grow and improve. For us, that's what turns us from a good team into a top team."
Pep said in regard to identifying young players that fit into Liverpool's ethos. It was the same press conference – the day before the Arsenal game – in which he quoted Bill Shankly and spoke of how "it would not be very intelligent" if they didn't utilise the youthful nature of the small squad.
In terms of aesthetic and philosophy, Lijnders has "Liverpool manager" practically tattooed on his face.
Then there's the evidence mounting that he has been a key contributor in Liverpool's good fortunes. It feels so long ago that many were making a fuss over the departure of "the brain" – Klopp's long-time number two Zejlko Buvac. And yet it was only after he left and Pep returned to the fray as Klopp's informal assistant manager that Liverpool's upward path became a steep climb to the pinnacle of European football.
Indeed, Klopp's philosophy that places priority on the collective would suggest that without Lijnders and the other coaches around the first team, such a rise would not have occurred. It's no surprise, then, that Klopp feels he's able to delegate control of a competition he clearly has little interest into the man who is being touted as his eventual replacement.
It could well be that Lijnders won't be ready to take up such a prestigious mantle, and that other Klopp acolytes such as Marco Rose (who played under Klopp at Mainz) or Julien Nageslmann (who cites him as a direct influence) would be more suited than a man whose only managerial job lasted six months.
However, one can only base judgement off of the evidence presented: and it's continually stacking in the Dutchman's favour.
First, there's the fact everything he says could well be taken from the mouth of the bespectacled German himself:
"It doesn't matter who we play against, we will press them high and effectively and we will attack and attack them again"
He said in an interview from 2015.
Compared to Steven Gerrard, whose spell at Rangers has somewhat shown him up to be naïve in a tactical sense, Lijnders has all the tools, while the current success of the Liverpool team can be seen in one very important example.
"Trent always plays there. No. 6. My Ruben Neves. I always put Trent at 6. Why? Because every attack he is the main guy, the pivot, the lighthouse of the team, guiding the rest."
He told Jonathan Northcroft. It turns out that Trent wasn't so much the team's Ruben Neves as its Kevin de Bruyne, yet it goes a long way to showing the influence Pep had on Klopp's project; giving him the confidence to continually select younger players and watch them evolve into Champions League winners.
It's no surprise to anyone then that the chaotic Arsenal game, which Liverpool won on penalties, began with starting eleven containing five players who had played less than 25 senior league games.
There will come a point when Jürgen Klopp is no longer the manager of Liverpool Football Club. And when that day happens, Liverpool might not have to look too far for his successor.