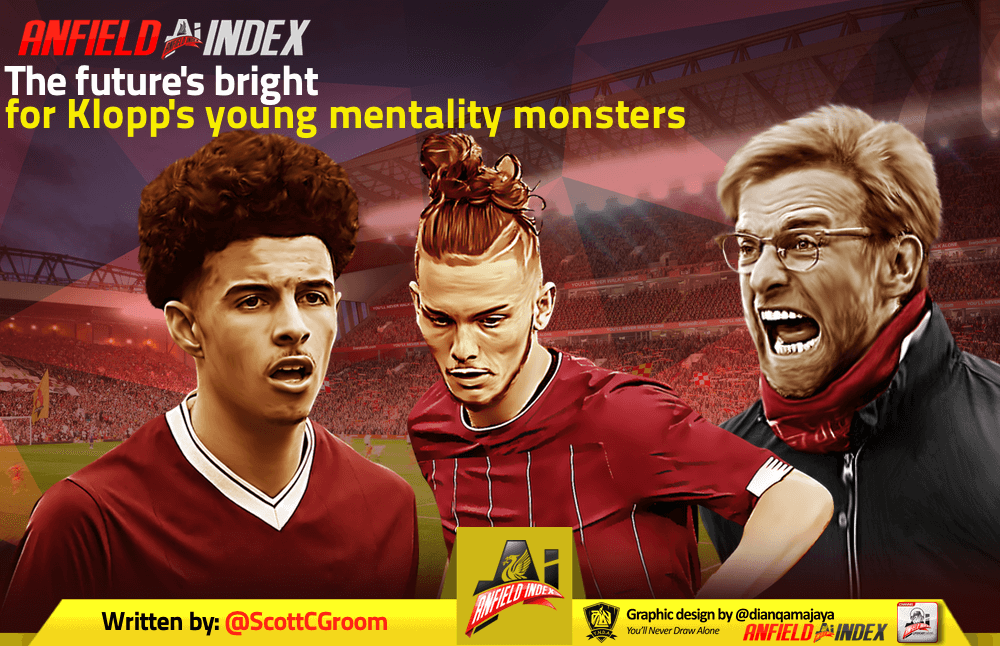 The future's bright for Klopp's young mentality monsters

Different team, same old story.
To say Liverpool's progression to the Carabao Cup quarter-final was a rollercoaster would be a huge understatement after the 5-4 penalty win following a 5-5 draw against Arsenal at Anfield.
It was a night where Klopp placed his faith in youth once more and Liverpool's stars of the future repaid that faith with a vibrant – if a little harem scarem – win.
The Reds lined up with senior players such as Milner, Lallana, Oxlade-Chamberlain, Gomez, and Origi, but still fielded five teenagers.
Two of the youngest of those were the again impressive Harvey Elliott and fellow summer signing Sepp Van Den Berg; both of whom are still well short of their eighteenth birthdays.
And credit where credit is due, they all played their part and stood up in the face of adversity to come back from the brink again and again and again.
Elliott won the penalty for Liverpool's second. Neco Williams was instrumental in providing the assist for Origi's last ditch equaliser. Curtis Jones also came off the bench and looked good, and then scored the winning penalty. Rhian Brewster ran himself into the ground and was a nuisance to the Arsenal defence.
It was wonderful to see the young players enjoying the moment, but perhaps more impressive was the fact that these boys already know how to play Klopp's football.
The intensity, pressing and that never say die attitude being displayed week after week by the first team was again on show with the second string, and that will have pleased Klopp more than anything.
The so-called mentality monsters that grace the Anfield turf on a regular basis will have seen not just shades of themselves, but full colour replica prints in the form of the kids in red as they kept going, dug deep and got their just rewards.
And let us just reflect on the fact that this is, after all, the Carabao Cup. A domestic trophy all the same, but one whose importance is not as apparent as a few other competitions Liverpool are looking to win this season.
In years gone by, even under Klopp's tenure, Liverpool have been all too lack luster in this competition, but not last night despite fielding a significantly changed side.
It shows just how deep and ingrained the changes that Jürgen Klopp has brought about on Merseyside run, that he can rely wholeheartedly on players less than half his age and with little experience to go out and play the way that Liverpool should be playing in Champions League nights at Anfield.
The feeling he has generated around this club since his arrival in 2015 is nothing short of spectacular, and it once again reminds us of his first interview as Liverpool manager when he stated that he wanted to turn doubters into believers.
Klopp hasn't just achieved that with the fans in the stands, but he's bred a mindset into his players that means they just never know when they're beaten, and will never accept that date – even when those players are making their debut at 17-years-old.
It's a miraculous feat in all honesty, and will most likely serve as Klopp's lasting legacy at Anfield. It'll be something that whoever his successor may be and at whatever point they take the helm at Liverpool, it'll be something they need to fully understand and continue because what's going on at Anfield at the moment is pretty special.