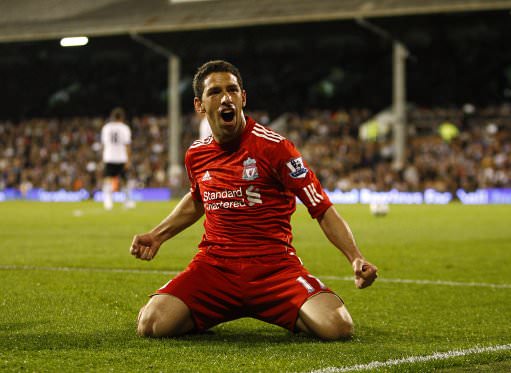 Goals From Midfield Crucial To Success | Liverpool FC Opta Stats
For years under Rafa Benitez and Roy Hodgson Liverpool were accused of being a one-man, and later two-man, team as the goals of Steven Gerrard and Fernando Torres helped the Reds to continue to compete at the top table with only Dirk Kuyt and briefly Yossi Benayoun helping to break their monopoly on the team's goals.
The arrival of Kenny Dalglish as manager, the purchases of Andy Carroll and Luis Suarez, the sale of Fernando Torres and a long-term injury to Steven Gerrard meant that Liverpool could no longer, and didn't want to, rely on two players to win games anymore and it was hoped that under the King there would be an increased emphasis on teamwork and more goals from midfield.
Fans were not disappointed either as Kenny made an almost instant impact on the team's style of play, which was characterised by swift movement, intricate passing and incisive runs from midfield and while Suarez took many of the plaudits after settling in quicker than anyone expected, it was Maxi Rodriguez and Raul Meireles who benefited the most from the new regime.

Under Roy Hodgson Liverpool's midfield was slow, static and was no more of a goal threat than Jamie Carragher and it was only when Hodgson finally left that we saw the best of Maxi and Meireles. The pair played wide in a 4-4-2 but instead of staying on the flanks they would come inside, link with the strikers and continually appear late in the opposition penalty area.
Maxi and Meireles ended the season with 10 goals (3 of those under Hodgson) and 5 goals respectively meaning that in Gerrard's absence the Reds finally had midfielders who could carry the scoring burden and it seemed only logical that this winning formula would continue this season.
Unfortunately for Dalglish, Meireles opted to move to Chelsea on deadline day with the Portuguese midfielder seemingly unhappy that his first-team chances would be limited by the signings of Charlie Adam and Jordan Henderson. Thankfully the services of Maxi were retained, but it appeared the Argentinian was also no longer a guaranteed starter as he found himself benched for the first 11 matches of the season at the expense of new recruit Stewart Downing. The Reds were back to square one as they found themselves with a midfield seemingly incapable of finishing their chances (Charlie Adam is currently the top scorer with 2 goals in 12 games).
While Suarez has taken much of the blame for Liverpool's wastefulness in front of goal, the midfield's shooting statistics so far this season make grim reading for Kopites. Stewart Downing, who impressed many with his sharp shooting for Villa, is yet to score and of his 27 shots this season only 5 have been on target giving him a shot accuracy percentage of 18.51%
Jordan Henderson, who admittedly has never been touted as a goal-scoring midfielder, has one goal to his name so far (a superb effort against Bolton) and 6 of his 12 shots have been on target giving him a very respectable shot accuracy percentage of 50%. But despite those stats Henderson has been guilty of some glaring misses so far (the most memorable against Stoke and Man United) and he does not look set to equal last season's goal tally of the Portuguese midfielder he replaced.
Lucas Leiva of course is not in the side to score goals, which is reflected by the fact he has taken only 6 shots this season, but his regular central midfield partner Charlie Adam is and so far this season he has been Liverpool's main threat coming from deep. Adam often looks to get early shots away and is never afraid to pull the trigger, but he has seen 10 of his 24 attempts blocked so maybe opponents are wising up to him. Either way his 2 goals (3 if you count the deflected effort against Wolves) mean his is the top scoring Liverpool midfielder this season.
So with Suarez carrying much of the scoring burden, Dalglish made the wise decision to bring Maxi and Craig Bellamy into the side for Sunday's game at Stamford Bridge.  Bellamy had started just one league game previously, but had scored in it which meant we finally had another clinical finisher in the side, while Maxi's scoring prowess is known to all after last season's exploits.
Surely enough, on his first start of the season Maxi Rodriguez scored his only shot of the game to give Liverpool a first-half lead and showed what the Reds have been missing out on during all those frustrating draws.  As well as scoring, the re-introduction of Maxi meant that a greater number of Red shirts were getting into the box as the gap between midfield and attack got drastically smaller than fans have been used to this season.
If Dalglish is committed to playing pass and move then it would make sense to play players on the flanks who instead of looking to go down the line, look to come off it and score goals. Players such as Downing and Henderson still fit into this, it just means a slight change in position or role (Downing would be better on the right, while Henderson needs more freedom to break forward than he has been given so far). For the moment though, Maxi Rodriguez is the sharp-shooting midfielder that Liverpool cannot do without if they are to ease the pressure on Suarez, take the numerous chances the team creates and ultimately see off the likes of Sunderland, Norwich and Swansea who have all escaped from Anfield with a point this season. It is obvious that only with Rodriguez in the team can Liverpool Maxi-mise their scoring potential.
Thanks to Guardian Chalkboards and EPLIndex Stats Centre for the Opta Stats and diagrams used in this article.
You can follow me on Twitter @MattKenny89