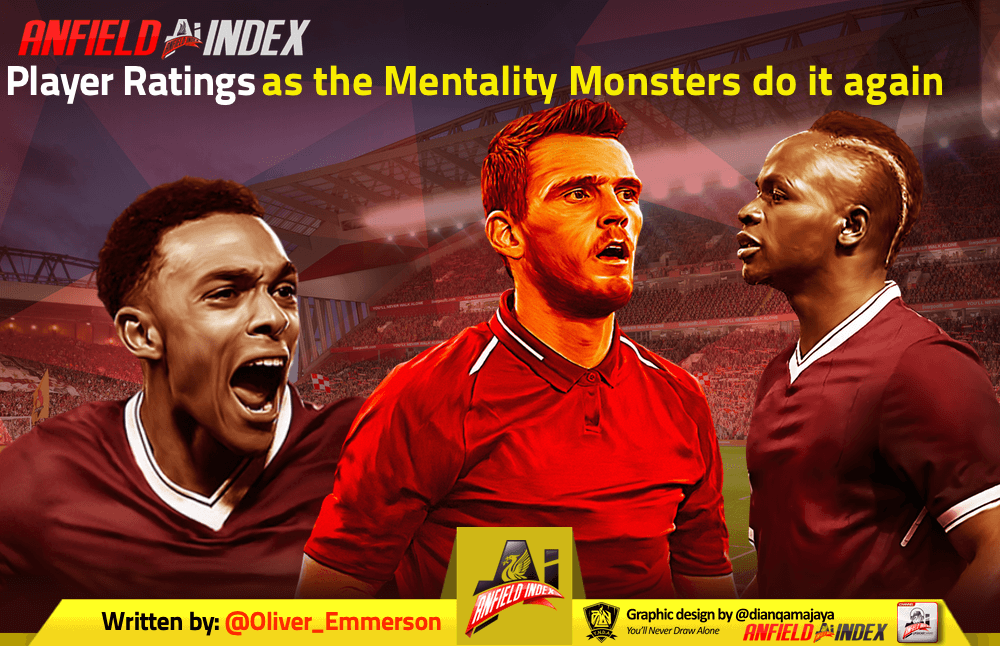 Player Ratings as the Mentality Monsters do it again
Fuckin' hell, what a team. Another one pulled out of our arses, at the death, as it looked like everything was going against us.
As far as I'm concerned, Martin Atkinson is the worst referee in the world and Klopp needs to start getting into the media's ear, Fergie style, regarding him.
Firmino should have a goal, we should probably have a penalty, it didn't need to be that hard. Fair play to Kloppo, ballsy as anything to take Salah off in that situation and it came up trumps.

Let's hand out some ratings.
Trent dazzles again
Alisson (7): Really good performance from the 'keeper. Their goal comes at him so fast it'd have been an incredible save, and his superb sweeping kept Villa out on more than one occasion to keep Liverpool in it at 1-0.
Trent Alexander-Arnold (7): Lovely deliver for the corner at the end, I was convinced he was bagging the free-kick that preceded it but I guess a match-winning assist will do. 16 assists in his last 31 league games is insane.
Dejan Lovren (6): Not sure, really. Got bullied by Wesley at times, then again who wouldn't. The bloke is literally twice everyone's size. Nothing hideous but with City round the corner I can't rest easy.
Virgil van Dijk (7): Some of his passes today were absolutely sumptuous. Huge fan of him giving some to the home fans when we bagged the winner too, nice bit of needle.
Andy Robertson (8): He runs. He runs. He buries the header. It's 1-1. He's still running. Wheeling away, some would say. Running back to position ready to start again. Running up. Running down. Suddenly it's 2-1.
Lallana as the six not so sexy
Adam Lallana (5): Can't actually believe Klopp did it in a league game hahahah. You know we're trying to win these matches, Jurg? Lallana tried his best but genuinely has the defensive intelligence of a frog.
Jordan Henderson (6): Was alright. His crossing really upsets me.
Gini Wijnaldum (6): Covered for Lallana well at times, little else. Deservedly hooked after a low-key performance.
Sadioooooo… MANÉ!
Mohamed Salah (5): Snatched at his chances, an off day. Still, Klopp took him off! At 1-0 down? Bonkers.
Roberto Firmino (7): Easy to say he was quiet but we forget, if he trimmed his armpit hair this morning he scores the equaliser in a fairly comfortable 4-1 win. Mad that the Premier League actually tweeted an excuse for the shambolic decision, madder it was 'his armpit was offside'. Surely you can't score with your armpit, as the ball is so big it would logically hit your arm? Christ.
Sadio Mané (9): Does everything he can to drag Liverpool back into the match, superb cross for Robertson and then an outrageous header to win the match. Get him on that Balon d'Or podium with Virgil.
Honourable mentions
Alex Oxlade-Chamberlain (7): I don't always do the subs on here, Ox deserves a rating today though. Drove at the Villa defence time and time again, won a free-kick in a really good position, got decent shots off. Absolute weapon off the bench.
Divock Origi (6): Probably offended someone else dared to score a stoppage time goal.
Naby Keita (N/A): Another comeback with Keita on the pitch, you say?