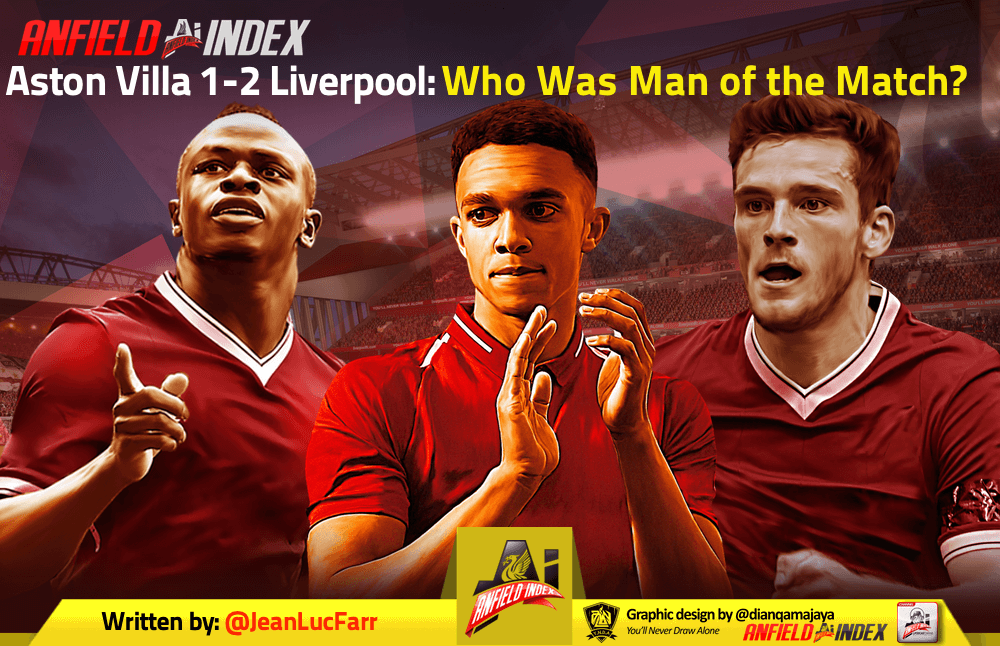 Aston Villa 1-2 Liverpool: Who Was Man of the Match?
I'll be honest with you all – I turned my Chinese stream off a couple of minutes before Robertson's equaliser. I didn't think it was worth the constant flicking between grainy, lag-ridden pictures just to see us lose. How wrong I was. This team just never gives up and despite Jon Moss and Martin Atkinson's best efforts, the Reds find a way to dig out yet another win. It wasn't the best of performances, but let's have a look at how Jurgen's handsome group of mentality monsters got on individually. Do forgive me if you find any errors in my analysis. As I just mentioned, the streaming wasn't particularly successful today.
Alisson had very little to do, as I feel I say every week. He couldn't do much about the goal and his most significant involvement was when he showed great awareness to cut out a dangerous looking through ball, which had the potential to see a Villa man get in one-on-one.
The defence was a little bit shaky early on and allowed Wesley to have a free header from around ten yards out. Not long after, we were behind from a wide free kick after, for what feels like the first time in years, our high line didn't catch the correct person offside. Other than those two instances, Villa didn't create a whole lot and it was a rather quiet afternoon for them. Despite Wesley's aerial prowess, he rarely got the better of van Dijk or Lovren. Going forward, our fullbacks struggled to get much going with a lot of hopeful crosses being swung with, what felt like, a lack of thought. Having said that, both Andy Robertson and Trent Alexander-Arnold played instrumental parts in the two goals. For the equaliser, the Scotsman sprints towards a Sadio Mané cross to the back post and thunders a header past Tom Heaton. For the winner, Trent creates another massive goal from a corner as Mané glances his near-post-delivery into the far corner.

The midfield was always going to be an issue today with Fabinho predictably left out due to his yellow card tally. Lallana started deepest with Henderson and Wijnaldum in front of him. While that trio were not the best, it was a case of just getting through the game with the three points, knowing that we are very unlikely to see that setup again anytime soon. Henderson and Wijnaldum continued their pretty poor form and Lallana just quite simply should never be seen in holding midfield. I will let them off today, though, as it was an unorthodox three, to say the least.
Our main men up top were not at their best. All three struggled with their touches and decision-making and, unfortunately, with the midfield that took to the pitch, they were the only real candidates to get us a goal. Salah came off after an hour, probably still feeling the effects of the ankle injury. Firmino should have had a goal but it was bizarrely ruled out for offside despite the VAR camera appearing to show the Brazilian in a clear onside position when the ball was played. Aside from that, it was not a great showing from our Bobby. Much like Salah and Firmino, Mané had a difficult game for the most part. This was made even worse after, instead of being awarded a penalty for being trodden on in the box, he was booked for diving. He didn't let it get to him, though. As usual, he kept fighting right until the end and turned the game on its head, which is why he is my Man of the Match. Despite very little coming off for him in the first 85 minutes, he leaves the pitch with a goal and an assist, single-handedly keeping us 6 points clear at the top of the Premier League. He floats a cross into the back post with his weak foot which Robertson dispatches to get us level. In the 94th minute, he makes his trademark dart to the front post from a corner and delicately clips the ball into the far bottom corner off the top of his head and sends the Liverpool fans into delirium. The ultimate clutch player.