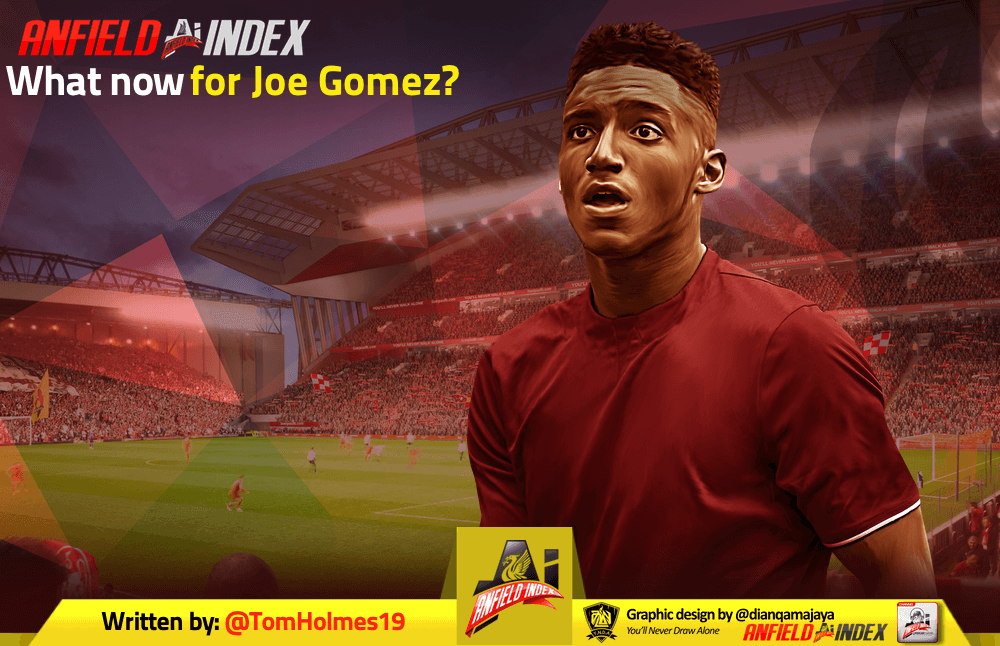 What now for Joe Gomez?

It seems very strange to say now, but it's been nearly a year since Joe Gomez was Liverpool's first choice centre-back.
The 22-year-old had well and truly established himself as Virgil Van Dijk's partner by this time last season, and he started 12 of Liverpool's first 15 Premier League games last season, as well as four of the Reds' five Champions League group stage matches.
He was still being used rotationally as a right-back to rest Trent Alexander-Arnold, but there was no doubt that he was the main option at centre-back alongside Virgil Van Dijk.
And you all know what happened next. He needed ankle surgery following a serious injury against Burnley on 5th December, he was out for over four months, and when he returned, he was faced with the prospect of a resurgent Joël Matip ahead of him.
Gomez's return was slow but steady, starting him at right-back against Barcelona at the Nou Camp was an error of judgement from Klopp, and he played only 12 minutes in the Premier League last season after his return from injury.
Moreover, I don't think anyone would begrudge Matip his first choice status. The Cameroonian was absolutely outstanding in the back half of the 18-19 season and contributed significantly to Liverpool's Champions League win – he was my man of the match in the final.
Nevertheless, it's been an incredibly frustrating start to the season for Gomez. Matip's niggle meant that he started on the opening day of the season against Norwich, but he's played only six Premier League minutes since then.
And despite being used in cup competitions – the Community Shield, Super Cup and Carabao Cup – his only other start was against RB Salzburg at Anfield in the Champions League.
It would be wrong to single out this performance, but the simple fact is that Gomez has gone backwards this season, and is now below Dejan Lovren in the Liverpool pecking order.
Lovren, who has been seen by many as nothing more than a fourth choice CB at this point, was expected to leave in the summer, but ended up staying at Anfield.
And he has now started three of Liverpool's last four league games, as well as their Champions League tie against Genk, with Matip injured and expected to be for a few more weeks.
Lovren is expected to keep deputising and it was very telling that he was considered too important to be risked in the 5-5 Carabao draw with Arsenal, whilst Gomez played the 90 minutes.
It's a tricky situation. Most Liverpool fans will want to see Gomez playing and certainly most will want him in the team ahead of Lovren, who is error-prone at the best of times.
It's very telling that Liverpool's sloppier defensive record this season, conceding in nine of their 11 league games and just three clean sheets in all competitions, has been down to the fact that Matip and Alisson have been on the pitch together for only 90 minutes, against Manchester United.
But Gomez has struggled this season, and when given opportunities to demonstrate he's back to his best, he simply hasn't taken them.
He was okay against a decent Norwich attack on the opening day, but didn't play well enough to oust Matip that day.
Since then, Liverpool have conceded ten goals in the four games he's played at centre-back, including three against Salzburg and five against Arsenal.
And whilst it would be extremely unfair to blame that on Gomez, especially the latter game where he was playing alongside two teenagers and had James Milner at left-back, it is fair to point out that Gomez was very poor in both matches.
So the question for Klopp is a difficult one. Gomez is undoubtedly more talented than Lovren, and given time will certainly be an excellent all-round defender.
But how does Gomez move forwards from here? Klopp doesn't believe he can risk him in big games in his current form, and is preferring the experienced Lovren.
But the only way Gomez is going to improve and work his way back into the side is by getting a string of performances under his belt.
It might be that it needs Lovren to pick up another injury for Gomez to get his chance, or he might have to wait until Liverpool's hectic December schedule gives him more opportunities.
But with the makeup of the side the way that it is at the moment, whilst it's easy to see Gomez getting opportunities to play games, it's very hard to see him getting a prolonged run at centre-back in the Premier League, which is arguably what he needs to re-find the form that made him Van Dijk's best defensive partner before Christmas last year.
In short, it could be a frustrating few months for Joe Gomez, unless he's able to get a real stroke of luck, or find a way to prove to Klopp that he's ready to be put back in the spotlight.