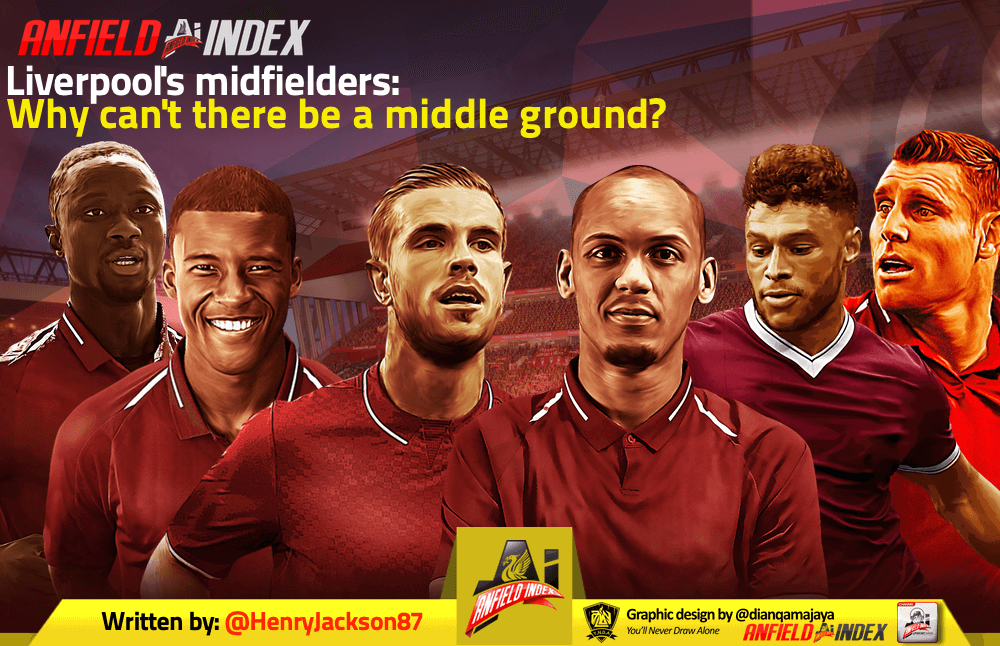 Liverpool's midfielders: Why can't there be a middle ground?
Liverpool's midfield options have so often been lacking, but that has now changed.
There have been times during the respective reigns of every Reds manager during the Premier League era when depth in the middle of the park has been a serious issue.
For the first time in what feels like an eternity, however, Jurgen Klopp has assembled a formidable group of midfielders capable of dovetailing with one another and allowing the German to rotate effectively.

Fabinho, Jordan Henderson, Gini Wijnaldum, James Milner, Naby Keita, Alex Oxlade-Chamberlain and Adam Lallana – when you look at it, it's very impressive.
It is group of footballers full of experience and quality, who all bring different attributes to the side, all playing their part in what is arguably Liverpool's greatest team of all time.
Yet people still aren't happy.
In fact, talk of the Reds' midfield has become one of the most tedious topics – apologies for this article – mainly because of the various agendas on show from supporters.
Instead of embracing this excellent bunch and appreciating their importance, a negative stance is being taken by fans, pairing players off against each other and waiting to slaughter those they don't rate.
Barring Fabinho, who is adored by the masses – Oxlade-Chamberlain is also Mr Popular at the moment, and rightly so – fans are incapable of finding a middle ground with the rest, going to ridiculous extremes every time.
There is no better individual to start with than Henderson, who remains so divisive that there were probably some who were unhappy about the way he lifted the Champions League trophy in Madrid.
It is staggering the level of vitriol that comes Henderson's way when he puts in a below-par performance – it is almost hilariously biased and over-the-top, as has been the norm throughout his career.
The skipper is in a poor run of form at the minute – there is no question about that – but while others will be afforded the luxury of being excused for experiencing a dip, Henderson is given no such breathing space.
On the flip side, however, there are those who are incapable of ever laying into the 29-year-old, staying quiet when he under-performs and failing to acknowledge that his lack of guile can be problematic.
Is he given a free ride by some because is he an English player who gives his all? Absolutely. On the flip side, however, he will also never earn any praise from some for exactly the same reasons.
Keita is the other Liverpool midfielder dividing opinion the most at the moment – like Henderson, it is baffling how supporters can't meet somewhere in the middle.
A section of the fanbase continue to treat him like a genius who will eventually be a superstar on Anfield, refusing to accept that he isn't meeting the unrivalled expectations of him when he arrived.
The overreaction to a good-but-far-from-excellent cameo at Man United summed it up, with some waxing lyrical over a simple pass to Andy Robertson like it was Steven Gerrard's to Daniel Sturridge at Fulham back in 2014.
Keita isn't without naysayers, though.
His performances for Liverpool have been good at times, including on Tuesday against Genk, and it is clear that he is hugely gifted footballer.
Injuries have robbed him of any kind of rhythm and he has shown in several cameos this season that he can bring creativity and poise to this team.
To be expressing concern about him not kicking on is fine, but writing him off is ludicrous and dripping with agenda-fulled nonsense.
The rest of the midfielders may not be quite as polarising as Henderson and Keita, but there is still no question that many of them are either cherished or loathed at times.
Wijnaldum is probably the closest to Fabinho when it comes to having the biggest legion of admirers, but he still has detractors.
There are occasions when he manages to avoid flak despite being completely invisible, but similarly, his subtle excellence will also be ignored by those who expect every midfielder to be a rampaging tour de force like Gerrard.
Milner is as unfashionable as they come, which will mean some will never warm to him – he's not foreign, exotic and someone you sign on Football Manager – while Lallana is not earning an ounce of praise for some encouraging recent displays, but also avoids negativity when it is merited, most notably for a lack of substance in the last few years.
The truth with all these of players is that they are good footballers playing for possibly the best team in Europe.
Frankly, you cannot be a poor or even average and be able to hold your own in this side – Klopp would simply get rid of you and move on.
There seems to be a concerted effort to have extreme views about everything in the modern game, when in fact we should be applauding Liverpool's most imposing set of midfielders this century.
They are all different players, and while some have higher ceilings than others, they would all walk into many teams.
We all have our favourites, which is only natural, but let's enjoy these midfielders in a rational manner, rather than either overrating or underrating them in equal measure.