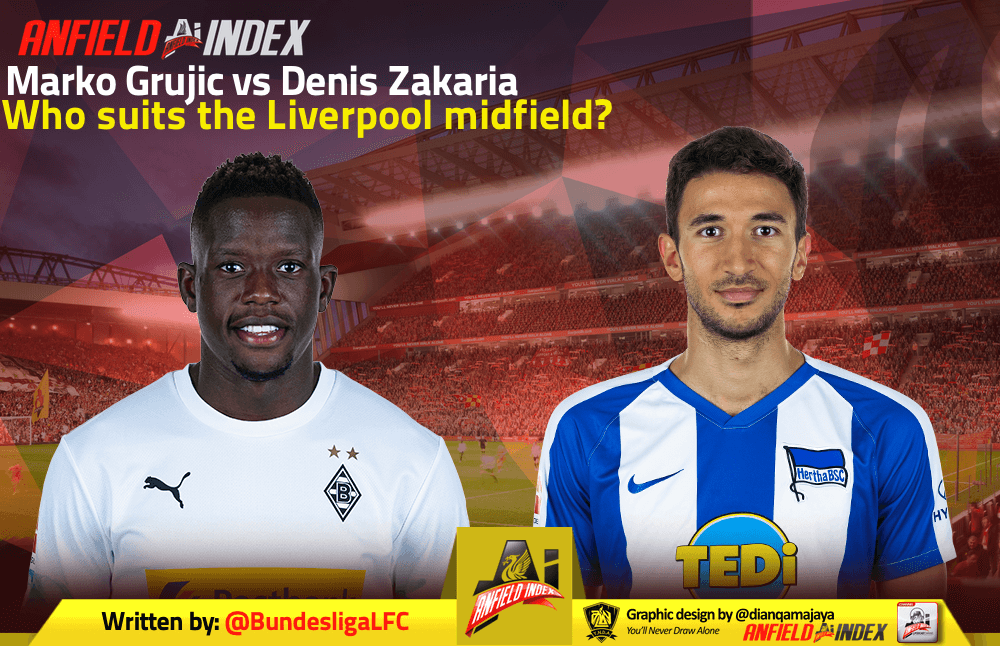 Marko Grujic vs Denis Zakaria - who suits the Liverpool midfield?
Liverpool's midfield is a divisive topic, but one thing most fans can agree on is that reinforcements will soon be needed. Jordan Henderson is 30 at the end of the current campaign, Gini Wijnaldum turns 29 this month, James Milner is 34 in January and Adam Lallana is 32 in May. 
Of the current crop of midfielders, only Alex Oxlade-Chamberlain, Fabinho and Naby Keita are closer to 25 than they are 30, and two of those have had injury troubles. 
Given those who patrol the middle third for the Reds get through a lot of mileage, Jurgen Klopp needs a reliable supply line all while ensuring those at his disposal aren't overloaded. 

Links to midfielders are already being reported by the press. German tabloid BILD claimed Liverpool, along with Spurs and Manchester United, had an interest in Borussia Mönchengladbach's Denis Zakaria. 
The 22-year-old has caught the eye for Marco Rose's men in the Bundesliga this term and was the subject of a £20million bid from Borussia Dortmund in the summer of 2018. The report goes on to say the Bundesliga leaders want close to £45million for the former Basel midfielder. 
Such a fee would make him the club's most expensive export ever, surpassing the £35million they banked when they sold Granit Xhaka to Arsenal in 2016. 
The Switzerland international has looked the part in Rose's new-look Gladbach side and there's potential there for him to develop into one of the better box-to-box midfielders in world football. 
He's already been linked to Paul Pogba as well as Arsenal legend Patrick Vieira. 
"I've been compared to [Patrick] Vieira and [Paul] Pogba – two more players I really respect and, in a way, see as role models. When I watch videos of them I think I'd like to play that way," Zakaria said last season.
"I love to win back possession and I also like carrying the ball and taking on opposition players, but I need to be more efficient, score and assist more goals and improve in the air. I've proved myself to be a quick learner, though, and I'm in the best place to learn fast." 
The traits are there, as is the desire to improve. He appears to tick a lot of boxes and could flourish in Liverpool's team. But the £44million fee would mean Zakaria cost more than Fabinho, for example. It's still a significant outlay, even in the post-Neymar to Paris Saint-Germain world. 
Do the Premier League leaders need to be throwing such money around when they already have a midfielder on their books who is bossing the Bundesliga in Marko Grujic? 
Into his second season with Hertha Berlin, the Serbia international continues to impress in the German capital. Still only 23, former Hertha manager Pal Dardai claimed the Red Star Belgrade academy graduate was 'by far the best midfielder" he's seen during his time at the club – and he's been involved with the German side since 1997. 
Liverpool reportedly wanted €40million for the powerhouse box-to-box midfielder during the summer before eventually agreeing to send him back to Hertha on loan for a further 12 months. The fact the Reds didn't sell him suggests the club may have long-term plans for him if he develops as they hope. 
While his stats suggest he isn't as busy as Zakaria, it is worth noting the two play in different systems and, arguably, different roles. 
Since the start of the Bundesliga season, the Gladbach man has racked up 1.43 interceptions, 1.29 successful tackles per 90 and over eight ball recoveries on a per 90 basis. He's averaging 33 passes with 34% of those going forward. Not only is he a ball winner, he's progressive in his play, too. 
Grujic is averaging fewer tackles, fewer ball recoveries and fewer interceptions. But, as mentioned previously, he's being deployed in a different system. Rose's Gladbach side thrive in chaotic situations. Transitional styles of play tend to result in more opportunities to win back possession. 
However, the on-loan Liverpool man does appear to be more of a goal threat. He's averaging more passes and playing a higher percentage forward. His open-play expected goals average is 0.27, up on Zakaria's 0.16, and his open-play expected assists is slightly higher than the Gladbach No.8. 
There's no guarantee that any signing will be a success but Zakaria comes with a £40million risk while Grujic has a £5million risk attached. Michael Edwards and the recruitment team always do their due diligence before making a move so whatever decision they go with needs to be trusted. While the Gladbach man is an exciting talent, it'd be a surprise to see him calling Anfield home any time soon.