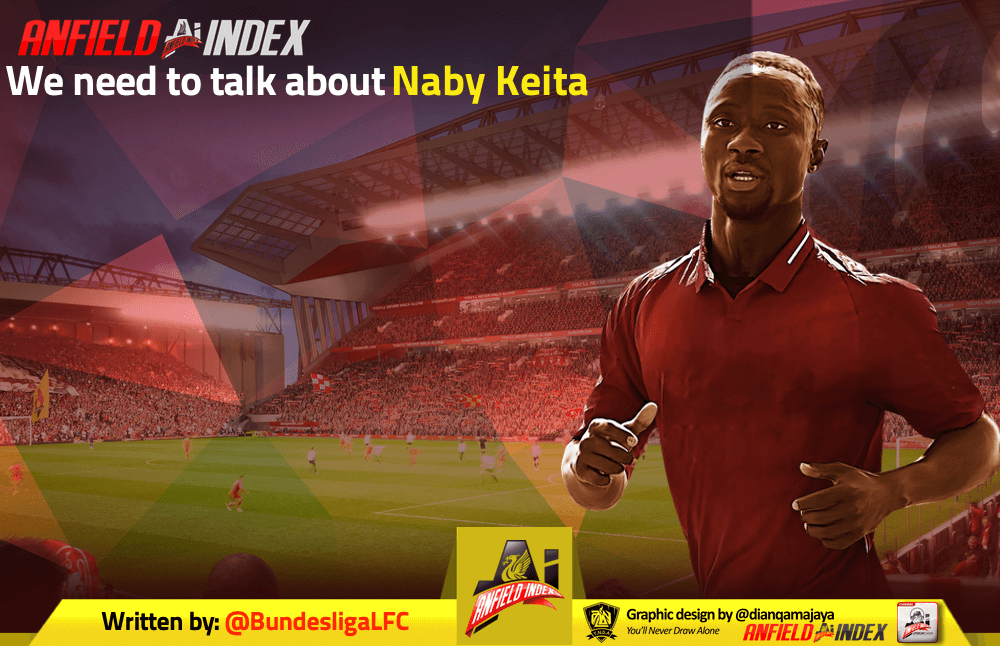 We need to talk about Naby Keita
Naby Keita is the latest in a long line of players to divide opinion at Liverpool. He's a victim of hype others created for him and there's no escaping that. The deal to bring him to Anfield was unique in the sense fans has to wait an entire year to see him turn out for the club. The recruitment team, namely Ian Graham, saw his value and convinced those he had to that Liverpool needed this player. That not only was he worth the £50million but he was worth waiting 12 months for.
As explained in the New York Times feature, Keita piqued the interest of Graham because of the data he was generating. At the time, he was turning out as a defensive midfielder for Red Bull Salzburg for periods before being deployed as an attacking midfielder. That, in itself, is unique. But what really caught the eye was his desire to get the ball into more dangerous areas. It sounds simplistic but in a world dominated by 90% pass success rates, having not only the vision to attempt riskier passes but the ability to execute it was rare.
Keita eventually moved to RB Leipzig and continued to impress. It was with the Bundesliga side that he started to generate more mainstream attention. He scored the odd worldie, ones that make it onto YouTube compilations, but generally, he was used in a midfield two with the sole aim being to act as the spark. The German side thrived in chaos, the ultimate counter-attacking side, and Keita was key to their transitional moments. With it being a more end-to-end game, he had more opportunities to slalom past opponents. And this is what Liverpool fans witnessed in those highlight videos they watched for an entire year.

So when he arrived, people expected to see that player. Despite the fact Liverpool didn't play in a similar style. Furthermore, they didn't even use the same system as RB Leipzig, but expectations didn't change.
He started off well against West Ham United but with the Reds having a difficult group of games, Keita's games were tweaked. Instead of running riot, he was tasked with helping Liverpool control games. And he did. As detailed in a thread by Stephen Drennan on Twitter, the Reds conceded just three open-play goals in the 16 games Keita started last season. And it's worth remembering that he started against Chelsea, Spurs, Man City and Manchester United.
Injury has stalled his career at Anfield. The frustration of seeing him hobble off time and time again has resulted in him being harshly criticised. It's clouding their judgement of him.
He's being called out by fans for not scoring 30-yard screamers even though that wasn't ever his job. He's perceived as slow because of his languid style and his slight frame has lead to some claiming he is too lightweight to cope with the rigours of English football.
The truth is, he's actually performing well when on the pitch. For starters, he's completing 70% of his dribbles and his ball-carrying ability created Liverpool's opener against Genk at Anfield. He's won 85% of his tackles this season and he is, on average, making ten ball recoveries on a per 90 minute basis.
Stats don't ever tell the whole story but those three alone shone a number of things. Firstly, he's dribbling which is a nice addition to the Liverpool midfield. Not only that though, he's completing a high number of them. Keita has attempted fewer tackles than Fabinho but he's won a higher percentage of them. So he does get about the pitch and he's diligent in his defensive work. The ball recoveries stat is even more impressive when you consider two of his three starts this season have come against Genk in games the Reds have dominated. The fact he's so quick to reclaim possession feeds into Liverpool's superiority.
Keita had adapted his game to fit in with Liverpool. He's taking fewer risks than he did while in Germany but he's still got that side to his game and it's what differentiates him from others in that middle third.
He plays more passes in the opposition's half and he's averaging over 30 per cent of them forward. So he's still attempting more progressive passes. He's still getting the Reds into dangerous areas but he's doing so in a manner that sees Liverpool retain possession. It's actually admirable how the 24-year-old has managed to be as creative as he is while averaging a 94% pass success rate.
Against Genk he played a pass to Mohamed Salah that didn't seem possible, he should've had an assist after playing in Divock Origi and he found James Milner in the penalty area with a deft chip. All risky passes. All successfully completed.
Fans need to accept that he isn't Alex Oxlade-Chamberlain and he isn't going to be scoring goal of the month contenders on a weekly basis. What he does, however, is allows the former Arsenal man and Gini Wijnaldum the license to get forward and impact the final third because, alongside Fabinho, he has the middle third on lock.