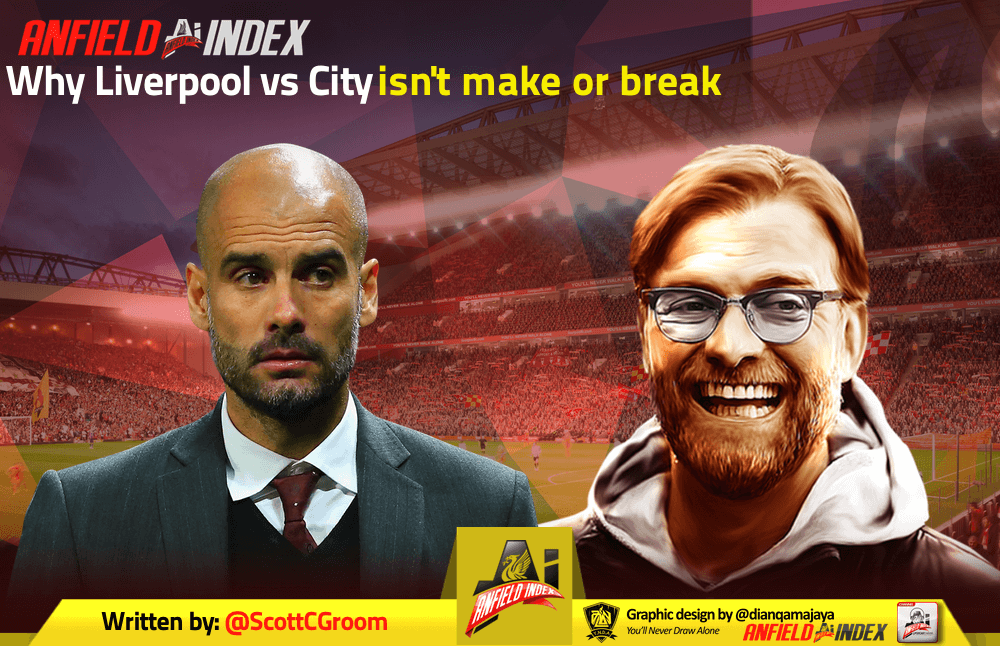 Why Liverpool vs City isn't make or break

The hype around Sunday afternoon at Anfield has started to reach a fever pitch.
It's easily the most anticipated game of the season as Klopp's table-topping Liverpool welcome Guardiola's defending champions Manchester City.
The mind games have started, the fans are gearing up for creating an raucous atmosphere and the scene is well and truly set.
It is without doubt a huge game and one that could have a big impact on the fortunes of both clubs going forward – both in the short and long term.
Obviously a win for Liverpool sees them stretch their early season lead to a favourable nine points which at such an early stage of the season would set them up perfectly heading towards the busy winter period.
However to suggest that this lead would be insurmountable is, as Liverpool fans should know better than others, naive.
Cast your mind back to the 2013/14 season, when Liverpool had what seemed to be one hand on the title with a seven point advantage for the title to be prised out of Brendan Rodgers' side's grasp – by none other than Manchester City.
The Liverpool side of then and now are quite clearly very different in terms of personnel and mentality, but it should serve as a warning to the current crop.
Combine all of the elements and you'll see why, after almost a third of the season, the title race will be far from over if Liverpool win:
It's the Premier League – the most unpredictable and crazy league on the planet.
It'd be quite the feat for Liverpool to go on for the rest of the season without registering a loss or dropping more points, allowing City to gain ground.
So yes, it's a massive step in the right direction and one that every Liverpool fan craves, but we all know that we shouldn't get too carried away with a win.
Likewise, if the worst should happen and City should leave Anfield with three points, this too would not signal the end of the title race for Liverpool.
And this is for all of the same reasons as above.
Liverpool's strong start to the season and their current six point cushion means that, if we're being honest, a loss could potentially be soaked up.
True, it's not ideal, but this would still leave the Reds clear by three points. We'd all have taken that at the start of the season, wouldn't we?
And that point that I made about this Liverpool earlier on being mentally stronger than that 2013/14?
Just look at the strength of these mentality monsters. Last minute winners. Never knowing when we're beaten.
This mentality won't be halted by a disappointed result against City.
Then there's the fact that the league is so unpredictable, and teams like Norwich are capable of doing the surprising – like beating City.
So what's stopping Liverpool from taking advantage of any slip ups that City could make?
The long and short of it is that yes, Sunday is going to be a great spectacle, it's exciting and the possibility of going nine points clear is a tantilising prospect.
But should it go City's way, it's not the end of the world is it? It'd be a set back, but nothing more than that.
This side is better than to let that affect them.