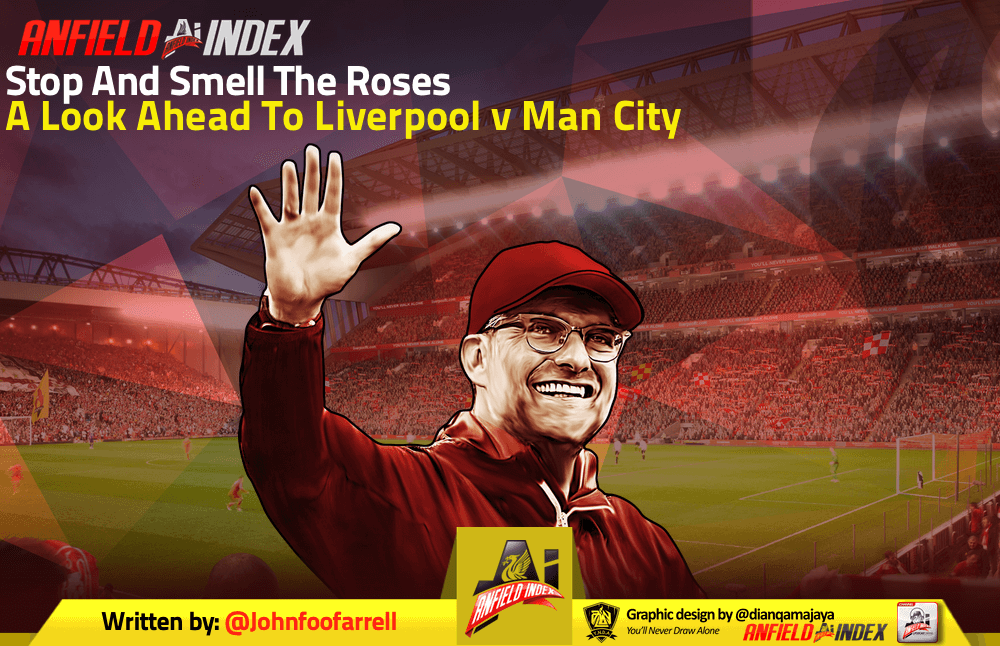 Stop And Smell The Roses - A Look Ahead To Liverpool v Man City
Here we are, on the precipice of the most important match ever in the history of football since 1992, the dawn of time (historical accuracy brought to you by Sky Sports, Sky Bet and Gary Neville's pompous sense of self-importance)……. AND IT'S LIVE.
The Reds, a crack commando unit, sent to play two games within 24 hours on two separate continents for a crime Sadio Mane didn't commit. These men promptly escaped from a maximum-security two fixture prison by "lashing a load of kids at it". Today, still wanted by New Balance, they survive as soldiers of fortune.
If you have a problem if no one else can help, and if you can find them, maybe you can hire Big Jürgen and/or Alex Inglethorpe's "anti-ageist keeping-everyone-happy multi-continental-breakfast" Reds.

Before the claws of this punishment fully take swipe, the Reds go into the early-November Premier League final decider, against City, unbeaten. They carry the swagger of a lad who had a nasty school report in the post but somehow happened to be on the other side of the letterbox when it was delivered. But they are going to be caught eventually, aren't they? That's what you want. Be honest.
There are queues of people shouting the odds, ready to tell you why it's all falling apart for Liverpool. "Can't put a game to bed," "Salah isn't the same," "no clean sheets," "Lovren starting," "Lallana," "the midfield lack creativity." There's an underlying stink in the house, and you're hoping it leaves with your granny but you're worried it could be in the walls now and that's going to take a chunk out of the selling price, isn't it?!
(Let's say the house price is a metaphor for the Premier League title….? And "clean sheets" plays the part of its namesake.)
Teams have watched Liverpool develop a style of play since Klopp arrived in 2015. Over that nearly four or so years, the team have continually grown in terms of success on and off the pitch. And with that, comes attention.
The magnifying glass is well and truly on the Reds, everybody and their granny wants the blueprint. Managers, coaching staff, scouts across Europe, are following every detail available to get an insight to how we are so successful without spending the kind money of a Man City, PSG, Real Madrid or Barcelona shovel out year on year. As Sadio said, Liverpool are "the sexy club".
With that in mind, is it such a leap that teams are coming to town more prepared? Teams come to Anfield to play a cup final. The managers come knowing a scraped victory is the mastermind moment that could boost their career. The players come knowing they are on TV's main event, globally, with the word "SUPER" slapped on. WOW. The shop window is open. You want to beat the best, and that is now Liverpool's identity, on TV every week, everywhere. Come take a shot if you think you're good enough. You're watching the 2019 version of TV's Gladiators.
(Interesting side-note: Wolf from Gladiators' real surname is Van Wijk. Read into that what you will.)
Of course, the Reds don't have the money some of the clubs across Europe can throw about, but they do have those lovely bits and bobs you are not guaranteed to pick up through a hefty oil-funded fee.
Liverpool have raging-fire intensity. Bucket loads. More than you. Lads that can run all day. "Catch the bacon" Hall of Famers. Lads that put you off making a return to the gym. Hand reaching down to your hammy, wry expression, shaking your head. "Nah….it's gone."
But it's not enough, not every team wants to dance with us naively to step we dictate. They start aggressively wiggling and thrusting only to realise that we will wiggle and thrust harder and faster and throw in a mad step they haven't seen before to make a show of them in front of their bird and everyone's watching.
Some coaches watch 1 hour and 57 minutes of Greek giddiness and decide the formation will be a concrete 4-6-0, lovingly referred to as a "Spartan Phalanx".
The major improvement though is our ability to pick apart teams who sit back and try to recreate that infamous ancient football killer. Patience is the main proclamation Klopp champions when speaking about these situations. Liverpool under his reign have had the foundation of patient passing side to side, drawing out the defenders, but the issue was getting through the wall of bodies. Very much like the wonderfully resplendent Xerxes, the reds would batter the opposition senseless. Sadly, in Liverpool's case, there is a final whistle involved. Those would-be Spartans in some cases would be saved by the bell.
Klopp has figured out how to toy with these teams. To build the pressure, wave after wave. Prodding and poking, exposing opponents to moments of weakness and having his team set to rapidly capitalise. It is no longer a case of how it is when. And this calm confidence is now visible in the dying minutes of these painful affairs.
I struggle to agree with the narrative that runs something like, "we should be beating these teams 5 or 6 nil." Especially, when you consider the ridiculous football calendar, the amount of games Liverpool play (because they are winning), the percentage of the team who are internationals, the small matter of every team treating a game against Liverpool as a cup final and the painful realisation that these legendary architects of poetry in motion are actually human. All that added to the amount of attention and scrutiny on the team now. Case in point, "dribbled by Van Dijk" stats. One should wonder how we are lucky enough to witness this team continually getting results.
At this point, the team's current standing when looked at beside the football calendar, financial doping, broken VAR use as well as maximised attention and scrutiny from other teams and media, should look like a monumental achievement.
Liverpool are doing it with less money against football's corrupt machine, against oil-powered teams of professional-fouling-flash-Charlies, whilst fighting court battles to sign #Mbappe2020 and Lebron James (Steven Caulker 2.0), winning the Super Cup and going unbeaten with Alisson laid out. Despite Salah's swollen ankle and Keita being injured by his national team coach. We see Milner still jogging to the shops at 33, Alex Oxlade-Chamberlain coming again like Jesus out of the cave, except with more goals. The kids pushing through the rounds of the League Cup. Sending two teams out in the same twenty-four hour period to keep everyone happy (which is about as welcome as a hotel in Qatar known for its human rights abuses). Not to mention the much-maligned big Dejan Lovren and Adam Lallana still hammering away despite the hard time they get and who, whether you like it or not, are a pair of great lads.
And don't get me started on why Jordan Henderson is deserving of statues and plaques.
In my humble opinion, we are witnessing the greatest squad Liverpool have ever had. Tell yer da. Champions of Europe, unbeaten in the league, creating all kinds of fume, stealing the souls of teams in the dying minutes of games.
Isn't this what every football supporter always dreamed of? Every team on earth fears this Liverpool side. Whether we win or lose this weekend against City, don't lose sight of the bigger picture. Pep's on the Ovaltine for one reason only.
Jürgen Klopp's Reds.
Supporters, pundits and rivals will have their say, and some will expend an amazing amount of energy trying to pick apart this great team. I just hope they realise what we are witnessing before it passes. As Frank O'Hara said, "it seems they were all cheated of some marvellous experience, which is not going to go wasted on me which is why I'm telling you about it."