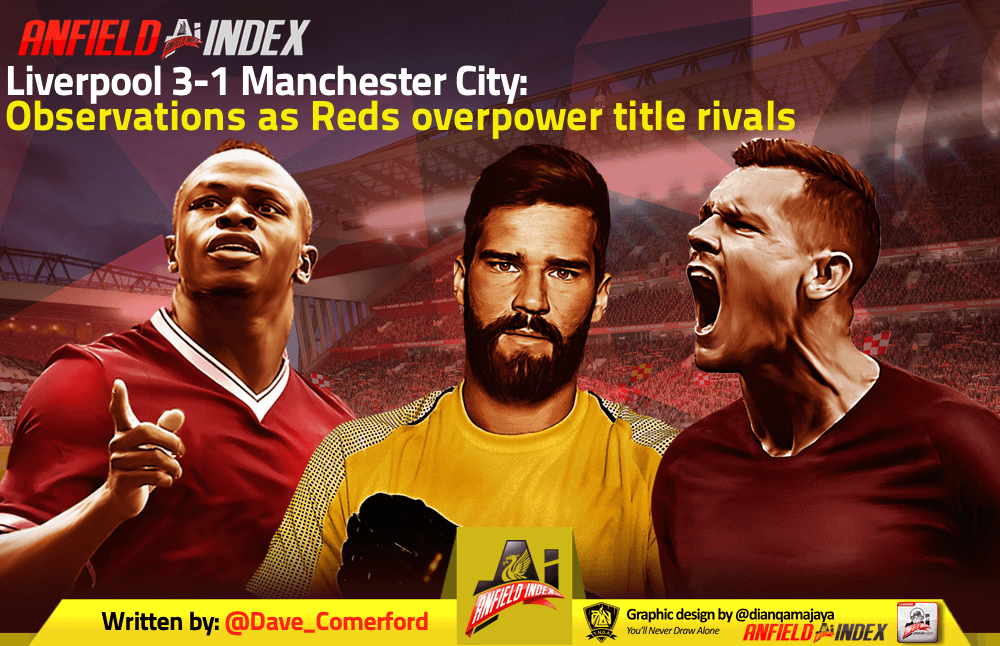 Liverpool 3-1 Manchester City: Observations as Reds overpower title rivals

It may only be November, but still this has the air of a season-defining victory for title-chasing Liverpool.
They lead Manchester City by nine points, and though there remain 26 games before season's end, the sheer relentlessness of the Red machine makes the present deficit look rather bleak for the reigning champions.
Pep Guardiola's men played well at Anfield, but ultimately Liverpool just had too much for them.
Pre-match fears for City defence realised
When the teams were announced, you sensed the game would swing on the form of the home side's frontline. The left-hand side of City's defence comprised a defensive midfielder and a 22-year-old with very little Premier League experience, and they were without their world-class 'keeper.
And, roared on by the frenzied support, Liverpool's forwards duly exposed the gulf in class. Mohamed Salah and Sadio Mane both found space at the back post to convert crosses, with Claudio Bravo's attempt to keep out the latter clumsy.
Thus the Reds decisively capitalised upon their opponent's greatest weakness. Still, this shouldn't serve as an excuse for City, who have pumped eye-watering sums into their defence only to be undone by two injuries. Their transfer strategy has failed them, and that's a key part of the battle.
Pep can bemoan the refereeing all he likes
Nor should Guardiola's fury with VAR be allowed to dominate the headlines. Trent Alexander-Arnold's handball looked rather blatant until replays showed a touch from the arm of Bernardo Silva, which would have chalked off any potential penalty. And there's no doubting Michael Oliver's decision not to award a spot-kick the second time given that Trent was only a yard or so away and had his hand down by his side.
Manchester City weren't hard done by. They lost this game because frankly, they were weak at the back and far from clinical going forward. Sergio Aguero and Raheem Sterling were particularly guilty of fluffing their lines.
Liverpool's three points were fully deserved.
Salah steps-up
Mohamed Salah has been good so far this season without finding his best form, but he turned in an excellent display here when it mattered most.
It was a composed finish from a bouncing ball, and for much of the first half he made himself a nightmare to defend against. His tangible contributions tailed off in the second period but perhaps that was because he, along with Mane and Roberto Firmino, had worked his socks off, and indeed taken a knock on his injured ankle for good measure.
He's now been involved in nine goals across 12 league games, an objectively strong return, and it seems there's more to come.
Fabinho underlines his importance
Having seen City edge the opening minutes, Fabinho decided today was the day he would channel his inner Gerrard. Jamie Carragher and Gary Neville claimed Ederson would have kept it out, a great disservice to Fabinho, who struck the ball with venom and precision.
It was a moment of magic to put the Reds in early command, and somehow it cranked the Anfield atmosphere up a notch.
City's opportunities thereafter came largely down the flanks rather than through the central area marshalled by our linchpin.
Liverpool improved dramatically when Fabinho was introduced at the Etihad in the New Year, and perhaps at that moment Jurgen Klopp realised he couldn't afford to leave him out of a big game again. Hence the decision to rest him at Aston Villa.
Our unbeaten record with the no.3 in the starting line-up is anything but coincidental.
Fair bloody play to Dejan Lovren
Lovren's presence always causes anxiety among sections of the fanbase, but that unease arguably masks his true quality. 90-95% of the time, he's a very solid centre-half, and under Jurgen Klopp he has largely impressed.
There's no doubting that a fit Joel Matip is the first choice alongside Virgil van Dijk, but here it was Lovren, rather than Gomez, boldly called upon to deliver in his absence. And he did so admirably, scarcely putting a foot wrong all evening.
We nearly parted company with the 30-year-old over the summer but already he's made an important contribution to our title challenge, and it seems that by the time he leaves the club, he may have turned his reputation around.
A great performance from Lovren, and a fantastic team display.