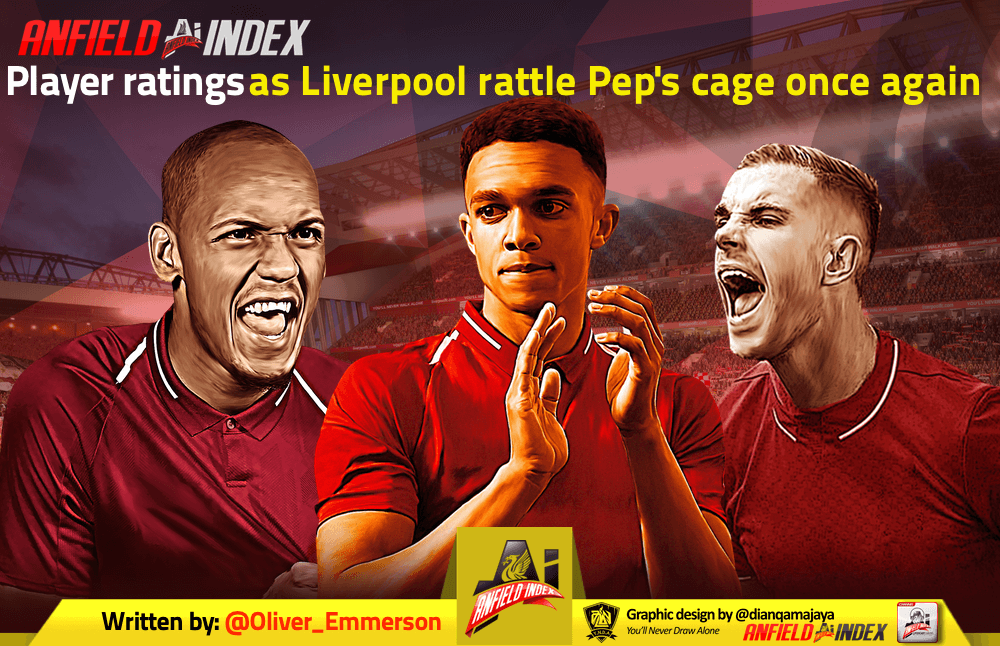 Player ratings as Liverpool rattle Pep's cage once again

An absolute thunderbolt from Fabinho combined with headers  from Mohamed Salah and Sadio Mané secured a 3-1 win for Liverpool against title rivals Manchester City on Sunday, moving the Reds nine points ahead of the Citizens and eight clear at the top of the Premier League.
It was a match with no shortage of drama, nor a shortage of quality, Jurgen Klopp's men racing into a 3-0 lead and holding off the resistance City had to offer, bar what turned out to be a consolation goal from Bernardo Silva.
Here's your ratings.
Full-back's shine again, Lovren plays well!
Alisson (7): Nice combative display, good with his feet and collected cross after cross. Can't do anything about the goal, lovely finish from Silva.
Trent Alexander-Arnold (8): Really intriguing battle with Sterling, who looked threatening constantly. Held his own at the back though, excelling once again going forward. Beautiful switch of play to Robertson to open up the space for Salah's goal.
Dejan Lovren (7): Seems to thrive when he has less thinking to do. Tried to shit the bed when he had a hilariously bad attempt at playing Aguero onside, the striker bursting in and fortunately spurning his chance. Good aside from that, deserves to keep his place until Matip's back.
Virgil van Dijk (8): Excellent as per, ruffled by nothing and assured always. Reckon it's about that time again that he's due a goal.
Andy Robertson (8): Phenomenal ball in for Salah, matched only by some absolutely fantastic snide with Kyle Walker later on in the game. Up and down the pitch really well, seems to be a key individual in way of getting the crowd up and going.
FABinho
Fabinho (9): Opens the scoring with an absolute rocket. Lots of chat on the telly about how Bravo should save it, are they having a laugh? I've watched aeroplanes take off at slower speeds than that ball hit the net at. Superb afterwards too, constantly retrieving possession and dictating the tempo in an efficicent manner.
Jordan Henderson (8): Strong, willing and always looking to get on the front foot. Wonderful ball into the back post for Mané's goal.
Gini Wijnaldum (7): Think the things he does best in the role he's given by Klopp are more appreciated, or even needed, in big games like this. Superb at keeping the ball and relieving pressure when the City press is put on him.
Headers galore in the front three
Mohamed Salah (8): For an injured player desperately lacking form, he's not half contributing a lot. Terrorises the City backline with his pace, scores a sumptuous header.
Roberto Firmino (7): Great defensively, pressing like a maniac. Would have liked a little more from him going forward in the second half.
Sadio Mané (8): Clutches again, not just because he's my fantasty team captain. His strength is such an underrated part of his game, often able to keep the ball just as you think it's escaped him as he arcs his back around a defender. Lovely movement to get away from Walker for his well-taken goal.