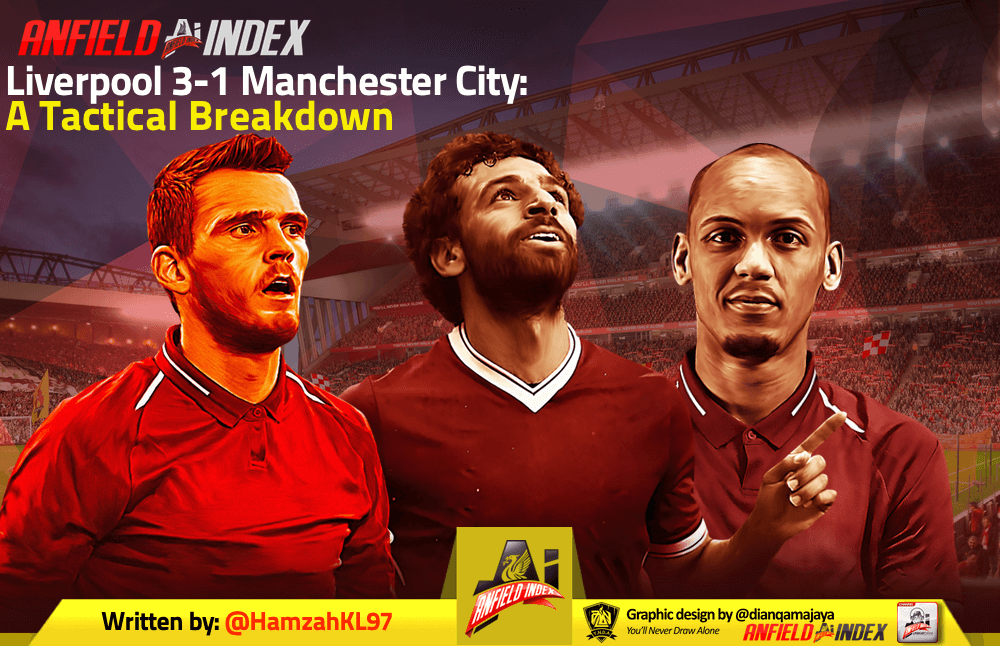 Liverpool 3-1 Manchester City: A Tactical Breakdown
When the fixture list was announced, all eyes immediately scanned for one fixture: Liverpool vs. Manchester City. Last season, the fixture at the Etihad provided some of the most breathtaking, tactically stimulating and utterly brilliant football England has ever seen. It was a credit to football and to sport. This time, the Anfield leg offered Liverpool the opportunity to go nine points clear of their rivals, in November. Titles cannot be won in November, but they can be lost. Whether this result has ended Manchester City's title hopes is too early to say, but given the level of their performance, we can more than reasonably assume that they will be pushing for the title come the end of the season, and Liverpool will need to maintain their excellent level in order to secure this elusive trophy.
Tactically, Liverpool set up as expected, with no significant deviations from their normal plan; that is a 4-3-3, with a no.6 (Fabinho) and two no.8s, with Firmino as the False 9 and Salah and Mané the inside forwards.
City, however, made a few significant changes in both personnel and setup. Anjelino and Fernandinho featured in the defensive line, and instead of De Bruyne playing in the no.8 role, he was deployed much higher up the field, as a no.10, with Gundogan and Rodri acting as a double pivot.

Whereas last season City looked to avoid the central areas when building up in order to reduce the opportunities Liverpool had to press, in this game they utilised the central areas and built up from their goalkicks as usual, but with seven players in total involved in the process of looking to break past Liverpool's pressers. This left them a little disjointed at times when looking to link up play, and as a result, early attempts to play long resulted in second balls which Liverpool were able to seize upon, due to the gap between the defensive midfield line and the attacking midfield line.
For the opening five minutes, City dominated possession, and pinned Liverpool back, sustaining an on-ball pressure in the final third. However, following a penalty appeal, Liverpool moved the ball into Robertson, and Kyle Walker attempted to press him. Here lay the first mistake of the match: there were three options for Walker in this moment
Press and win the ball
Press and foul Robertson, thereby stopping any possible Liverpool counter attack and opportunity to catch City in transition
Drop
Walker elected to press, but did not win the ball, which was immediately played into Mané. From here play developed, with a cutback meekly cleared to Fabinho. Another error followed, as the City players in the box followed both Salah and Firmino and stepped over to cover Henderson on the far side, expecting Fabinho to pass into him. Instead, Fabinho took advantage of the lack of ball pressure on him, and the space ahead of him and smote the ball just inside the post, transforming Anfield into a bellowing drum of hysteria and jubilation. With that strike, Manchester City's gameplan fell apart, and suddenly the game state was totally and utterly in favour of Liverpool.
Through being a goal up, all the impetus shifted onto Manchester City to attack. Yet paradoxically, if they elected to do so, and attack with numbers, they would leave their defence more vulnerable than ever, with the space the defence would have to cover even greater – whilst Liverpool could defend, and attack in any moment they saw fit, through leaving Salah, Mané and Firmino up against the City defensive line.
Seven minutes later, and this exact issue manifested itself through a switch of play from Alexander-Arnold into Robertson. Bernardo, who was on Robertson's side, expected a pass across to the centrebacks, and consequently pressed, which left him out of position when Alexander-Arnold instead opted to switch the ball, and play the pass in front of Robertson, i.e. behind Bernardo. From here, Walker was in the entirely unenviable position of being caught with Mané on his inside, and advancing Robertson in front of him. If he attempted to apply ball pressure, Robertson could pass on the outside and give Mané a possible one-on-one opportunity, if he did not, Robertson had time and space to pick out a cross.
The positioning of the Liverpool forwards in this instance was utterly perfect, as they compacted the City back line, and left Robertson with space to roam freely into. Mané was in the halfspace between the RB-RCB, Firmino betwixt the RCB-LCB, and Salah, in the left halfspace. Firmino's run dragged Fernandinho over with him, and consequently, he was unable to meet the millimetre-perfect pass by Robertson, which Salah did not need to break strike nor stoop down for. All it took was three touches following Alexander-Arnold's pass, and City suddenly needed three goals, and the game, as a contest, was over.
City, despite playing well both on ball and off ball, with regard to their possession in the final third, and pressing which was quite effective, found themselves three down, due to some masterful efficiency and ruthlessness from Liverpool. For the remainder of the first-half, Liverpool controlled the game without the ball, largely determining where City could attack, and limiting those opportunities. It is important to caveat this with a note of how Liverpool's fullbacks reduced their high pressing, and also how City still generated opportunities, with two set pieces wasted, and a few open play moves resulting in low quality xG shots. Beyond those set pieces though, Liverpool would have been more than content to concede those shots that they did, given they were taken from relatively unthreatening positions.
At halftime, Liverpool shifted into a 4-4-1-1, to attempt to deal with the Manchester City play in the wide areas more effectively. City were looking to target the area between Lovren and Alexander-Arnold, as they did throughout the game, but only managed to have a few opportunities where they broke through – one being a brilliant overload generated by a Angelino run from deep (albeit Henderson was a little slow to react), and the other being an Agüero move where he jinked inside, nutmegging Fabinho before shooting and drawing Alisson into making a save.
The shift to a 4-4-1-1 saw Mané move deeper, and Henderson move into a clearer more pronounced wide role – which within six minutes of the restart the side benefitted from, as he broke beyond Gundogan and Angelino, before clipping a cross to the back post, where the opposite wide player – Mané, came inside from a deep position (i.e. an area which is harder to mark) and headed home to decimate any hopes of a City revival.
Insofar as Henderson is concerned, he, Wijnaldum and Fabinho were sublime in the first half with respect to how they protected the ball, retained it, used it offensively and pressed. The midfield, in a game in which they did not have a majority of possession, were tremendous in their defensive work, and brilliant in the offensive moments they were required.
From the third goal until around the 75th minute, Liverpool controlled the game, but now did so with the ball at their feet. The side exercised control, and instead of immaturely pushing for more goals, utilised the ball effectively to make a few chances, but did not compromise their defensive integrity to do so, and consequently, these chances were hardly seriously significant, but provided an outlet to reduce City's propensity to really commit forward.
A few changes were made, with Oxlade-Chamberlain, Milner and Gomez joining the action coincided with a shift in momentum in the game. Given Manchester City's quality and the effectiveness of their gameplan in retaining the ball in the final third, this was always likely to happen, and it resulted in a goal. But despite this development, and a really significant chance for Kyle Walker late on, alongside a wasted opportunity by Agüero, Liverpool were able to see the game out.
This performance by Liverpool was one of their most effective and clinical displays we have seen under Klopp. But we cannot understate the quality of City's performance; City were very strong in an offensive sense, retaining the ball exceptionally well, breaking Liverpool's press, and generating a few chances which they could reasonably expect to score. Both sides put in an extremely high level of performance, but the main difference between the sides was simply that Liverpool were far more clinical. Indeed, Liverpool's gameplan seemed to be set up for the side to not generate a high volume of chances, but a few significant ones, and they did so, and scored with them too – with Fabinho's longshot a welcome way to set the game-state up in Liverpool's favour.
City, whilst they made a couple of big chances which were wasted, did not quite generate the volume of high quality opportunities they would have liked, and despite their 18 shots, only the Agüero and Walker opportunities can be considered ones which they should have definitely improved on.
This was an utterly fascinating game, but whilst the scoreline suggests a dismembering of City, that was not quite the case. Liverpool controlled the game for the majority of the time, but City exerted control for a few periods in the game, and had they been as clinical as Liverpool were, could have easily have scored two. Beyond those two opportunities though, Liverpool were highly efficient in minimising the opportunities City had, and extremely effective at punishing any mistakes. Last season's match at the Etihad remains the best display of football in recent memory, and involved an all-round better performance from Liverpool, but this was as enthralling and important all the same. The one thing we can take from this game though is that the title race, whilst Liverpool may be favourites, is not over at all, and Manchester City have a lot to be proud of from this game. Nonetheless, Liverpool were the better side on the day, and worthy of the victory, should either side keep these performance levels up though, we will be in for an absolute treat of a season.