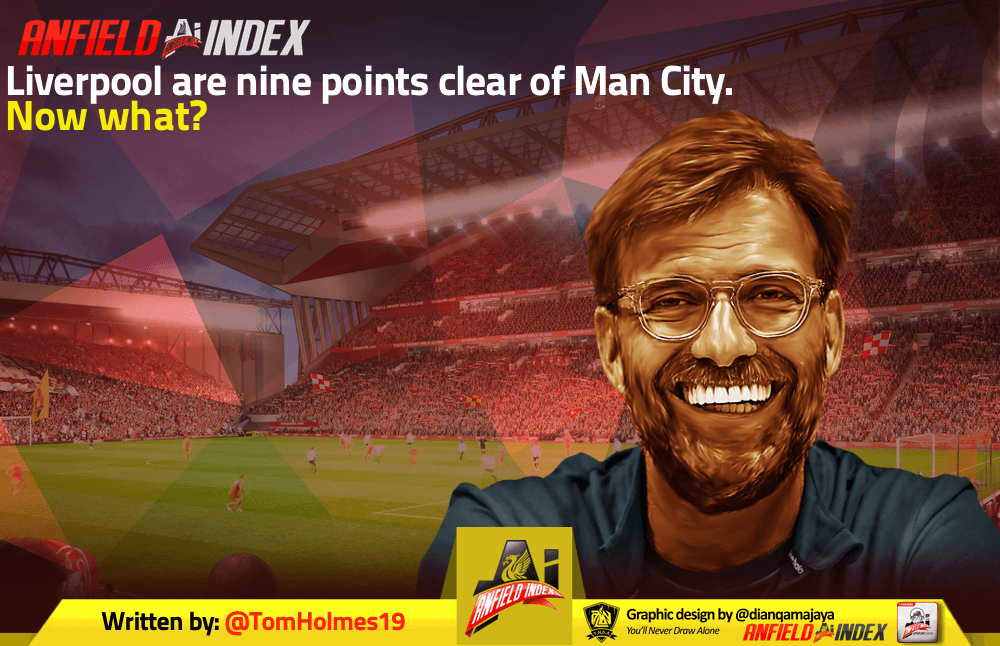 Liverpool are nine points clear of Man City. Now what?
Liverpool are nine points clear of Manchester City and eight points clear at the top of the Premier League going into the November international break.
This piece is going to mostly be about where the hell the Reds go from here, and look at some of the maths now that such a lead has been carved out, but first it's worth a brief reflection of how they got here.
The game will be covered in better detail elsewhere so I don't want to focus on it for long, but as a Liverpool based writer I'm going to enjoy the few hundred words I can spare writing on probably the biggest Premier League win of my lifetime.

Fabinho was, of course, the star man, with his thumping piledriver capping a remarkable performance, but it's worth noting that to a man, Liverpool raised their levels dramatically.
Gini Wijnaldum turned in a monstrous shift at the heart of midfield, Jordan Henderson shifted some of the targets off his back with his finest performance in months, and even Dejan Lovren was surprisingly solid under pressure, given that he was the biggest worry going into the game.
The two full-backs were staggeringly good, as they always are, and their combined passing for Mo Salah's goal, a feat of pure football, was unbelievable.
Salah himself has been carrying an ankle knock for weeks now, and this was exaggerated again in the game. But for a player who hasn't been fully fit for a while, Salah is still turning in consistently elite performances, having contributed nine goals and five assists in 15 PL and UCL appearances.
Salah looked somewhere near his sharpest in this game, running poor Angelino ragged, and his teammate on the opposite flank, Sadio Mané was equally devastating, scoring his 11th goal of the season. Bobby Firmino wasn't able to contribute in terms of goals in quite the same way, but put in a typically stupendous all-round performance.
Liverpool have been able to demonstrate an extraordinary ability to just be better than their opponents this season. Even in games where they haven't played particularly well, and those games have been there this season, they have still found ways to stifle the opposition, and to win games.
Despite keeping just two Premier League clean sheets this season, Liverpool are yet to concede more than once in a league game, despite playing all of the traditional top six, and free-flowing Leicester City.
And in ten of their 12 league games, the Reds have scored at least twice. That cocktail of potent attack and bend but not break defence is a relatively straightforward formula, that has seen Manchester United, guided by some poor refereeing, the only team to take points off Liverpool in the league this season.
And although they haven't been impressive in too many games, the City performance was the exception rather than the rule, it's very rare that Liverpool didn't deserve to win those games. Chelsea and Southampton are the only two potential games you could highlight as "lucky" per se, with Liverpool still having more expected goals than their opponents in nine of their 12 games this season, and two of those three games almost identical.
So that's how Liverpool are where they are now, so what happens next?
I want to briefly mention Chelsea and Leicester. There is a reasonable tendency to point out, and rightly so, that both teams are currently ahead of Manchester City in the table completely on merit, and both of those teams will be licking their lips at the opportunity to face the wounded Champions before Christmas.
But neither can seriously be considered title challengers, at least in my opinion. Lampard's high-flying Chelsea are seriously hot and are probably the third best team in the league at the moment, but they don't have a reliable goalkeeper and as a result they've shipped 17 goals already this season.
Until the Blues can find a way to sort out their leaky defence, they're going to struggle to make the step to the next level, and it's also worth noting that while Lampard is doing a decent job, he doesn't have the experience and nous that Klopp has.
As for Leicester, they are massively, massively overperforming their expected goals and whilst some will scoff at that notion, it does mean that they are going to come crashing down at some point, and that that crash could be very hard.
In particular, when it comes to goals, Leicester have scored 29 goals from less than 16 xG, with Jamie Vardy's 11 goals coming from 5.2 xG. If that's not unsustainable then nothing is.
Back to City then, whose troubles this season have been very dramatic. In order to match last season's tally of 98 points, the Citizens require another 73 points from 26 games, which translates to 2.8 points per game, or in practical terms – 24 wins, one draw and just one more defeat. City lost just four games in the whole of last season, and have lost three already this.
City's alarm will be bigger given the easiness of their schedule. Liverpool have faced seven of the other nine teams in the top half, as well as Spurs, whilst City still need to play Manchester United, Arsenal, Chelsea, Leicester as well as Burnley and Wolves away and Sheffield United before the end of 2019 and the mid-way point in the season. You would expect City to raise their game for quality opposition, as they often do, but that's an assumption given that they simply haven't faced much quality opposition yet this season.
So with all of that factored in, do Man City look likely to even get to 90 points this season?
To reach that mark, they would need to average 2.5 points per game from here to achieve another 65 points. That's 21 wins, two draws and three defeats. For this City side, you would expect that to be relatively straightforward, but they are currently only averaging less than 2.1 points per game this season.
Injuries have of course played their part, and City cannot reasonably expect two crucial players, Leroy Sane and Aymeric Laporte to play their best football before the end of the season, which is a blow, but for a team that has cost hundreds of millions to assemble, and will likely cost even more before the season is out, that's not an excuse.
Back to Liverpool then, and where their platform has left them.
Before Christmas, the Reds will face Palace, Brighton, Everton, Watford and Bournemouth with their West Ham game moved due to the Club World Cup. January will be a tougher month for the Reds, but February and March look very amenable as a result. So there is plenty of scope for Liverpool to keep their form up and retain a substantial lead going into the home straight, with City, Chelsea and Arsenal all opposition in Liverpool's final seven games.
Whilst City will get a chance to chip into their lead while they are in Qatar, if Liverpool can get to the end of January with a lead intact, they're in a very, very strong position.
In terms of pure numbers, for Liverpool to reach 90 points, they only need another 56 points, or 2.15 points per game. That would mean 18 wins and two draws as well as six defeats in their last 26 games, for a team that has only lost six times in the last 92 games and once in their last 51.
In terms of the lead, it really is a case of Liverpool needing to hammer home the advantage. Both teams are guaranteed to slip up and drop points before the end of the season, and Liverpool have to make sure that they can keep the lead in tact throughout. 13 points from the five games between now and the trip to Qatar would keep Liverpool comfortable at the top of the table.
In other words, December has to be a month where Liverpool don't just sit on their lead and rest on their laurels, but keep striving to extend their lead. Nine points in November is spectacular, but that needs to translate to a nine point lead at the start of February, which will give them scope to kick on.
It's 12 games in, and there is a long way to go, but Liverpool have carved out as good an opportunity to deliver a league title that they could possibly hope for. And now it's time to throw down the hammer and keep that momentum going.