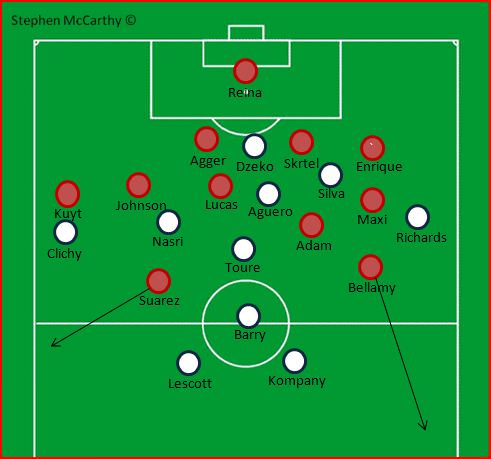 Liverpool V Man City | A Tactical & Stats Preview
This week the billions of Manchester City come to town, and what a game it promises to be. I'm not sure what it is about City, but they don't seem to attract the same envious jealousy that Chelsea attracted when oligarch Roman Abramovich arrived on the scene and bankrolled the Stamford Bridge outfit with his odiously acquired petro-roubles. Maybe it's the fact that we get a perverse satisfaction from seeing that lot down the East Lancashire Road get their knickers in a twist watching the resurgence of their derby rivals. Whatever it is about City, they most definitely have arrived on the scene, and look like they are going to make winning the Premier League even more difficult over the coming years.
Liverpool go into the game on the back of a brilliant 2-1 win and performance against Chelsea at Stamford Bridge. Kenny got our tactics and formation spot on. The introduction of Bellamy and Maxi into the starting line-up was certainly an inspired choice. Both players put in a real shift and caused the Chelsea defence all sorts of problems, and both of them were instrumental in the first goal. Let's hope Kenny is inspired again against Man City on Sunday and we continue our good form. We are now on a 9 game unbeaten run in all competitions and our league form reads WDWDDW. Still a couple of draws too many in that form, however it's still fantastic to go 9 games unbeaten. This, coupled with the win against Chelsea, should have our players brimming with confidence going into the City game at the weekend.
We now sit in sixth place in the Premier League table on 22 points. Level with both Chelsea and Arsenal, and only 3 points behind Newcastle and Tottenham in third and fourth respectively. You could really throw a napkin over those 5 teams they are that close together. We also sit a massive 12 points behind Man City on top of the table so a win on Sunday would cut that gap to 9 points.
I believe Man City have not been properly tested so far this season, (even at Old Trafford) so if and when they do suffer their first defeat it will be a severe test of their character how they bounce back from it. All though we haven't scored that many goals this season in the Premier League (16 – see 'goals scored' chart left) we have managed to build an excellent back line. With only 11 goals conceded (see 'goals conceded' chart below) this season we have the joint best defence in the Premier League along with Newcastle and Sunday's opponents Man City.
I mentioned in previous articles that by winning games we can get some sort of momentum going and it looks like we have finally got ticking. If we can beat City it will set us up nicely for our December league games, which can be a crucial period and could set our stall out for the rest of the season. When you look at our run of games in December, Fulham (away), QPR (home), Villa (away), Wigan (away), Blackburn (home) and Newcastle (home), certainly on paper all those games look winnable. If we can sort our home form out, looking at those games, it's very plausible that if we get past City with a win or draw, we could go into January on a 16 game unbeaten run. Wouldn't that be nice.
Man City go into the game on Sunday on the back of a 3-1 home win against Newcastle at the Etihad Stadium. Their impressive form guide and last 6 reads WWWWWW. That run includes wins against Newcastle, QPR, Wolves, Man United, Villa and Blackburn. Of that six you would think the real test in there was the trip to Old Trafford, however, the way the game panned out it was actually quite comfortable for City. That's not taking anything away from their performance but they've have beaten most teams comfortably this season. Given our form and penchant for turning it on the so-called big games, I would expect City to come up against their sternest test this season. City have scored a record 42 goals this season (see above 'goals scored' chart) have conceded the fewest goals, (11 – see above chart) along with ourselves, and have a ridiculously mammoth goal difference of 31+ after only 12 games played. If all that wasn't good enough, they top the Premiership table on 34 points from a possible total of 36, their only 2 points being dropped in a 2-2 away draw at Fulham. An easy game ahead for us so!
Manchester City Scouting Report
So let's take a look at how Man City may set up, their formation and who their key players have been so far this season. Roberto Mancini has played a somewhat similar system all season, whether it be in the Premier League or the Champions League, the only change between the two competitions have been his use of different personnel. It's difficult to put into words what formation Mancini uses, you could say it's a variant of a 4-2-3-1 system, depending on how the game is going, or the opposition, Mancini may tinker with this system to suit his needs. It is definitely a system which can be better explained with the use of my graphic below.
As you can see, there really are no surprises with City's back four, a standard 2 centre backs and 2 very attacking full backs who leave a lot of space in behind. The majority of teams play this way so it's nothing we haven't seen before. In the centre of midfield Mancini usually players Barry as a holding midfielder in front of the centre backs, or occasionally De Jong will play this position, with the second central midfielder playing slightly further forward and trying to link defence with attack. Where it gets a little more interesting is with Mancini's positioning of his front players. Invariably he likes his two wide players not to actually play too wide, both Nasri and Silva, or whoever plays in their place like cutting inside and playing quick one-two's with Aguero, who likes to play in the hole. Quite often you will see Nasri/Silva pass the ball to Aguero in the zone in front of the two centre backs, then making a run beyond the defence and looking for the return ball. Of course Aguero sometimes makes that space for Silva/Nasri by dragging the centre back out, to create space in behind. All this action and movement in the centre of the pitch sometimes makes it somewhat congested in the middle. Especially if the two opposition full backs follow Nasri and Silva into the centre. This in turn will leave space for Richards and Clichy to run into and create dangerous situations down the opposition flanks. If it becomes clogged up in the zone between the lines then Mancini does like to use the tactic of dragging his second attacker, namely Aguero out to the left/right. This forces the full back to come back across into his normal zone thus freeing up some space in the centre for Nasri or Silva to cause damage. It's a very interesting and useful tactic, but if the opposition are aware of it then there is no reason to fear it. Below is a still from the Newcastle game. You can see how close together Man City's attackers are. Of course this is only one still, however, if you watch any City game you will see it is a scenario they are face with quite often.
There is no getting around the fact that City have been devastating at going forward so far this season. They have scored 42 goals and have the best chance conversion rate at 22% in the league this season. If you factor in that the average chance conversion rate per team in the Premier League this season is 13.7% then you can begin to understand how far above average City are. So who are City's danger men going forward? Let's take a look at the table of stats below and see who stands out for them and who we need to keep an eye on in the upcoming game.
Any area's highlighted in red are areas where that particular player comes out best in a specific stat. The opposite is true for the green highlighted boxes, whereby this is the worst stat. For example Nasri has an open play pass completion stat of 93% which is better than any of his other colleagues on the table, with Dzeko in green the lowest at 68%. You can see that when it comes to the goal attempts area of the table that Dzeko is by far City's best striker so far this season. He's scored more goals (10), has had more shots (18) and has the best chance conversion ratio of 34% on the table. So it's obvious when it comes to strikers we are going to have to keep a close eye on Dzeko.
It's worth also noting, that despite all the plaudits Mario Balotelli has received in recent games, he has not one area highlighted in red. In fact, he comes out bottom in a lot of stats on the table. Personally, I would be quite happy to see Balotelli start in place of Dzeko, however, as he started against Napoli during the week in the Champions League I expect he will be used as a substitute against us. As far as the passing and chances created stats on the table it is no surprise that two of City's most dangerous players are Silva and Nasri. I don't think I can add to the superlatives been thrown at David Silva this season, he has been a beautiful footballer to watch and some of his passing and movement has been sublime. An opposition player that you just have to admire. He has completed more accurate passes (587), more chances created from open play (27 – nearly twice the amount of his team-mates on the table), and has six assists, the same number as Nasri for the season. Perhaps the only blip is that his chance conversion rate is only at 15% – the worst on the table.
So maybe not as clinical with his chances as he should be. Despite that though, It's quite obvious he really is the player to watch when it comes to City's inventiveness in front of goal. A special mention must also go to Nasri – who perhaps may have better stats if he had played more games this season, having only played 5 games it's debatable he could be on a par with Silva on the table above.
Of course these are just individual stats. As a team and as a whole Man City have really outshone every one else in the league. Especially in an attacking sense. They top the mins per chance table with a chance created every 5.83 minutes – over a minute between the next place team Arsenal on a chance created every 6.92 minutes.
Not only that but as you can see from the mins per shot table they also top that with a shot every 6 minutes. I suppose if you don't buy a ticket you can't win the raffle. So not only do they create a lot of chances, score more goals than anyone else, they also shoot more often than anyone else in the league. They have had 89 shots on target this season, with the season average being 56.35 per team – it's an incredible amount above the season average. In fact, I have studied Man City's stats extensively this week. Without going into too much detail I'd like to leave you with the below table to study.
Again any areas highlighted in red are stats that are better or above than the season average – any green highlighted areas are stats that are below or worse than the season average. An obvious example – the season average per team for tackle success rate is 74%, Man City have a better season average with a 79% tackle success rate. Without going into the table in detail it's quite clear City have performed way above the average this season. In fact some of their stats are quite astonishing and might not be matched for a long time.
Liverpool Defensive/Offensive Formation
Last week Kenny Dalglish pulled off a masterful tactical stroke by including Bellamy and Maxi in the line-up and exploiting Chelsea's well known defensive high-line. So can King Kenny pull of another with our formation and line-up against City? What is evident up to now with Kenny is that he does like to stick to a winning team. I would be very surprised if we line-up with a different formation and different personnel against City. In many ways, Chelsea's attacking (wide) players and City's attacking players like to approach the game from a similar angle. They both rely on width from their attacking full backs and they both have players that cut in from both wide positions congesting play in the middle. As result I would expect and hope both Bellamy and Maxi to keep their places in the team. They seem to have brought that fluidness back to our attack from last season that has been missing up till now.
There might be a section of supporters expecting Carroll to play after he scored 2 goals against City last season. However, I think Man City are a completely different animal this year, and what worked for us last season may not necessarily work this season. I'd also expect Dirk Kuyt to keep his place on the right side of our midfield. Both Cole and Clichy are similar type players, and they are the type of player Kuyt usually does well against. Given the height advantage also over Clichy, it gives us an out long ball pass from Reina to Kuyt if we can't start of attacks playing from the back. Lucas should perform his usual defensive midfield role with aplomb in front of the back four with Charlie Adam providing a link between defence and attack. When you factor in the good form of both our full backs Enrique (see Enrique's passing stats in below table) and Johnson then I think this is a formidable line-up.
But how do we break down that stubborn Man City defence? The same format applies to this table as previous. Red highlights for top stats – green highlights for the worst stats. I haven't included Glen Johnson in the table as he has been injured for most of the season. This would have left a column of green in his stats! When you study the table it's clear that Micah Richards has been City's best defender this season, and he still can't get in that England team. Bizarre. One thing you can note from the defensive stats is that there are very few green highlighted areas amongst the City players, however, there aren't that many red either. It would seem that other than Richards, the City defenders have quite average stats. Perhaps this has something to do with the amount of times they have had to actually defend this season? Having coasted in so many games and scored that many goals they have had a lot of possession and have spent most of their time in the opposition half. I believe however, from watching City, that Clichy may be the weak link in their back four. He has a very poor tackle success rate for a defender at 60% and has also been dribbled past 6 times this season. Both those stats are the worst on the table. At 50% his aerial 50-50 win % ratio is also quite low. This may be an area Dirk Kuyt could exploit.
As a whole though, I believe, as in the Napoli game in the Champions League, that Man City are open to be caught on the counter attack. I think Pepe Reina's distribution could be vital from the back. I would like Pepe to really be on his toes for this game, because when those City attacks break down and they are caught high up the pitch, as Napoli exploited, there will be a lot of space left in behind them. If you take a look at my graphic left, this may a typical scenario we face with City attacking. Both full backs of Richards and Clichy high up the pitch, Nasri, Aguero and Silva running between the lines and Barry holding in front of the back four. When the attack breaks down I'd like for both Bellamy and Suarez to push out wide ready to receive the ball from Pepe or whoever the attack breaks down with. This will leave either Barry or one of City's centre backs out of position as they will have to come out wide to cover their out of position full backs. If we can do this and get either Adam, Maxi or Kuyt quickly forward and exploit the space down the centre we can use our quick passing game as we did against Chelsea to try to counter attack City.
I also believe both Lescott and Kompany can be prone to quick interplay and fast passing triangles in and around their box. So it will be vital Suarez, Maxi, Kuyt and Bellamy all link up and provide some crisp and accurate passing. If we do these things correctly I believe we can score and win against City. Thanks for your time, and as always, here's to 3 points and a win.
Summary LFC Defence:
1. Keep a tight back four. No big open spaces between defenders.
2. Disciplined full backs. Full backs only follow Nasri and Silva in between lines when necessary.
3. Full backs to be aware of space in behind and the overlapping of Richards and Clichy.
4. Be aware of quick interplay of passes between Aguero, Nasri and Silva. Quick one-twos with players running from deep to receive the ball behind the defence and looking to beat the offside trap.
Summary LFC attack:
1. Pepe Reina to distribute the ball intelligently from the back and watch for quick counter attacks to be had.
2. Bellamy and Suarez to pull out to the wings once City attacks break down and look to exploit the space behind City's advanced full backs.
3. Bellamy and Suarez to pull the City centre backs out of position on the counter attack to provide space for advancing runners in the middle.
4. Bellamy, Suarez, Maxi and Kuyt to link up with quick interplay of passes in around the City penalty box.
5. Suarez to receive the ball with back to goal and with City centre half behind him. Look to turn slow centre halfs and create chances.
Thanks for your time, and as always, here's to 3 points and a win.
You can follow me here on twitter: https://twitter.com/#!/artful_dodger74