The question of whether Trent Alexander Arnold will transition from a right back to a midfielder is often asked in footballing circle.
Such is the 21 year old's unique skill-set, it is felt by many that he is wasted at full back. His talents, it is said, would be better suited to a more central position where he could receive the ball more and have a bigger influence on proceedings.
The truth is, however, that the academy graduate — despite ostensibly being a right full back — is already, for all intents and purposes, playing midfield for the European Champions.

In the defensive phase, Alexander Arnold is a conventional full back. It is in the attacking phase, a state of play that Liverpool — who dominate possession and territory in most games — usually find themselves in that the English international thrives.
Whether going around the outside in the manner and crossing, in the manner of a "normal" full back, or playing infield and becoming an extra midfielder, Alexander Arnold offers a duality and variety to the Reds attack.
It is not unprecedented for a full back to have such an influence on a team's attacking strategy, but is rare to find a player with such a wide arsenal of ability.
In the impressive, Juande Ramos coached Sevilla teams of the early 2000's Dani Alves acted as the Andalusian side's attacking fulcrum. Such was the Brazilian's involvement in the attacking phase, Side Lowe — the Spanish football expert — remarked that was "playing number ten from full back."
It is no exaggeration to say that Alexander Arnold is Liverpool's play-maker and the area's in which he receives the ball and the volume of his touches compares with some of the top Premier League midfield lock pickers.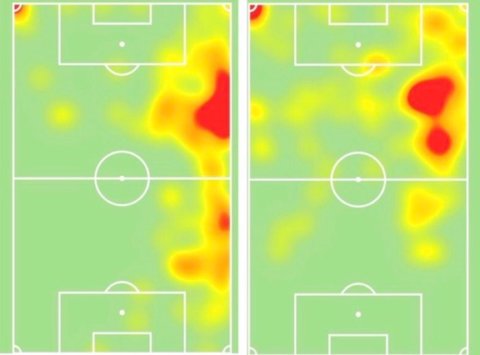 In the image above, you can see touch maps from recent games. The left is Alexander Arnold versus Aston Villa and the right is Kevin De Bruyne versus Southampton.
Correctly regarded as the the best midfielder in the League, the Belgian — despite missing large chunks of last season to injury — has been an integral part of Manchester City's consecutive Premier League title's and domestic cup successes. Although he plays in a different position, the West Derby native shoulders similar responsibility with the Anfield side.
For the young Scouser to be trusted by his team mates, many of whom are themselves of a world class standard, to be the team's metronome and the player who the attacking ignition of the team is delegated to is a glowing endorsement of his ability.
While originally seen as a hindrance to his ability to dominate as game and indelibly make his creative mark on proceedings, being stationed at a deeper, angled position when receiving the ball can open up different passing lanes for Alexander Arnold and give him more space and time on the ball.
With the always dangerous Mohamed Salah playing off the right hand side of Liverpool's attacking trident, the England international — taking advantage of the opposition fearing the prospect of a one versus one between their full back and electrically quick Egyptian — is afforded more time on the ball.
In a scenario where the opposition instructed a winger to press Alexander Arnold then their full or wing back could be left one on one with Salah. Given the swiftness of the Kirby crafted full back's passing, a team could all of a sudden find themselves with the back to back Premier League Golden Boot winner running freely at their defence.
A common tactical fire blanket used by teams against the Reds has been to double up on Liverpool's full backs, Andy Robertson and Alexander Arnold, in an attempt to quell their creative output. Manchester United, with Daniel James and Marcus Rashford — in tandem with Aaron Wan Bissaka and Ashley Young — recently used this strategy in their 1-1 draw with the table toppers at Old Trafford.
The downside to this approach is that it leaves the central players in the six times European Champions shape with a numerical advantage, with Firmino dropping deep to become an additional midfielder and Salah and Sadio Mane cutting in to become strikers.
With the introduction of Adam Lallana, Alex Oxlade Chamberlain and Naby Keita — all midfielders who demand the ball and revel when given room to manoeuvre in — away to their eternal rivals, Liverpool recently rescued the aforementioned draw. It stands to reason, though, that the engine room triumvirate wouldn't have been as effective if it wasn't for Alexander Arnold's mere presence making Ole Gunnar Solksjaer's team adjust their defensive alignment to try and stop him.
Even without receiving the ball, the panic caused by the England international's presence means he can impress himself on games by dint of just being on the pitch.
If he maintains the form he has shown since his Reds debut, Alexander Arnold can write himself into footballing lore as a player — like Alves before him — who transcended the position he plays in and became a reference point for young players to aspire to for years to come.