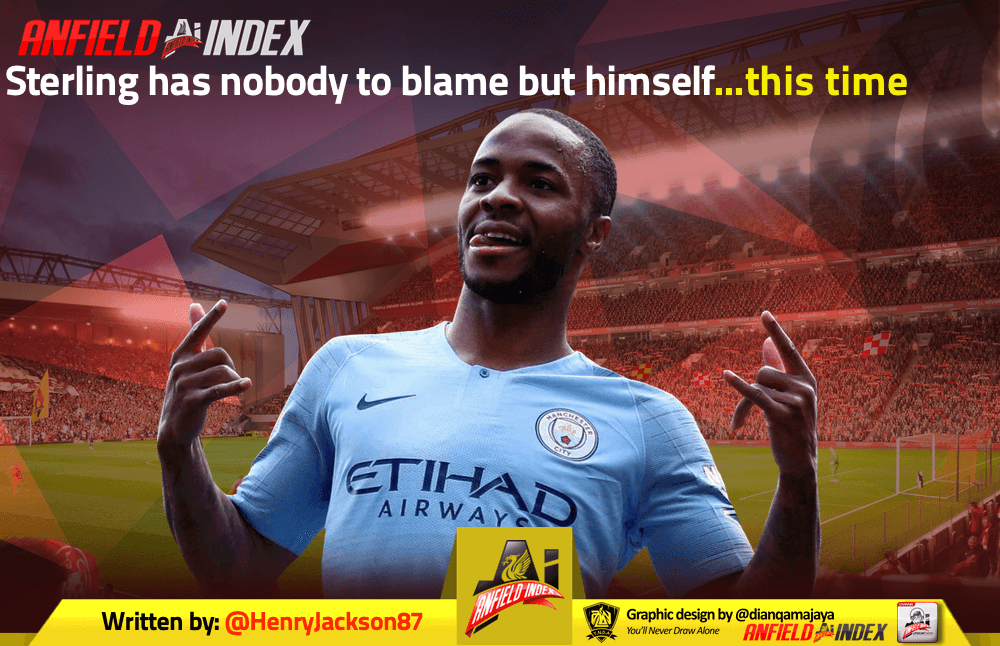 Sterling has nobody to blame but himself...this time
Let's dispel a myth to begin with.
The general consensus is that all Liverpool supporters detest Raheem Sterling, never forgiving him for the manner in which he left in 2015.
That is well wide of the mark.

I don't just speak for myself when I say I've got plenty of time for Sterling, even though he handled his exit badly after that depressing 2014/15 season.
Not only a world-class footballer, the 24-year-old has done lots of good off the pitch in recent times, tackling race issues with great maturity and acting as one of England's most important sporting role models.
Sterling has often been targeted in inexcusable fashion by sections of the British media, but his reputation has started to change for the better, which has been heartwarming to see.
Anyway, on to this week's drama, which acts as the latest chapter in Sterling's never-boring career.
There have been claims made by the Telegraph that Liverpool supporters' treatment of the forward since his exit has impacted on his general image in the game – something that the player tends to agree with.
The boos that come his way at various other away grounds – less so now, in comparison to after Euro 2016 and the 2018 World Cup, it must be stressed – are apparently a knock-on effect from the negative reception he always receives at Anfield.
This is utter nonsense.
To put it bluntly, and without using a certain word that could play in part in some of the abuse Sterling gets across the country, Liverpool fans have nothing to do with how others view him.
The bottom line is that the England star left Anfield under a cloud four years ago, using his agent to push through a move to Man City and very much playing the victim card. He behaved badly.
It left a bad taste and Sterling is reminded of that every time he returns, which will likely be the case for the remainder of his career.
Liverpool supporters know that such a vociferous reception has a negative impact on the wide man, affecting his game endless times since he left. He has shrunk so often when coming back to the place that turned him into a star.
In fairness to Sterling, he actually played well for large chunks of last Sunday's thrilling clash between the Reds and City, but he was an angry figure by the end – one who had let the occasion get to him yet again.
What followed was a mini bust-up with Joe Gomez on the pitch, before a bigger one on England duty, in which the Liverpool centre-back was left with a nasty scratch on his face.
Sterling was subsequently suspended for England's 7-0 win over Montenegro on Thursday night – rightly so, given the nature of his violent, over-the-top behaviour.
This whole incident is entirely Sterling's doing and he has nobody to blame but himself.
It was his fault that the Anfield crowd got to him and it was his decision to lash out at Gomez in the players' canteen – the Liverpool man did nothing wrong in the slightest.
To try and turn this into a sob story is bordering on outrageous and it could even be argued that Sterling is trying to use his improved reputation to his advantage.
To be fair to him, he has since come out and been critical of the England 'fans' who had the audacity to actually boo innocent man Gomez on Thursday – a situation that is believed to have left the young defender "devastated" – but he has not painted himself in a good light overall.
Sterling has been rightly supported through tough times, and can even be excused slightly for being led astray by his agent at Liverpool, but this is a low point for him.
Many aspects of his life have been twisted by the media, making him out to be a less likeable, less grounded individual than he clearly is, but he has done himself no favours this week.
You would almost think no ex-Liverpool player has ever been booed at Anfield before, judging by the Telegraph article, or players of other teams across the globe for that matter.
The likes of Fernando Torres, Luis Suarez and Michael Owen, to name just a few, have been subject to such antics, and they would surely attest that it is part of the game, as much as it may hurt.
Sterling has grown up so much in the last couple of years, having such a positive impact on the game, but he has regressed to being a child here, in what is a major misstep from him.
Anfield won't be changing its ways any time soon and it will have no bearing whatsoever on what happens to Sterling up and down the country from this moment on.