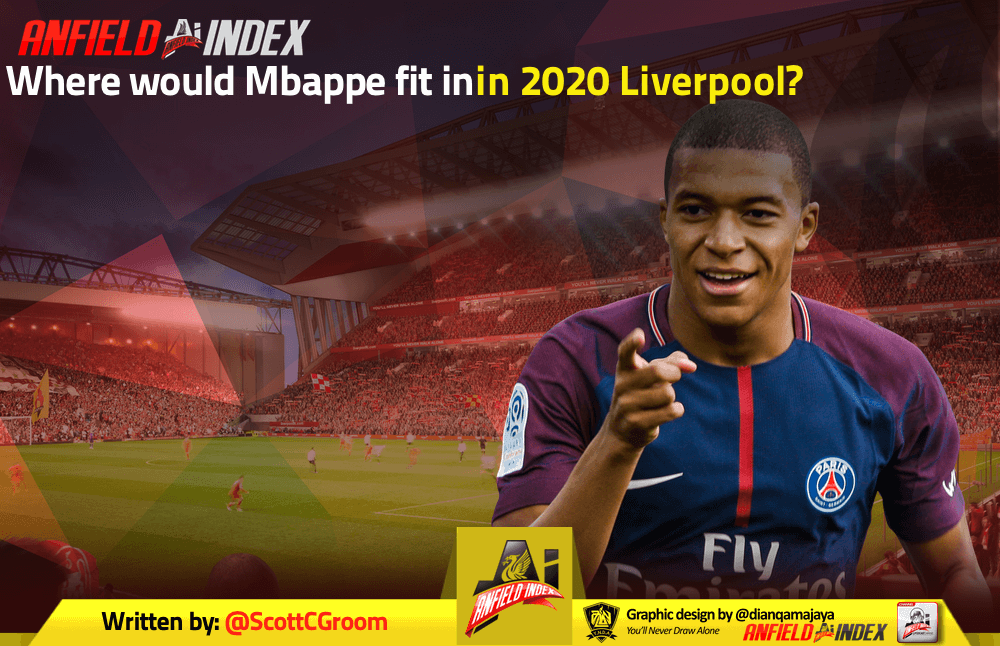 Where would Mbappe fit in in 2020 Liverpool?

It is one of the transfer rumours that simply won't go away.
Kylian Mbappe is one of world football's hottest talents, and the young Frenchman never seems to be too far from the gossip columns.
And ever since Liverpool's kit deal with Nike – which is due to begin next season – was given the green light in the High Court, those rumours have only had more fuel poured onto the fire.
Jürgen Klopp has previously spoken of his admiration of Mbappe and his game, and has even held conversations with him about his future before, so if a mega transfer coup was to take place next season and the striker ended up on Merseyside, where exactly would he fit into the mix?
There is no doubt that his talents and abilities would improve most teams, and the current Liverpool squad is no different to that.
Mbappe is a lethal finisher, incredibly skillful and blisteringly fast, and has shown wonderful link-up play with the likes of Neymar and Cavani in his time at PSG and before that at Monaco.
So on paper and on the field, his skillset looks to be well suited to Liverpool and their desired game plan.
We see regularly how the pace and dynamism of the front three cause defences all sorts of problems, so throwing Mbappe into that mix only makes them more dangerous.
But this is where it gets tricky – does he fit into a team that incorporates Liverpool's current front three? Does somebody have to make way for Mbappe? Does Klopp incorporate him as well as the front three and risk leaving the team more open defensively?
It's a lot to look into and to bear in mind, but these are the questions Liverpool need to be asking themselves if they are genuinely going to be attempting to attract signings of Mbappe's calibre.
Having to juggle a number of world class starts like Mané, Salah, Firmino and then Mbappe would be an embarrassment of riches in attack, and it's unlikely they'd all feature at the same time – unless Klopp was going full 'heavy metal' every once in a while.
Could Klopp potentially deploy one of his attackers in the role that Coutinho excelled so well in before his move to Barcelona?
If that was the plan, it could be Firmino that stops back into a deeper role so he can influence the play from the middle and help Mbappe flourish as the central striker.
But that seems a bit of a pipe dream after Klopp has spent a lot of time trying to find defensive balance which was one of the key contributing factors that propelled Liverpool to Champions League glory and so close to the Premier League crown.
So would Mbappe be happy to be a squad player after coming from a place where he's front and centre of attention?
It would probably seem not given his regular game time at PSG, and is a player of world class quality who is looking to continue to push on in his career.
Which then begs the question as to whether one of the current stars will have to permanently depart not only the team, but the squad in its entirety.
The thought of letting Salah, Mané or Firmino leave is not one that Liverpool fans will want to entertain, no matter who was coming in to replace them.
So you see, while the furore of Mbappe potentially coming in is warranted, it has to be met with careful trepidation.
Klopp has worked hard to create a unified squad singing from the same hymn sheet, so to bring someone in who, not out of personality traits, but out of misplacing team members, could ruin that – it's a risk.
But then, to be an all conquering team, you need the best players. And we have one of the best managers in the world, so why wouldn't it work?
It's a predicament to say the least.