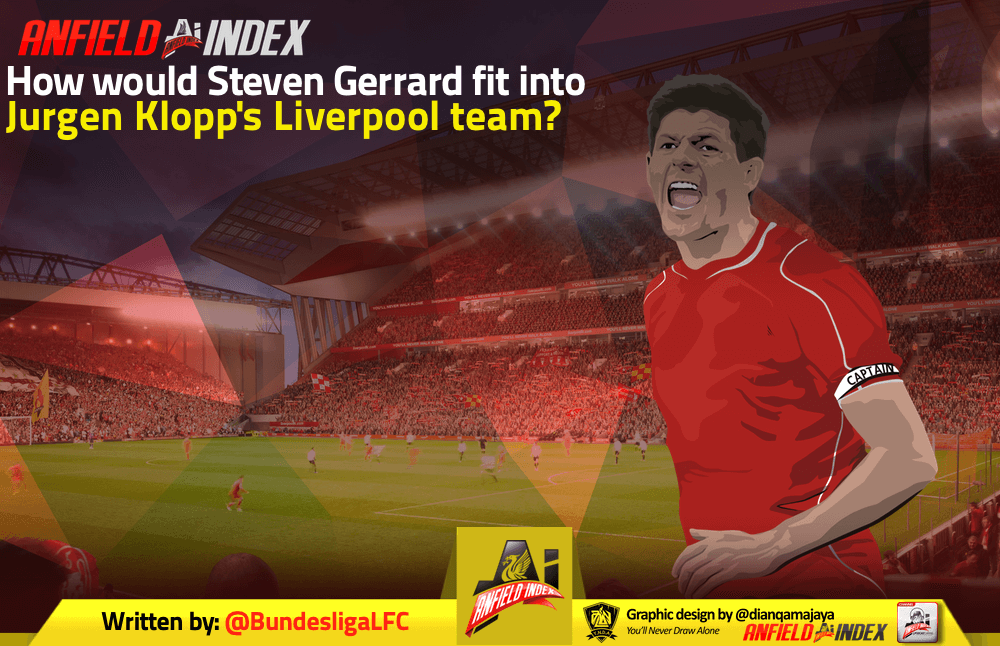 How would Steven Gerrard fit into Jurgen Klopp's Liverpool team?
The international break does things to people. Without Liverpool to keep them occupied, the mind can wander. Random debates dominate social media and this time around it centres around Jordan Henderson and Steven Gerrard.
Initially, the debate was around whether or not the current Liverpool skipper was a better captain than Gerrard. Opinions were offered and insults were traded but this sparked another conversation on where the former No.8 would play in this current team.
The easy answer would be midfield. After all, he's considered by many to be the best midfielder in the club's history. And while Gerrard occupied a midfield berth in most dream XIs, in reality it isn't as easy as that.
For starters, the former Reds man thrived in a 4-2-3-1 shape when given the license to impact games from an attacking midfield position. That is where he was at his very best and his most frightening. A powerful runner, he could change the tempo of the game in a matter of seconds. He also developed a clinical edge to his game, too, and this saw him start scoring on a more regular basis. That version of Gerrard was a force of nature and a whirlwind in-between both boxes.
But how does that incarnation of the ex-captain fit into Klopp's team?
The attacking midfielder for Liverpool is Roberto Firmino. He just so happens to be the number nine though so you can't swap him out for Gerrard. You could give him license to break forward on the right of the midfield three, similar in a way to when Rafa Benitez used him almost as a right-winger for period, but then there's a chance that impacts Trent Alexander-Arnold's game.
Both he and Gerrard like to see a lot of the ball. Both take up slightly withdrawn positions on the right in order to be able to play that whipped cross into the area from a better angle. If you then instruct Gerrard to be more active in the final third and have less of an impact in the build-up, you're limiting him and concentrating his influence to one part of the pitch.
Klopp's used 4-2-3-1 at times this season so that could be an easy solution to what is turning into a complex conundrum. But where do you deploy Gerrard? He's no slouch but he's not as explosive as Sadio Mane or Mohamed Salah so putting him in a wide role would see Liverpool lose some of that pace.
On top of that, he was by no means nimble in possession. Having him cut in from the left would be fairly easy to prevent, in theory at least. On the right, it's the same problem as if he was used in the midfield three – he'd get in Alexander-Arnold's way. Not only that, his eagerness to get into central areas could clog up the areas usually filled by Salah and Firmino.
Now, this isn't to say it couldn't work, it's just difficult to envisage there being the right balance if Gerrard was deployed as part of the front four in a Klopp team.
Could he play in the midfield two alongside Fabinho? Possibly. In fact, this would probably be the best role for him as things stand. He could set the tempo, he'd see a lot of the ball and he'd have the freedom to get into the final third as and when was required. But, would this be the best use of the legendary midfielder? It is doubtful as that role wouldn't allow him to be as expressive or influential as he could be.
The best position for him might be as a right-back. We've all seen how good Alexander-Arnold is there, he's basically the playmaker for the team and it's a position Gerrard would enjoy. But you can't stick him at right-back – you can in a Champions League final but not for an entire season.
You then have to wonder how much this current system would have to be tweaked to accommodate him. Before you know it you've spent far too much time thinking about something that isn't ever going to happen, just like I have. But this is what the international break does to people.