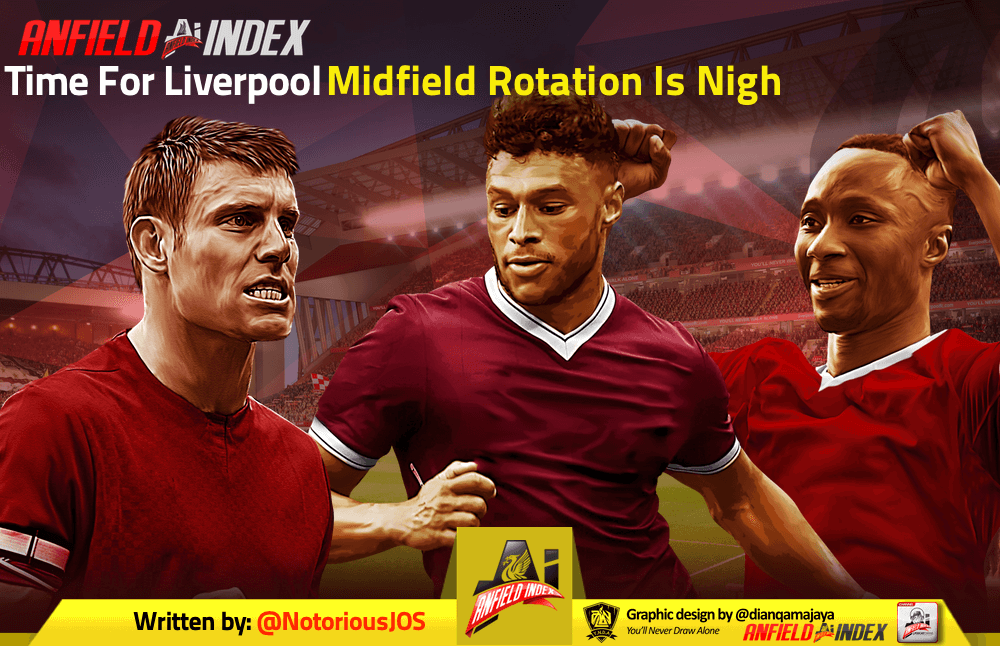 Time For Liverpool Midfield Rotation Is Nigh

In what feels like an eternity ago, Liverpool's midfield produced a consummate performance and tactical compliance and commitment in the Reds' 3-1 victory over their title rivals, Manchester City.
Typically, a midfield trio of Fabinho, Jordan Henderson and Georginio Wijnaldum is selected in order to bring a defensive resolve and steel to the European Champions' midfield.
On that front, the unfairly maligned engine room trident admirably performed their roles.
Additionally, however, the usual solidity was added to by goals and assists.
Fabinho, the midfield's defensive and playmaking linchpin, opened the scoring with a long range strike. Henderson, playing in the manner of an old school, chalk on the boots winger, then notched an assist with surge and a cross from tight to the touchline that Sadio Mane nodded in.
Wijnaldum was in imperious form, exhibiting his press resistance, transitional prowess and drive and defensive intelligence in an all round performance.
Liverpool, while not controlling the possession — City had more of the ball, 55% to 45% — won the battle of the midfield and their control of space forced the 2018/2019 Premier League champions play the game on their terms and in the area's they wanted them to.
While this middle third performance could prove to be key come the end of the season, the Reds' upcoming fixtures should see Jurgen Klopp shuffle his midfield pack and pick players in a horses for courses manner.
Pep Guardiola's team, dogmatic and robotic in their adherence to the preordained tactical instructions of their coach, play in a manner that suits the style in which a Henderson and Wijnaldum — Fabinho is correctly the undisputed number 6 — midfield plays; but Liverpool's next opponent's, Crystal Palace away, won't.
The Etihad side, with their high defensive line and their insistence of playing between the lines, are prone to counter pressing situations. On the tight pitch at Anfield, these skills — as shown by the Reds' brilliant home record in Europe against teams with similar ambitious tactics — are put under severe pressure. Klopp once said that "gegenpressing is the best playmaker" and on the hallowed L4 turf, Henderson and Wijnaldum — in big games, in particular — carry out that function that nth degree.
It will not be the same at Selhurst Park on Saturday, though.
Under the tutelage of Roy Hodgson, Palace are a defensively minded and conservative team who will have no hesitation in ceding the ball to Liverpool and sitting in two, unambitious banks of four in the hope of "winning" a draw. In their last two games against "top six" opponents, defeats to Manchester City and Chelsea, the London side managed a paltry one shot on target, and this is a telling picture of their tactical blueprint.
While not as technically limited as elements of Liverpool Twitter would have you believe, low block teams — which throw down the creative gauntlet to the Reds possession game by not presenting many counter pressing scenarios — are typically those which Henderson and Wijnaldum struggle to impose themselves on.
Naby Keita and Alex Oxlade Chamberlain are the midfielder's best suited to pick what will be a heavily reinforced Eagles defensive lock.
With a goal and an assist for England in their defeats of Montenegro and Kosovo, Oxlade Chamberlain — still building his fitness after a horrendous April 2018 injury — added to his recent exemplary club form and he should be supremely confident.
The former Arsenal man's drive and bloodyminded — never intent to go sideways or backwards —  ambition with the ball causes fear in opposition and the panic creates space for others around him on the pitch.
Keita, too, was in goal scoring form for Guinea and was selected for this fixture last season.
In a move that would have been the assist of that or any season, the former RB Leipzig midfielder spun Andros Townsend spectacularly before his 60 yard through ball to Mohamed Salah — that saw the Egyptian through on goal —  was uncharacteristically spurned.
In a game where all the space will be in front of the hosts, a player such as Keita — who is adept at receiving the ball on the half turn and in congested areas — who can get the team on the front foot and provide a better quality of attacking possession could prove to be a key performer.
Whether Klopp selects both seems unlikely, but history tells us the German will shuffle his pack and rotate heavily during the next month or two and the Reds, to the delight of their fans, have the midfield horses for any number of courses.