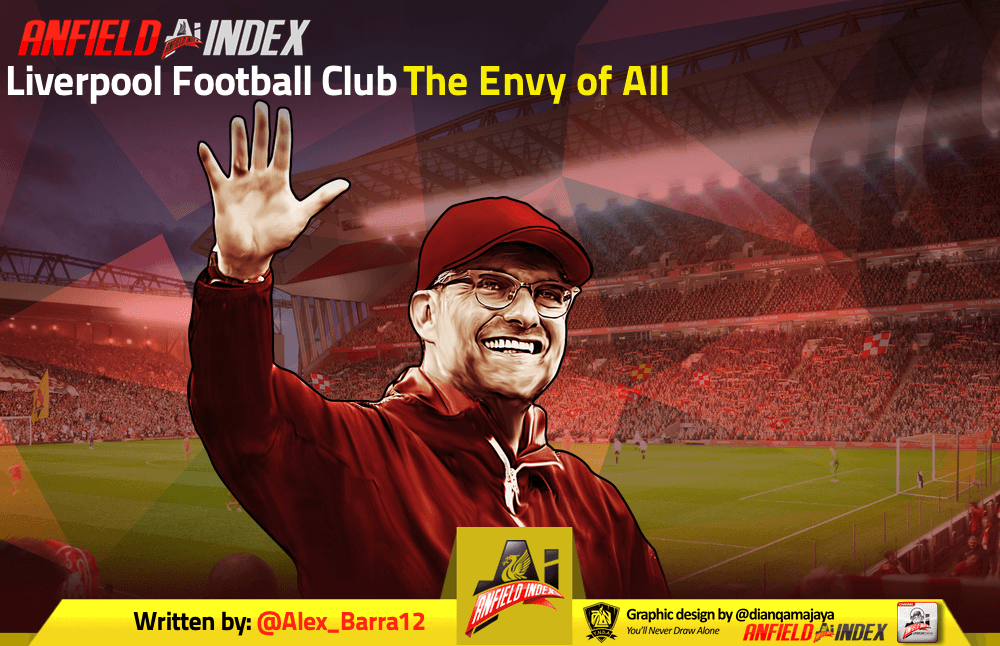 Liverpool Football Club - The Envy of All
"Guess we're living rent free in your head, mate."
This phrase, in itself, is an overused cliché of social media that, like most other phrases originating on Twitter, has become marred by accounts with names of "IconicPogba" and "CityChief" who use it to propagate the air of ridiculous sensationalism that is modern football.
Liverpool fans like it a lot. But that's because, out of everybody, Liverpool fans are most qualified to use it. After all, it does seem like everybody detests the Reds.
If one had perused Twitter over the last twenty-four hours, they would've had that enforced by a debauched, inflammatory, catatonically moronic video posted by 888 Sport. (Truth be told, this writer had reservations over linking it in the above text, as giving the video the time of day would be counter-productive to anyone's sanity.)
However, there is an especially poignant line in the video (in which a United fan, Spurs fan and an especially vocal City fan all decry the state of Liverpool's fanbase, making very few sensible points) from the United fan.
"Be hated and enjoy it mate, that's what success brings."
Liverpool fans can indeed revel in that. Because not only are they European Champions, but they are top of the league. Not only have they got the most likeable manager in world football, but they have a squad with soul; players described as "mentality monsters."
No other club has those things. For the first time since the eighties, Liverpool can boast about being a European force.
And that's the thing, isn't it? Throughout the forty years since Liverpool were kings of England, Reds fans had to endure their fiercest rivals overtaking their record number of titles. They watched their dynasty be torn down, to be replaced by the old enemy. During Alex Ferguson's entire reign, there is not one sane Liverpool fan who wasn't green with envy. There wasn't a single British football fan who wasn't green with envy.
United were hated for it. Because their fans were "arrogant" – a criticism often launched at Liverpool fans.
Well, you stage an impossible comeback against Barcelona to make a second consecutive Champions League final and try not to be slightly confident.
The football team that was flirting with relegation under Roy Hodgson is at the precipice of English football, and not a single Liverpool fan is bragging about the title race already being over. Yet they're still labelled as "intolerable."
Liverpool fans are "intolerable" because they are constantly being taunted, told their fabled atmosphere is a myth and that they're always the victims. A phrase, by the way, that stemmed from the Hillsborough disaster.
These fans would love to see Liverpool collapse, they say, because of the folly of their supporters. Because the saying "This is our year" will backfire again.
That is a lie. They would love to see Liverpool collapse because every fan wants what they don't have and hates what they can't have.
Manchester City are the reigning Champions of England, and yet they're not celebrated as beacons of footballing success. Why? Because machines can't be truly beautiful without a soul. Because there is no romance in a team that was bought and paid for to be the footballing terminator.
Liverpool have a charismatic leader, an imperious colossus at the back that may well be the best at his job in the world, a local lad with a wand of a right foot and a front three that all seem rather fun. Reasons to criticise Liverpool are thin on the ground, which means the same tropes need to be dragged up again and again and again.
Does it matter? No. Why? Because Liverpool are like Manchester United used to be: winners with souls.
This letter to a newspaper by a Manchester United fan, sums it up rather nicely.
"It looks like Liverpool have managed to pull off the ultimate wind-up. They've found a manager who not only plays attractive football and wins trophies, but he's also impossible not to like."
There, in itself, is the crux of everything. Liverpool are the envy of all, because they have something that everyone else wishes they had.
Football tribalism is at its most prevalent. That manifests itself in dreadful videos like the above, but it won't ever change.
All Liverpool fans can really do is enjoy taking up so much space in other people's heads without paying a penny.