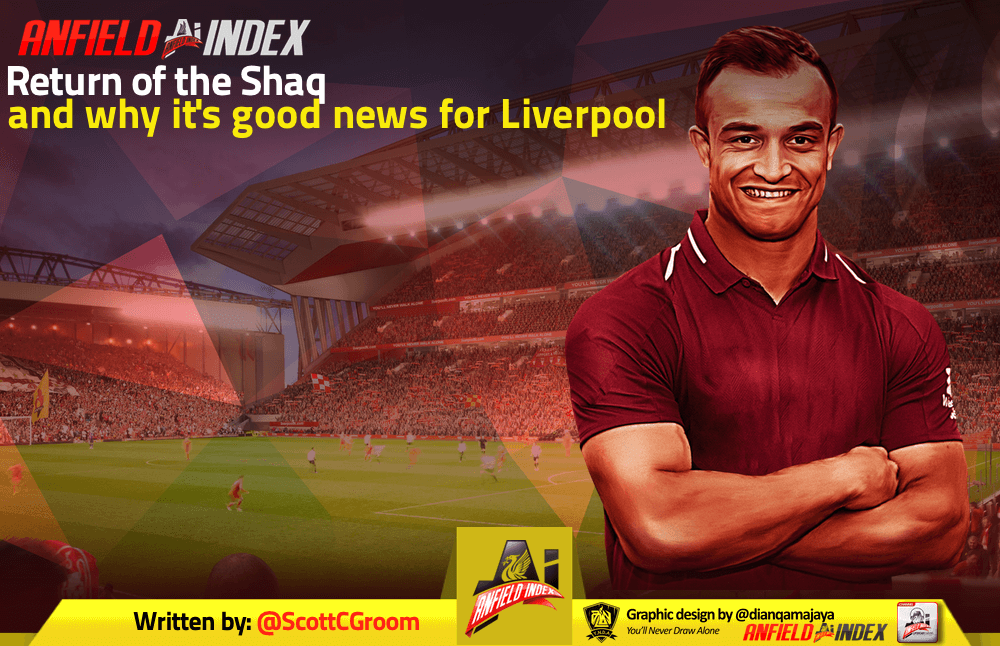 Return of the Shaq - and why it's good news for Liverpool
It's been a long time since we saw any meaningful contribution from Xherdan Shaqiri in a Liverpool shirt.
In truth, it probably came in that memorable Champions League semi-final win over Barcelona at Anfield, when his beautiful curling cross was met by a thumping Gini Wijnaldum header to bring Liverpool level in the tie.
The Alpine Messi has been hampered by a niggling injury to one of those enormous calves of his and has barely featured this season for Klopp's side.

It's actually just been four cameo appearances for Shaqiri so far, but as the Swiss star returned to training this week, it became clear that there will be a serious role for him to play – particularly in the coming weeks.
And his return to fitness comes at just the right time given that the fixtures are now going to pile up thick and fast.
Liverpool's squad is in a far better shape now than it was only a few years ago, and Shaqiri is a big part of that. He is undeniably world class when he turns it on.
Cast your minds back to this time last year, when the Power Cube effectively ended Mourinho's reign as United manager with two goals at Anfield to seal a 3-1 win.
In his 11 appearances between the end of September and Boxing Day, Shaqiri contributed two assists and six goals and looked all-in-all a true fit in Klopp's side.
He gives that cutting edge, that eye for the killer pass, that distribution and set piece specialty that someone like Divock Origi doesn't provide. That's without mentioning the fact that he knows where the goal is, too.
And he's experienced a lot too for such a peripheral player. He's a man who's won the Champions League twice, played in such sides as Bayern Munich and Inter Milan and can use that experience as this side needs it.
These attributes will be needed as Klopp looks to rest key players like Mané and Salah over Christmas, but Shaqiri returning to fitness is a huge boost at present.
Salah has been struggling for weeks with an ankle problem picked up after a terrible challenge by Leicester's Hamzah Choudhury in the 2-1 win at Anfield, and so his shoes are going to need filling sooner rather than later.
Klopp has been coy over the extent Salah's injury, and so every opportunity to rest him and make sure it doesn't get worse should be taken given his importance to the team.
While there are other options, such as Origi, Lallana and Oxlade-Chamberlain, none are as cut out for the role as Shaqiri is.
Origi is a threat, but is a striker more than a wide attacker, Chamberlain operates with far greater efficiency in the middle and Lallana is just a bit frustrating wherever you put him.
So after underlining why and how he can impact this Liverpool team at around the same time last year, Shaqiri's return to fitness is timely to say the least.