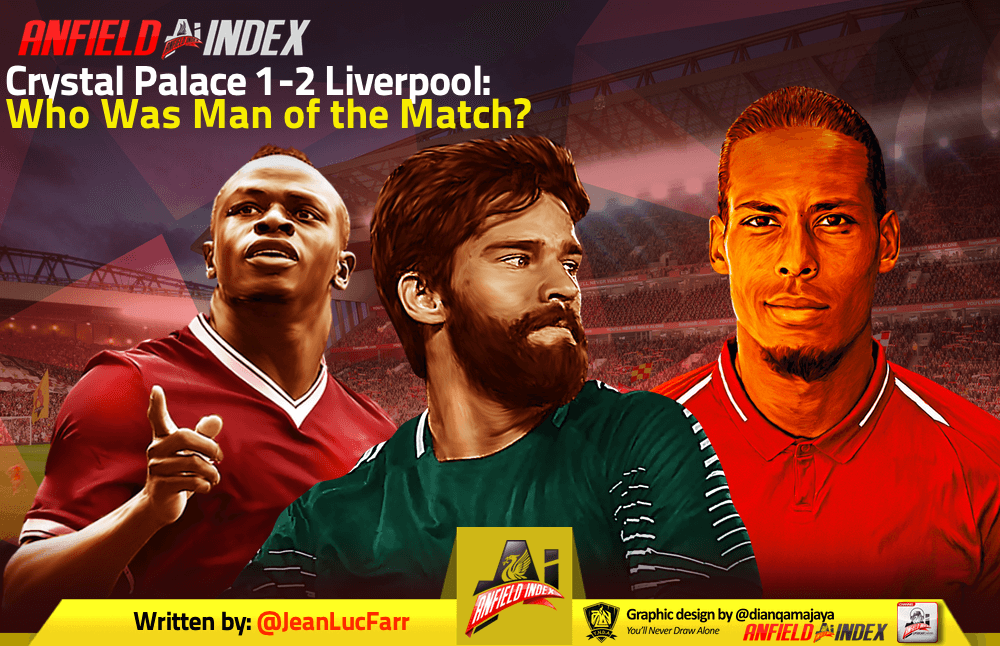 Crystal Palace 1-2 Liverpool: Who Was Man of the Match?
Why do teams even bother scoring against us anymore? They know they're going to lose either way, just save yourselves the late heartbreak and leave our sheet clean. More drama for the Reds as they left it until the last few minutes yet again to take all 3 points. It was a very unconvincing performance, perhaps unsurprisingly after an international break on an historically tough ground, while also being without Mohamed Salah. I don't think many of us can take another of these stressful games, but I'm sure there'll be plenty still to come this season.
There was a real lack of standout performances in the positive sense during this one, although there were a few disappointing displays. Firstly, Alisson had his usual quiet game other than conceding the obligatory goal that he could do nothing about. As for the rest of the back 5, Trent had a pretty poor game by his standards going forward but held his own defensively against Zaha. Despite the Ivory Coast international getting on the scoresheet, he was extremely ineffective for the rest of the game when attempting to attack down Alexander-Arnold's side. Aside from the goal, the two centre backs did reasonably well, however the Palace goal was such a mess that they have to come in for some criticism.
In midfield, Fabinho picked up his 5th yellow of the season which will see him miss the next game at home to Brighton, which will mean he'll be available for the Merseyside Derby the week after. I won't even bother talking about Wijnaldum's performance because we all know what he's about when playing against the lesser teams. As for Henderson, I felt he had a poor game. Other than one pass which sent Mane through early in the second half, his distribution was far too conservative against a side as defensive as Palace.
With the midfield struggling to create and Trent having a difficult time going forward, the front 3 on the day got very few chances. With Salah out, Oxlade-Chamberlain was forced into a wide role. He has never really suited playing on the wing for Liverpool and it was the same again today. Mane missed a bit of a sitter early in the second half, but he didn't let that get to him. Just a few minutes later he found the net after a ricochet off of both posts. As for the 3rd of the 3 attackers that started the match, Bobby Firmino, he also got himself on the scoresheet with an 86th minute winner after a goalmouth scramble from a corner.
I'm not too desperate to give anyone Man of the Match for this one, but seeing as someone has to get it, I'm going to go with Virgil van Dijk. He made a few crucial interventions to keep Palace out for the majority of the match and, although he and a few others could have done better for the goal, I think he was one of a small group who played well.