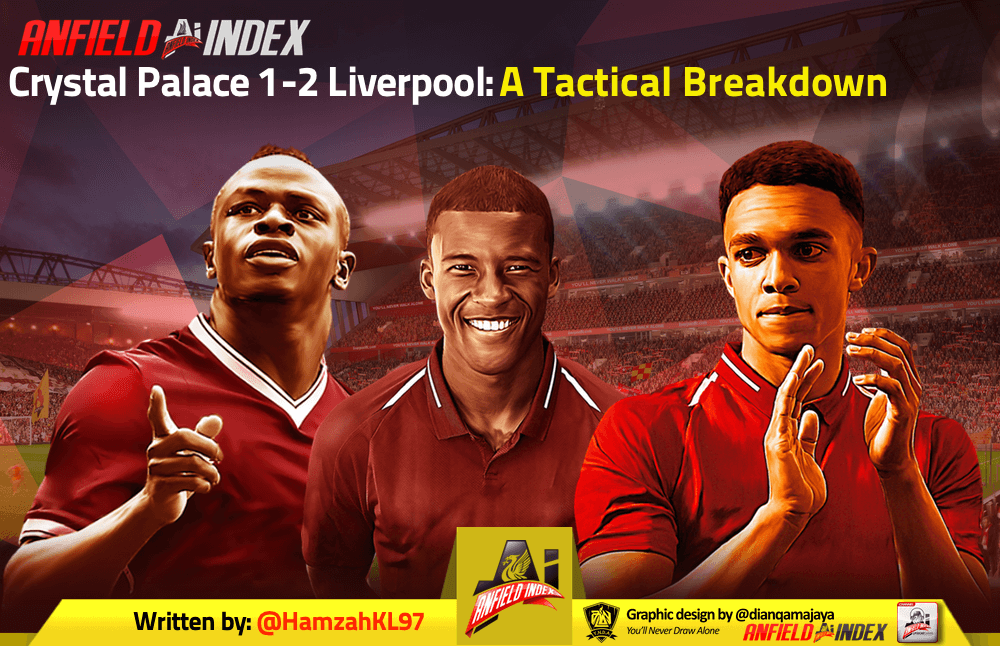 Crystal Palace 1-2 Liverpool: A Tactical Breakdown
It's another win for Jürgen Klopp's seemingly unstoppable behemoth. Despite Mohamed Salah only fit enough to start from the bench, Liverpool managed to secure another three points, taking their total to 37 points, from a possible 39.
The old adage about winning when not playing well has certainly seemed relevant to Liverpool since the start of the season, but Liverpool are close to riding out their luck. Despite winning 12 of their opening 13 league fixtures, Liverpool have been underwhelming in a significant number of matches, and their performance against Crystal Palace is the latest in this run.
Performances are not the be-all and end-all, however, over a season, performances will tend to correlate extremely strongly with results. There are two ways which you can interpret this information though:
Liverpool need to improve their overall defensive and offensive performances, otherwise, they will be much more likely to drop points in coming games; Or,
If Liverpool are not at their best and yet they have 37 points from a possible 39, just imagine what will happen if the side hits anything near what it's capable of doing.
Nonetheless, against Crystal Palace, Liverpool gave up a significant number of chances and were outshot 16-12, conceding 6 efforts on target, with two Big Chances registered too. These numbers were despite Palace only making 246 passes in total across the game, 59 of which were in the final third, and only holding 40 per cent of possession across the game. Given the dominance of the ball Liverpool had, it's extremely surprising to see such a significant volume of chances given away, and very much out of step with the consistent defensive performances of last season which were characterised by a lower volume of chances conceded and lower quality chances too.
However, this performance can be contextualised. The majority of Liverpool's starting XI featured in international fixtures during the international break and this disruption to match-day preparation, alongside the significant difference that no having Mohamed Salah makes, can help explain why Liverpool struggled in this game to play as they would like.
Alongside this though were tactical decisions and events which shaped how Liverpool performed. Most obviously, Liverpool set up in a 4-3-3, but with Oxlade-Chamberlain featuring in the front three, rather than in the midfield where he has excelled in recent games. Furthermore, Liverpool attacked with their front three in a very narrow structure, focussing on breaking through the centre – with this tactic becoming more successful in the second half, but largely ineffective in the first 45.
Roy Hodgson set up Crystal Palace in a 4-5-1, as expected. A formation which allows his wingers, Zaha and Townsend, to break, but retains a tight, compact back four and a flat midfield three in front of them as protection. Leading the line though was Jordan Ayew who looked to cover passes into Fabinho and keep Liverpool's buildup predominantly in their own half. Consequently, Liverpool's response was to avoid building up and both Lovren and Van Dijk elected to play direct, passing over the top, in behind the Palace defence, looking for the forwards to run onto those balls.
Tactically, a few more issues for Liverpool emerged. With Henderson and Wijnaldum looking to attack the halfspaces between fullback and centre back when Liverpool were in possession, there was less protection afforded to the Liverpool fullbacks. This space between the fullbacks and the number eights allowed Zaha and Townsend space that Klopp did not intend for them to have. Both in transition and when Palace were in possession, both players were allowed to break through, into space, thereby also forcing Liverpool's fullbacks backwards, away from goal, where they could affect Liverpool's offensive play. Furthermore, instead of Liverpool doubling up on Palace's dangerous wide players, as they would have liked to do, the Crystal Palace forwards were able to generate a few one on one situations, with the standout case from the first half being Zaha's one on one with Alexander-Arnold, which preceded a free kick in the corner, leading to Palace's disallowed goal.
This spatial issue was not just confined to the flanks though. Liverpool's overall compactness and shape, when losing the ball was greater than usual, with Crystal Palace able to attack down the centre on occasion, and drift inside when working the wide areas. This lack of compactness – which is essential to a side which looks to press and counterpress (immediately pressing when losing the ball) – impacted upon Liverpool's pressing too, which possession wins often made deeper, and in less dangerous areas compared to where Liverpool normally win the ball via pressing.
However, Crystal Palace's disallowed goal in the first half spurred them on in the second half, as they moved up the field and looked to commit more players forward. This decision almost immediately backfired, with the spaces between Palace's midfield line, defensive line and goalkeeper all significant, and open enough for Henderson to play the ball through towards Mané, who struck his effort wide. Nonetheless, it was the exact same process, of catching Palace in offensive>defensive transition which resulted in Liverpool's opening goal, as Liverpool took advantage of Palace's compact defence not having protection from its wingers, with Firmino playing the ball into Robertson, who could cross comfortably, as Mané had occupied the half-space between Ward and Tomkins, before drifting into the centre of the box.
This slick, fast move is exactly what we have come to expect of Liverpool, with the ball progression rapid and zipped both vertically and horizontally over the field, making it exceptionally tough to defend.
Again, Liverpool created a similar chance, with Robertson pressing from deep, into the midfield third, where he turned the ball over, played it to Origi, and then drove forward before releasing Firmino, whose effort was excellently saved.
The danger for Liverpool remained in their defensive channels, and proved to be the case when Zaha broke down the left, past Fabinho's challenge and was consequently able to put Benteke up against Lovren in a one on one. With Lovren drawn out to the edge of the box, Milner filled in at centre-back, but Liverpool were unable to settle in their shape due to the speed of Palace's attack, which exploited the lopsided setup, with Zaha afforded space, and even a free option on his right side too.
In response, Liverpool positioned Mané closer to Firmino, and pushed both Alexander-Arnold up with Robertson simultaneously – with Wijnaldum and Milner taking up advanced positions in the halfspaces too, thereby pinning Palace's midfielders back, and creating an effective positional structure to control the game. That being said, Liverpool did not need it for long, and scored from a corner – with set pieces being one of Liverpool's greatest strengths this season.
Whilst some may rightly draw attention to Liverpool's never give up attitude, it's worth looking at the huge variety of means through which Liverpool can score. Comfortable in possession, on the counter attack, through positional or direct play and through set pieces – Liverpool have the tools to break down almost all challenges that they may face, and it is a credit to both Klopp and the diverse profile of players that he has assembled within his squad that facilitates that too.
It is very important to note not the manner in which Liverpool won this game, but rather the manner in which Liverpool played. The scoreline may have been the same as the Leicester game, which Liverpool won late on, however, there is a huge difference in the performative displays of both matches, with this game one which Crystal Palace can reasonably claim to have been hard done by. These performances are, of course, natural. However, the frequency to which we have seen performances which are below the expected standard is a little concerning. Liverpool can win ugly, but they will also need to be closer to their best if they are to secure the league title, come the end of the season. Perhaps this was just symptomatic of a tough international break, and a strong performance from Palace, but given the extremely demanding set of fixtures that await Liverpool, there are tougher challenges lying in wait and Liverpool will have to rise to those.