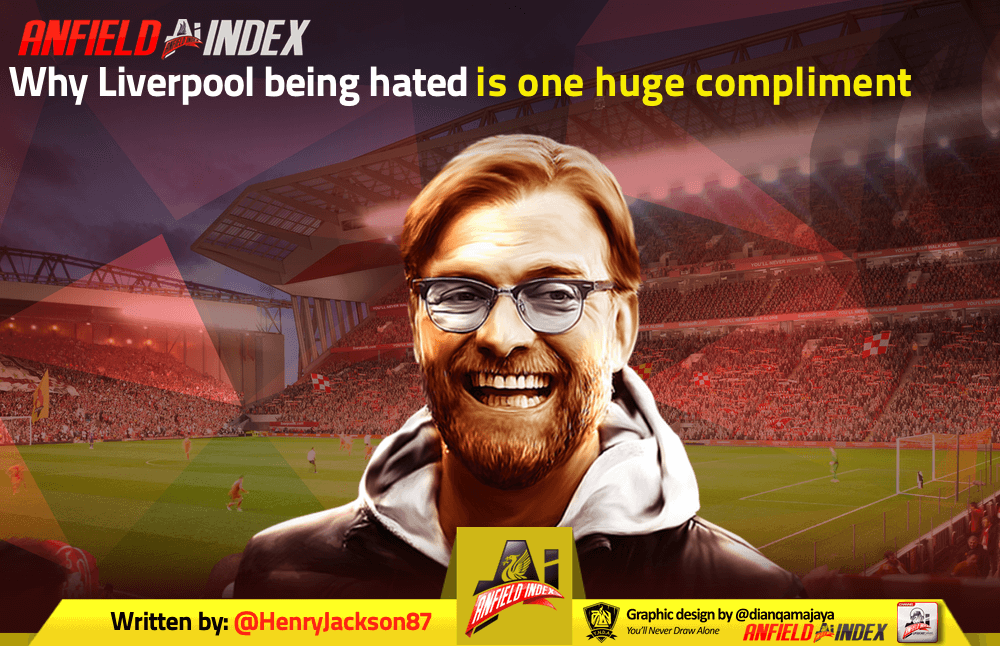 Why Liverpool Being Hated is One Huge Compliment
So this is how it feels to be hated. Feels good, doesn't it?
Although Liverpool haven't exactly spent their post-glory days being liked the world over, there has never been too much animosity from the masses.
Of course, Man United and Everton fans have understandably loathed them throughout, and other sets of supporters have also shown plenty of dislike, but this is different.

For the first time in almost 30 years, the Reds are the team to hate more than anyone.
Why? Because winning breeds hatred.
If you think about every great English team that has existed since Liverpool last fitted into that category, they have almost always been the villains.
United are the obvious standouts, with their dominance under Alex Ferguson soaked in late goals, iffy refereeing decisions and trophies.
Then Arsenal came along with their French swagger, cutting an arrogant outfit who also knew how to play dirty, so often getting the rub of the green.
Jose Mourinho's Chelsea made Ferguson's United look feeble in comparison when it came to the siege mentality they created, with their ability to get over the finish line in matches infuriating.
The Man City team that has impressed so greatly in recent years certainly isn't as loathsome as that aforementioned trio, but their tactical fouls, overly-emotional manager, bottomless pit of money and curiously non-plussed fans haven't earned them popularity votes.
During all of these periods, the Reds were never as detested as much as those who were winning the silverware, or as much as they are now.
They were nearly men who many felt indifferent about, perhaps because they have so often carried little threat in Premier League title races.
So why are Liverpool now the country's bad boys? Why are they ruining rival fans' weekends and inspiring the invention of hilarious conspiracy theories?
Four words: because they're the best.
Nobody likes a side who keep winning week in, week out, particularly in England – a country that so often celebrates losers and the idea of being an underdog.
Jurgen Klopp's men have gone from being the nation's great entertainers, scoring and conceding at will, to a well-oiled winning machine who are mastering the art of ugly triumphs. They sit eight points clear at the top of the table, and as much as those below them attempt to catch up, Liverpool just keep adding to their points tally. To have only failed to win once in the opening 13 league games of the season is remarkable and Saturday's 2-1 victory at Crystal Palace was another massive win in Liverpool's season. They again fell short of their best, but somehow managed to find a way to win.
This has been a growing trend away from home throughout the campaign, with the trip to Burnley arguably the only comprehensive performance on their travels. It is this new-found ability to dig out wins that is causing such ire among rival fans – since October, Liverpool have scored six goals in the final 15 minutes, all of which have either led to victories, or in Adam Lallana's case at Old Trafford, a draw. There's nothing worse than being one of the chasers and seeing the leaders pick up another dramatic winner, knocking all the stuffing out of your team's own title challenge. We should know, having experienced that sinking feeling endlessly since 1990.
This is being deemed as lucky, when in fact it is the perfect example of Liverpool's ruthless mentality and unrivalled fitness levels, never giving up and running right until the final second. United, Arsenal, Chelsea and City were all experts at it, too – is it merely a coincidence that the best teams score the most late goals? Obviously not. On top of that, there is a wonderful narrative doing the rounds that VAR is on Liverpool's side, because the Premier League and its referees are so desperate to see the Reds finally end the wait for title glory.
The blatant push on Dejan Lovren by Jordan Ayew was seen as the latest reason to back up this laughable opinion, yet even Roy Hodgson said it was a foul! These increasingly unhinged individuals are conveniently forgetting about Divock Origi being fouled at United, seconds before Marcus Rashford found the net, or Joel Matip being impeded at home to Newcastle. The incident that saw Roberto Firmino's armpit adjudged to have been in an offside position has been erased, as has Andy Robertson winning the ball in Naples, only for a penalty to be awarded.
The truth is that, on the whole, VAR is both benefiting and costing every team in equal measure and will continue to do so until the technology is ironed out. People just want to find a way to play down Liverpool's brilliance, which is ultimately what so much of this boils down to.
Rival fanatics have spent years revelling in the Reds not winning the Premier League, which is absolutely fine, given the tribal nature of football.
All of a sudden, however, there is a real fear creeping in that this might actually be Liverpool's year, and like that irritating person we all know who can poke fun at others and not take it the other way, these fans can't handle the idea of the Reds being champions.
What will they possibly be able to sing about if that happens, barring their usual tired barbs about the city and those who inhabit it?
For anyone who didn't support Liverpool in the 1980s, this is the first time we have genuinely known what being the best team in the country feels like, even though a few teams have come close.
As an added aside, we also now know how it feels to be disliked by so many, just because the Reds are better at football than anyone else.
There is a bitterness on show that is a delight to behold and this must be what those United, Arsenal, Chelsea and City supporters felt like during great times of their own.
This is all one huge compliment to Liverpool and the unstoppable force Klopp has turned them into – the more whinging, excuses and theories, the better.