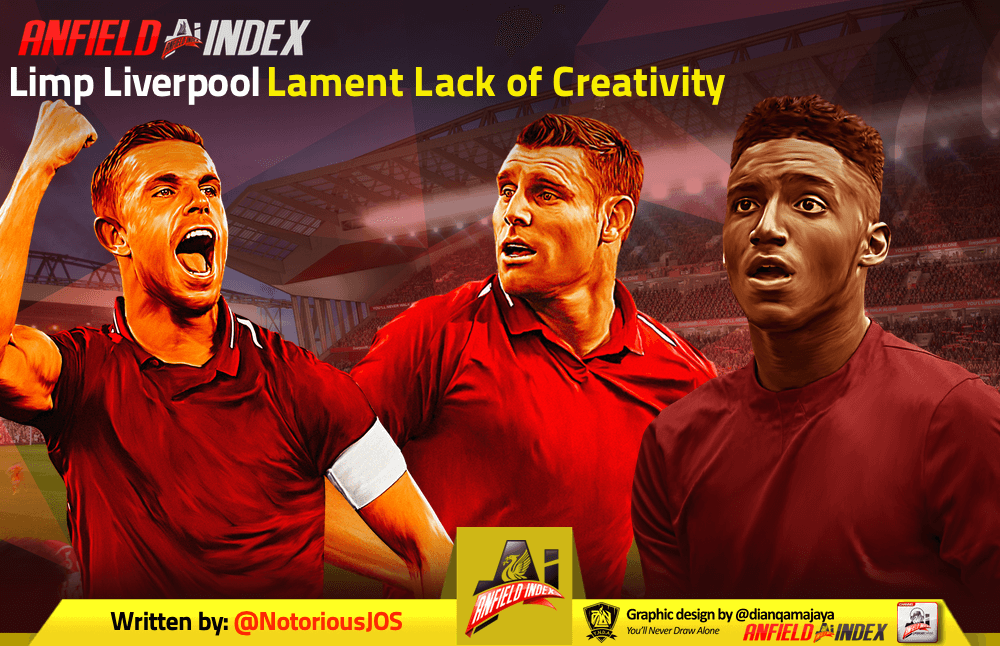 Limp Liverpool Lament Lack of Creativity
Liverpool will have most likely have to win their matchday 6 trip to Salzburg in order to top their Champions League after being frustrated 1-1 by Napoli at Anfield tonight.
A Dejan Lovren header from a corner equalised an early Dries Mertens strike, but Liverpool produced an atypically meek European home performance and missed a chance to win their group with a match to spare.
Jurgen Klopp elected to make three changes from the victory over Crystal Palace, with Alex Oxlade Chamberlain being replaced with Mohamed Salah and Joe Gomez and James Milner coming in for Trent Alexander Arnold and Georginio Wijnaldum respectively.

Many fans worried about the selected midfield — Fabinho, Milner and Henderson — and their ability to create opportunities. These fears would have escalated when Fabinho, after becoming the meat in a sandwich when Dejan Lovren tussled with Hirving Lozano, was replaced by Wijnaldum with what appeared to be a knee injury.
With the Brazilian off and shorn of the creative abilities of Alexander Arnold, Liverpool contrived to produce an anaemic performance. Slow, ponderous and lacking intensity the European Champions after 21 minutes, albeit with a massive helping hand from the referee, Carlos del Cerro.
Jumping for the ball with Virgil van Dijk, Mertens — on second inspection — elbows the Dutchman in the ribs and takes him out of the game, as he fell to the ground in pain. From the next phase, taking advantage of the poor defensive alignment of Lovren and Andy Robertson, Giovanni Di Lorenzo sent the Belgian forward in behind with a clipped pass. Mertens, who VAR confirmed was onside, then fired past Alisson with aplomb.
The home team can rightly feel aggrieved with the goal being allowed to stand, but their performance didn't warrant them being level even if Napoli weren't exactly ripping up trees themselves.
With the midfield not showing between the lines for the ball, much of the Reds attacks were funnelled down the left hand flank with Sadio Mane, Milner and Roberto Firmino all attempting to prize open the stodgy Italians.
Mane came close on several occasions to providing the final ball, but his efforts were thwarted by last ditch blocks as the half time whistle sounded with the players, Jurgen Klopp and the Anfield faithful all visibly frustrated.
The fare wasn't much better in the opening ten minutes of the second half, but the reds almost scored, despite this.
Henderson's floating cross — more a hit and hope than incisive creativity — was spilled by Alex Meret and Napoli had Kalidou Koulibaly to thank for saving them a conceded goal with the Senegalese giant clearing Firmino's effort off the line.
The introduction of Oxlade Chamberlain — who replaced Gomez with Henderson going to right back — provided a hitherto unseen spark and drive.
In the minutes following the Englishman's introduction, Salah worked Meret and Firmino ought to have done better from his angled cross, as he headed wide. Finally, Liverpool were giving their fans something to get excited by.
The hosts were turning the screw and mounting the pressure and it bore fruit after 63.
Milner's out swinging corner was powerfully headed into the left hand corner by Lovren at the Kop end.
The Yorkshireman's assist was one of his last actions of the game as he was soon replaced by Alexander Arnold, with Klopp clearly looking to add invention to a team high on effort but low on ingenuity.
The Reds pushed and probed, but the deep sitting Italians sat deep and absorbed pressure, throwing the gauntlet down to Liverpool to create; a job they failed in.
Any ideas of resting players away to Salzburg in matchday 6 have fallen by the wayside and the European Champions will almost certainly have to win — given the likelihood Napoli beat Genk — to win their group.
Liverpool team: Alisson; Gomez, Lovren, van Dijk, Robertson; Fabinho, Henderson, Milner; Salah, Firmino, Mane.
Substitutions: Wijnaldum for Fabinho, Oxlade Chamberlain for Gomez, Alexander Arnold for Milner.
Subs not used: Adrian, Lallana, Origi, Shaqiri.