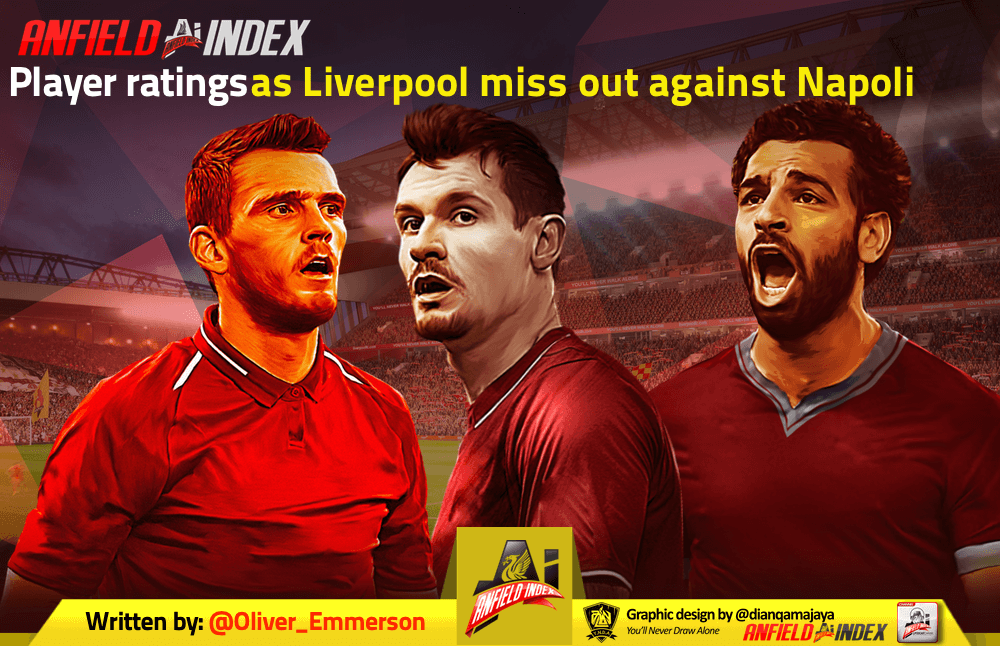 Player ratings as Liverpool miss out against Napoli
Liverpool are left needing to do a job in Austria on Matchday Six after only managing a draw at home to Napoli on Wednesday evening.
With Virgil van Dijk left on the floor, hurt in the centre of the pitch, Dejan Lovren was left to defend a two-on-one as Dries Mertens fired the Italian side ahead. Lovren was the one to pull the Reds level with a second-half header, that was all it to be though as Klopp's men failed to find another late winner.
Here's your player ratings.

Gomez struggles
Alisson (6): Nothing wrong, done for by an absolutely superb finish from Mertens. Had little to do other than that, with a second-half red onslaught seeing him mainly left to sweep up at the back – which he did well.
Joe Gomez (5): It's a shame that he's finding his only minutes at right-back. Defensively looked lacking in sharpness which wasn't a surprise and he's hardly a confident player going forward when on top form. Rightly hooked.
Dejan Lovren (7): Good performance from Lovren, won his individual battles well and it's a fantastic header to pull the Reds level.
Virgil van Dijk (6): Can't attribute blame to him for their goal, whether it's a foul or not he was clearly in some pain. Was much more arsed about him going down than them scoring, says a lot about his influence really.
Andy Robertson (6): Prefer his snide when we win, to be honest.
Poor midfield selection
Fabinho (N/A): I beg he's okay. Suspended for the weekend which is sound, we'll need him back for the Ev and their squad of number 10's come next Wednesday.
Jordan Henderson (5): Those whipped crosses from 30 yards out again, you know the one's. Absolutely hideous. Has he sustained a head injury and thinks he's crossing to Andy Carroll?
James Milner (5): Looks so far off the pace, playing him and Henderson as your advanced midfielders causes such a turgid display in the middle of the park. Both of just them stand at full-back taking up space that Gomez and Robertson should have to attack into. One nice run behind from him.
Salah strangled again
Mohamed Salah (6): Feel sorry for him. Clearly scares Ancelotti alive, he puts three people on Salah every time we play them. Koulibaly was literally on Salah, wrapping his arms around him, at one point in the second-half. Considering all this, Mo did well to get in behind and create a couple of times.
Roberto Firmino (6): Quiet with the occasional flash, nearly scored a nice one when Koulibaly cleared off the line.
Sadio Mane (6): Probably the best of the front three, although I've given them all the same rating – mainly because I thought they were all short-changed by the midfield, until Oxlade-Chamberlain came on at least.
Substitutes
Gini Wijnaldum (6): Came on and did a decent job defensively, seemed to lose his way late on.
Alex Oxlade-Chamberlain (7): Came on and offered everything that the midfield hadn't before, directness, energy and purpose. Understandable that he's not got a start tonight as you've got to manage his workload, but you'd be hard stretched to say he shouldn't be back in at the weekend.
Trent AA (N/A): "Come on and be David Beckham" can't work every time. Some lazy crossing.