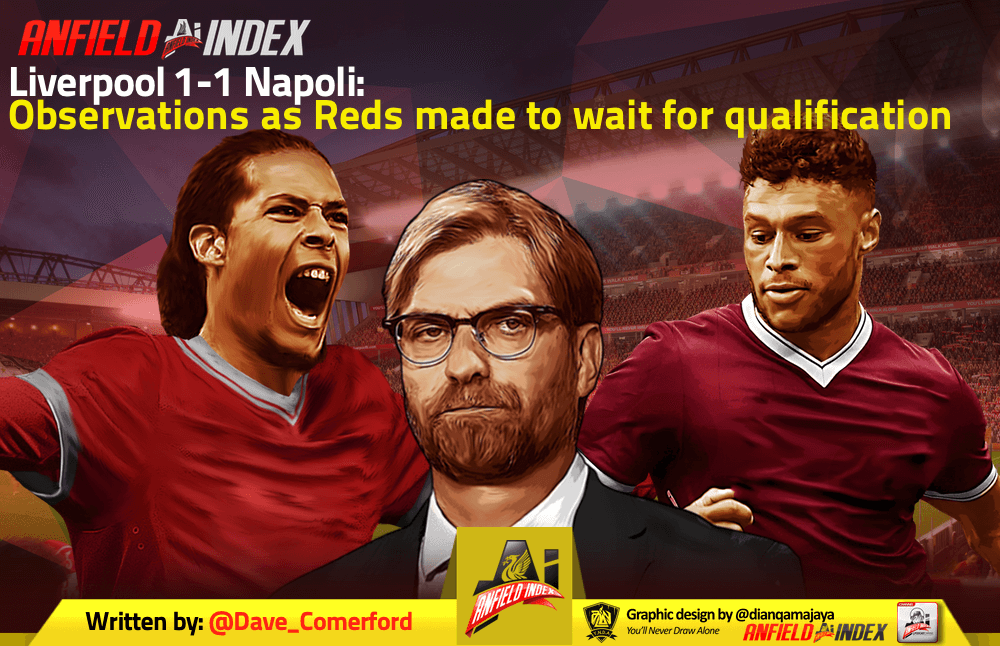 Liverpool 1-1 Napoli: Observations as Reds made to wait for qualification
In frustratingly typical fashion, Liverpool are doing it the hard way. The holders must navigate their way through what promises to be a nervy decider in Salzburg after a missed opportunity on home soil.
The chance to rest players, with progression as group winners secured, in the midst of a gruelling succession of fixtures would have been a godsend for Jurgen Klopp.
But it was a tame performance against Napoli, who increasingly have the feel of a bogey team, and in all the Reds don't deserve the luxury.
No assistance from VAR
VAR shouldn't serve as an excuse, but it's certainly ironic that it has denied Liverpool a fortunate victory after accusations of favouritism reached a crescendo over the weekend.
Virgil van Dijk was surely fouled in the build-up to the first goal, and he remained down nursing his knock as Dries Mertens, who had elbowed him in the stomach, raced away and scored.
More notably, Mohamed Salah was almost inexplicably denied a penalty after Kalidou Koulibaly hauled him away from the ball. Either Salah chose not to go down after previously being subjected to unfounded media scrutiny in similar circumstances, or he thought the infringement was so obvious that the referee would point to the spot anyway.
Clearly, players need to hit the floor in those situations, even though it would be an automatic fool anywhere outside the area. It's a recurring issue.
Another defensive lapse?
But what about the moments following the Mertens challenge? Was it simply the case that Liverpool were undone by the temporary absence of their left-sided centre back? The gap was clearly exploited. Or could they have still prevented it?
If you're being critical, you point out that the three remaining defenders perhaps could have shifted more quickly, or that Dejan Lovren's momentary bid to play the attacker offside backfired.
Either way, Liverpool will have to wait until at least December for a first home clean sheet of the campaign.
Little joy from the flanks
Liverpool are near-relentlessly potent from wide areas, but their deliveries here were easily dealt-with for the most part.
Trent Alexander-Arnold was clearly missed, Joe Gomez's attacking contribution once again proving comparatively scant. Napoli goalkeeper Alex Meret, aside from one fumble, claimed most of the balls with ease, drawing groans from supporters.
The visitors made the midfield so congested that there was unlikely to be a central route to goal. In fairness to those stationed on the flanks, Roberto Firmino failed to provide the finishing touch from perhaps the only pinpoint open-play cross.
Ox inspires rally
That ball was whipped in by Alex Oxlade-Chamberlain, a 57th-minute introduction. Klopp often delays his substitutions, but evidently he viewed Ox as a potential game-changer, and so he proved.
From the outset, he injected fresh vigour and intent into Liverpool's attacking play, and it would take his side less than 10 minutes to find an equaliser after he took to the field.
With Fabinho suspended for the visit of Brighton, and potentially facing a spell on the sidelines beyond that, Ox is surely a shoo-in. His lively cameo here continued an impressive run of form.
Performance levels lacking
Recently, and to an extent all season, Liverpool have very sparingly reached their potential. Only against Manchester City and Tottenham have they looked close to their uproarious best.
Their capacity to grind out ugly wins is remarkable but they can't simply bank on it. Above all, it will prove physically and mentally exhausting.
But it wouldn't be fair to this team to end on such a note of pessimism after a rare setback. It could well be the case that the Reds are bound to go up a gear, ominously for their rivals.