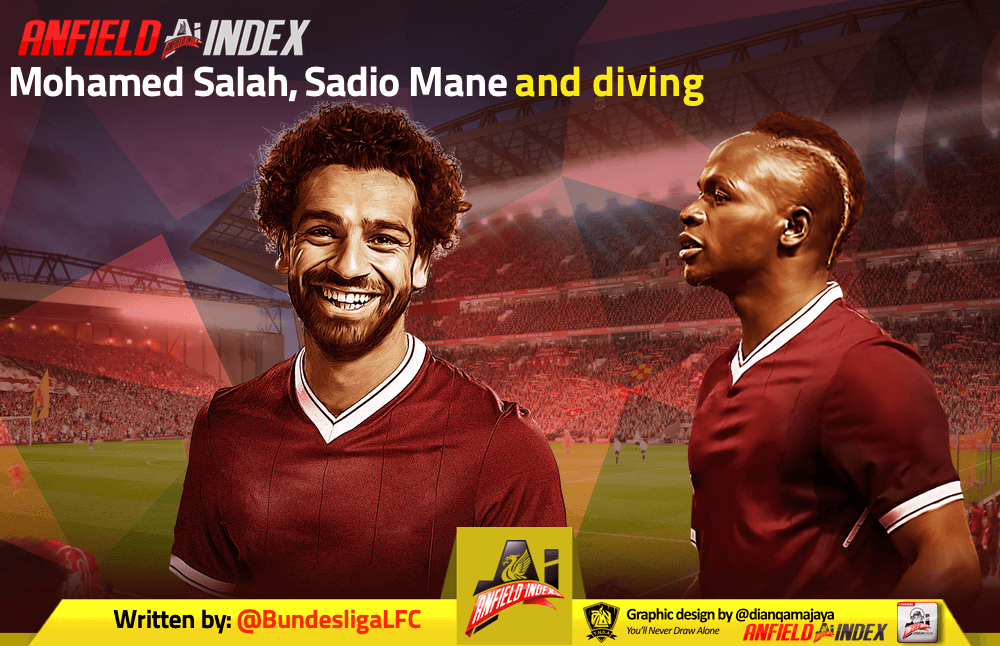 Mohamed Salah, Sadio Mane and diving
Mohamed Salah just can't win. 
The Liverpool forward is accused by many of being a diver, some even go to the lengths of creating videos to highlight these dives when in reality they flag a number of fouls. The fact remains, however, he has wrongly received this tag that he's unable to shake. And while it's fans who push this narrative, it's one that is heard across the world via social media. 
Yet in the Champions League clash with Napoli, Salah resisted the urge to go over when he showed his strength to hold off Kalidou Koulibaly. It was an impressive feat but it did the No.11 or Liverpool no favours. For starters, the move didn't result in a goal. His decision to not go to ground and instead carry on meant referee Carlos del Cerro Grande didn't have a decision to make. 

The Spanish official had a nightmare game at Anfield. The visitors seemed to get a free-kick for anything and everything but whenever there was a foul on a player in red, he inexplicably couldn't find his whistle. 
Dries Mertens' rogue elbow went unpunished in the build-up to the opening goal of the night while nudges on Sadio Mane were overlooked. The Reds weren't allowed such leeway, much to the frustration of the home crowd. 
How is that not a penalty I'll never know. Salah too nice there unfortunately. pic.twitter.com/olguEwjjqk

— Samue (@SamueILFC) November 27, 2019
Mane perhaps went down a little easy in the penalty area in the first-half but there was contact and had it been given it's unlikely that VAR would've overturned the decision. The key part in that, however, is that the Liverpool No.10 went to ground to force the official into making a call. 
Though the laws of the game state nothing about having to hit the deck to be awarded a foul, it's almost an unwritten rule that unless you end up sprawled across the turf it won't be given. There are exceptions. Cynical shirt tugs are often flagged but even then you see players throwing themselves to the floor just to make sure the referee has witnessed it.  
Essentially, you have to embellish contact to be awarded anything in football. More often than not, dives are fouls that players have made a meal out of. But when you see incidents like Koulibaly grappling with Salah, you can understand why players go down under the faintest of touches. 
If the Egyptian forward goes down in the box, the referee awards a penalty. When VAR review it they see the Napoli captain man-handling the Liverpool forward and preventing him from getting the ball. It's a no-brainer. It's a penalty and it won't be overturned. 
But by staying on his feet, the foul is overlooked and play continues as normal. This isn't the first time this has happened, though. Salah regularly rides challenges and he shrugs off opponents when it'd be easier to embellish the touch and go to ground in a dangerous area. The most memorable one was from last year when Steve Cook tried to bring him down with a cynical sliding challenge. He was caught but continued on to score. It paid off for him in that instance but had he missed, that foul wouldn't have been called because he'd played on. 
Until fouls are called as fouls regardless of the outcome – as in, players don't need to be grounded – there will be plenty of incidents which see players taking a tumble under very little pressure. They'll be labelled as divers if they're foreign and intelligent if they're English. 
As things stand, you need to be a diver to make the referee's job easier. Without hitting the deck, officials won't make decisions. Fouls are missed and bad tackles are ignored. Pep Guardiola called Mane a diver and he's right, he is. He does what is necessary to alert people to fouls. Salah needs to adopt that mentality and treat the diver tag as a positive instead of a negative.