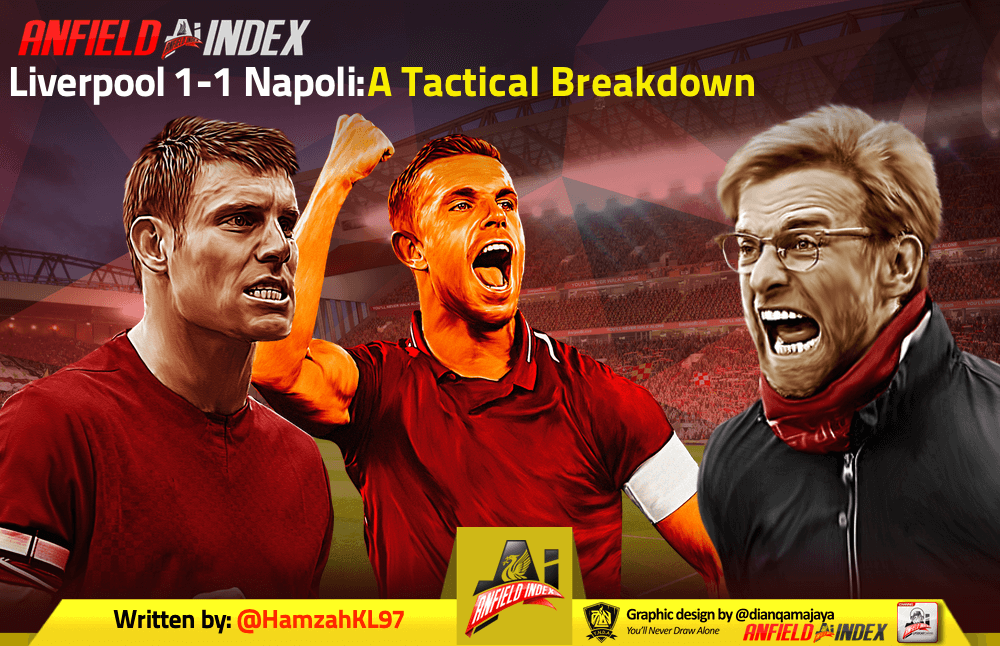 Liverpool 1-1 Napoli: A Tactical Breakdown
Carlo Ancelotti's Napoli are a formidable force. Last season, they were an Alisson save away from knocking Liverpool out of the Champions League in the group stages. They were also one of the few teams to utterly outplay Liverpool over the course of last season, as they won 1-0 at the San Paolo stadium, a result that was rather kind to Liverpool.
Both Liverpool and Napoli entered this game not quite at their best level, with Napoli enduring issues off the pitch, and Liverpool fatigued from international fixtures and injuries, with the relentless set of fixtures to come dictating some rotation, which came in the form of Alexander-Arnold swapping out for Joe Gomez at right back.
Yet Liverpool retained their typical system, in the 4-3-3. However, with Henderson and Milner starting together as the number 8s, they were a little too flat positionally and Milner, in particular, was positioned too deep, thereby depriving Liverpool of a player between the Napoli lines, and putting extra strain on Liverpool's buildup and reducing the ability of Liverpool to press effectively and retain the ball in the final third.

Napoli set up in a 3-5-2 system, with their two forwards looking to press early on in the first half and apply pressure to Liverpool's defenders, ideally forcing them to go long, where Napoli's centrebacks could deal with the aerial balls. In response to this Fabinho dropped deeper for Liverpool to support their buildup, as did Milner, but beyond the first five minutes where Liverpool attacked and pressed well, the side's structural integrity fell apart, and the ability to press effectively as a unit and to retain possession in advanced areas dissolved too.
Napoli's 3-5-2 left Liverpool plenty of space in the wide areas, however, without Alexander-Arnold, Liverpool were not using it effectively. Indeed, Liverpool were anxious on the ball and repeatedly looked to cross from unthreatening deep positions which were easy for the Napoli defence to cope with.
As Liverpool built up from deep, their midfield was not spaced optimally, and due to Napoli's wide players, who looked to hug the touchline when in possession, Liverpool's fullbacks were discouraged from moving up into positions where they could support the forwards, without the midfielders explicitly covering the midfield zones.
This poor start to the game, characterised by a lack of structure and compactness meant Liverpool could not press effectively, nor could they use the ball effectively either, as Liverpool's forwards needed to drop deep to receive the ball, and neither the fullbacks nor midfielders broke beyond them when they did so.
This dull performance was compounded by an injury to Fabinho and then a quick break from Napoli, with a questionable challenge by Mertens on Van Dijk, before he went on to score, with a well- taken strike. Dejan Lovren came in for some criticism for his role in the goal, however, Rio Ferdinand's – who provided halftime analysis for the official broadcasters – particular grievances with his decision-making were unjustified:
I'm not sure about this analysis by Ferdinand on Lovren on BT Sport. If Lovren takes the line that Ferdinand recommends, he leaves Mertens the opportunity to run a scissors into the space occupied, which would be a more threatening position than the one the shot is taken from.

— Hamzah (@HamzahKL97) November 27, 2019
The only fair criticism that could be levelled at the Liverpool defence was that Lovren and Robertson did not execute the offside trap well – but that is extremely harsh given Van Dijk was isolated from that phase of play and the safe decision was actually the one which Lovren took.
Despite conceding, much remained the same for Liverpool in the first half until the final ten minutes, where they stepped up the ante and finally corrected some of their positional issues. Firmino operated between the Napoli defensive and midfield lines, and in one particular instance, Milner combined with him and broke beyond him into the half space, as the number 8s are expected to do as the "free" midfielders in the 4-3-3 system.
However, Napoli's goal led them to position themselves far deeper, with their two forwards now operating in their own half when out of possession, and compacting their midfield and defensive lines, making it harder for Liverpool to play through them. The spaces for Liverpool remained out wide, but even a switch in the second half to Henderson and then Alexander-Arnold at right back did not change the bad habit of crossing from deep and a movement away from the patient, persistent probing that has come to characterise Liverpool when normally playing against a low block.
Even then though, Liverpool still improved markedly on their first half performance, with their shot volume increasing, and their control on the game itself much more clear, even if the side were not able to translate that into some clear cut chances.
It was ultimately Lovren who would equalise for Liverpool, testament not just to their mental ability to never give up, but also the multitude of ways in which Liverpool can break down teams and score goals. Not only can Liverpool create goals through patient possession, or pressing or counter attacking; set pieces have become a familiar and reliable mechanism through which Liverpool have broken down teams – we need only look at the winner at Selhurst Park a few days prior to this fixture for more evidence of that.
From here Liverpool had opportunities they could have pushed further, but struggled to do so, perhaps borne out of fatigue, or maybe just the effectiveness of Napoli on the night. The overall performance may have been poor, however, there were positive signs of improvement in periods of the match, which contrast to how Liverpool have played in general over the last two months. This was by no means a good performance, but Liverpool still have the future of their qualification within their own hands, and it's reasonable to expect a performative improvement given the way the side has played, and those small positive signs of improvement mentioned. It's important to remember this was not as bad a performance as it was received as – teams like Liverpool cannot be excellent week in week out – but there is improvement required, especially as the set of fixtures Liverpool are currently ploughing through is utterly relentless. Should the team tweak its positional issues when in possession, and have a more diverse midfield in terms of player profiles, i.e. Oxalde-Chamberlain and Henderson as no.8s, or Wijnaldum and Keïta as no.8s, the side should be better equipped to deal with the challenges posed, and less reliant on the ball progression provided by Alexander-Arnold. Fix these issues, and the drop off in pressing effectiveness, and Liverpool will be on a level that will be near impossible for anyone to match.