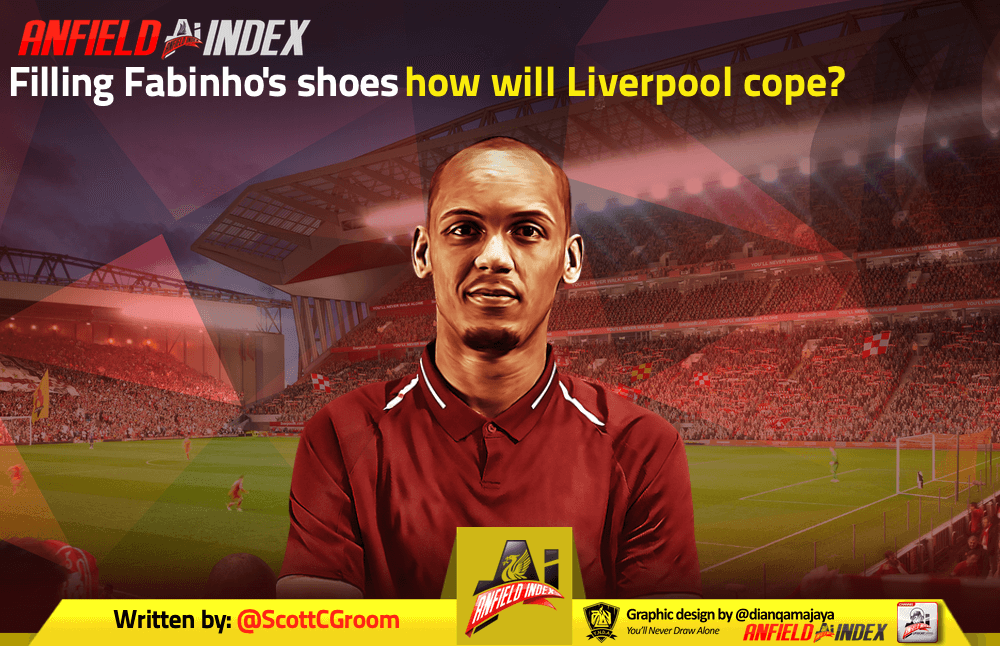 Filling Fabinho's shoes - how will Liverpool cope?
It was arguably the most frustrating aspect of the irritating 1-1 draw with Napoli in the latest Champions League – Fabinho picking up a fairly serious ankle injury.
The Brazilian midfield linchpin has been one of the standout performers for Liverpool since the mid-point of last season, and his influence on the side has grown so much so that he's arguably the first name on many fans' teamsheet.
So seeing him hobble off after just 19 minutes against Napoli was hardly the best news Reds could have hoped for.

The Liverpool number three has been ruled out for the entirety of December – missing the crucial busy period and crunch games against Everton, Leicester and being unable to participate in the Club World Cup in Qatar.
However, there are some very able deputies in Klopp's squad, and players that offer something a bit different as the void left by Fabinho looks to be filled in.
So who is it that comes into the team over the coming weeks?
First things first, we need to have someone with a defensive mindset playing in the role directly vacated by Fabinho, and this role is likely to be handed to Jordan Henderson – who has featured heavily there in the past under Klopp.
It would make sense to have him play this position since he's used to playing there and knows the role well, freeing up space further ahead of him in midfield for someone with more of a creative license.
James Milner is also a likely candidate for the role, and would also be a good fit in the position given his vast experience and seemingly endless amounts of stamina unbefitting of his years.
So this frees up space further forward in Klopp's midfield, positions ideally suited to both Alex Oxlade-Chamberlain and Naby Keita – both of whom Liverpool fans are clamouring to see more of at present.
This would allow Klopp to keep his favoured 4-3-3 formation, giving the full backs full attacking license while providing an extra edge of dynamism in the midfield through the attack-minded Keita or Ox.
I, for one, would love to see either of them in the midfield regularly over December, and it presents a real chance for them both to stake their claim for more regular starts after injury-hampered campaigns last season.
There's no doubt that both could really add something to the midfield in Fab's absence – and they could be the ideal fit. They're robust, strong and athletic in defence and can pick passes and split defences with their movement going forward.
This will be as key as whoever is playing that more holding role, the ability to pick effective passes to transition Liverpool from defence to attack.
While his tackling and all round shielding of the back four is arguably his most impressive trait, Fabinho is also very adept with the ball and has shown, most aesthetically with his assist for Mané in last season's 3-1 over Manchester United.
So the option to play someone like Ox or Keita in the midfield keeps that attacking edge. But someone else also featured prominently in that win last season and could also help to provide a different type of attacking threat.
That man is Xherdan Shaqiri.
It was at this point last season, Klopp used Power Cube in a 4-2-3-1 formation, with Shaqiri playing in behind the focal point of the attack – and he was particularly effective.
It could well be an option Klopp looks to use again as teams continue to try to find ways to stop the onward march of his this far undefeated side.
It also provides a bit of flexibility in the side, and the luxury of keeping teams guessing, and with the quality of those mentioned above, it's not exactly like the side without Fabinho is weak.
So while the big number three suffering an untimely injury isn't the best news, Liverpool are far more prepared than the initial fear factor would suggest to cope without him.
But any team in world football would be happy to have him in their ranks, so his absence will of course be of detriment to the side in some ways.