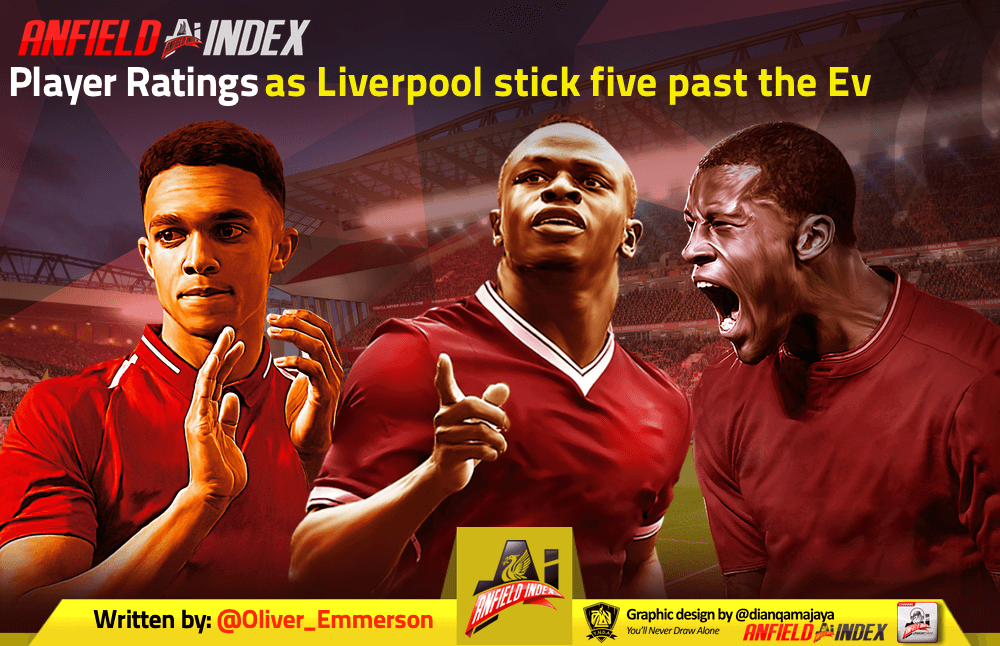 Player Ratings as Liverpool stick five past the Ev
There are holes to pick that performance and a nagging concern that Liverpool's defensive lapses will eventually lead to some dropped league points, but the day we stop beating our rivals 5-2 is the day we pack it all in.
Divock Origi loves a big game, Sadio Mane is a magician and Everton are really bad are my main takeaways, and here are my ratings.
Snide, silly errors and more from the defence
Adrian (6): Not giving him too much blame for either goal. Could maybe be slightly quicker out to Michael Keane whilst Richarlison scores a really nice header, fairly solid other than that and does well to prevent the ball nipping out for a corner a couple of times.
Trent Alexander-Arnold (6): Lovely stuff going forward, picks some beautiful passes to set the Reds away on the break in the first half especially. Needs to stop trying to get himself sent off, though. That handball in the second half was stupid and he'd have had no complaints had he been shown a red.
Virgil van Dijk (6): The big man was alright tonight and did well to quash a Calvert-Lewin chance in the first half, no idea about the cries for a penalty there. Not a vintage performance though.
Dejan Lovren (6): Really good clearance from a Richarlison cross at 3-1 but gets himself in an absolute mess for Michael Keane's goal and doesn't cover himself in glory for Richarlison's either. Seems to lose his bearings. Cracking ball for Origi brings his rating back up.
Andy Robertson (7): Had more joy defensively than Trent and was good going forward in equal measure. Arguably the most snide player in the league.
Staggered midfield ratings
Georginio Wijnaldum (7): Good performance, seemed as if he was on his own in midfield at times. Great finish for his goal, owes a lot to Firmino for it though.
James Milner (6): Looked positionally lost in the first 45 but grew into it as Everton began to give up.
Adam Lallana (5): Those turns when he gave the ball away, giving Everton a 4-0n-3 in the first half. That is all.
Sadio proves he's Liverpool's main man
Xherdan Shaqiri (7): Excellent return. Touch and confidence still there, some lovely passes. Decent hair transplant, even better finish.
Sadio Mane (9): He probably gets a 10/10 if he tucks one of the chances away at the end, to be honest. An absolutely spellbinding performance, two superb assists and a beautifully taken goal. Ran Everton ragged without his usual two mates, I think he's firmly established himself as the Reds' most important gunslinger for the time being.
Divock Origi (8): All the composure of a lad knocking the ball in on the park. Fantastic. Does nicely for the first goal to slip it round T-Rex, taking advantage of Pickford's unfortunately sized arms with his second too. Hero status merely furthered tonight.