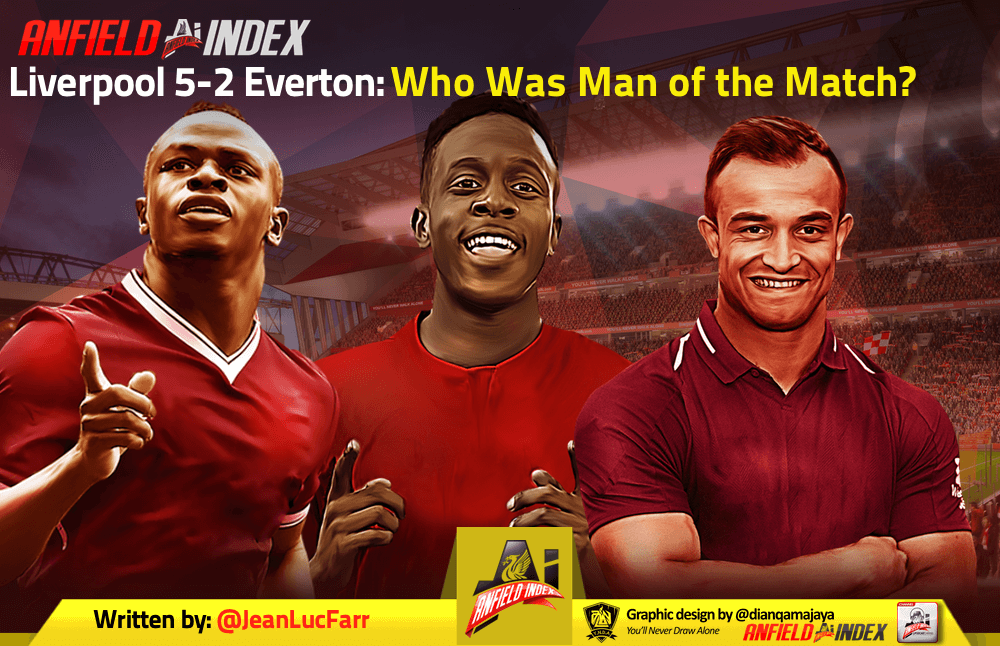 Liverpool 5-2 Everton: Who Was Man of the Match?

Another win for the Reds in the Premier League, this one a bit simpler than many of the recent ones. Understandable, really, being against a relegation-threatened side. The Merseyside Derby spoils are claimed by Liverpool yet again in a 5-2 thrashing of Everton. The result was never really in doubt from minute one, despite a few bits of ropey defending in periods of the first half. There were a number of excellent individual performances, so let's take a look at who deserves to be named Man of the Match.
Firstly, with Alisson being sent off against Brighton on the weekend, Adrian stepped in for the Brazilian and performed adequately. He could do very little about either goal and made no mistakes, nor did he make any outstanding saves.
In defence, Trent had another brilliant game going forward. His drilled diagonal to Mane before Shaqiri's goal was sublime, while he also managed to add yet another assist to his collection this season when he laid the ball off to Sadio Mane in the 45th minute. Lovren also created a goal as he launched a long ball up to Divock Origi to control with incredible skill before lifting the ball over Pickford for his second goal of the game. So, in an attacking sense, the defence did rather well. in terms of actual defending, though, the two Everton goals showed a lot of not-so-nice moments. I don't even know where to start with the first goal with there being so many different mistakes, so I'm not going to go into it. As for the second, Richarlison is allowed to waltz into the box with neither a midfielder nor a centre back realising and plants a free header (shoulder) into the far corner. Mixed feelings on the back 4 in this one.
In midfield, it was a bit of a scary sight seeing the 3 players that Klopp chose to start. Wijnaldum, Milner and Lallana were given chances with the injury to Fabinho, the necessity to rest Henderson and also the sad demise of Naby Keita. Rest in peace, our Guinean prince. In the first 45 they struggled a little bit. Lallana was running around a lot but not really doing very much, Milner seemed to remember that he is 55 years old and couldn't keep up with the tempo, which left Gini with a lot of work to do. Second half, though, I felt they improved and controlled the game for the most part.
The front 3, however, were the stars of the show. It was the starting trio that performed the miracle against Barcelona, and they were equally impressive in this one. All 3 got themselves on the scoresheet, with Origi getting 2, Mane with 1 and the forgotten man, Xherdan Shaqiri, also scoring once. They all played brilliantly for the entire time that they were on the pitch, other than Mane who decided to take pity on the Evertonians and miss 2 sitters late on. Aside from those misses, though, Sadio was phenomenal. His pass to create Origi's first goal is one of the greatest assists you will see all season. It was great to see the Power Cube again and, with Salah still struggling with an injury, it is the perfect time for him to return. He, along with Origi and Mane, played exceptionally.
There were a lot of contenders for Man of the Match in this one and, although I was very tempted not to give it two him after he spurned 2 incredible chances to kill the game, I've decided to give it Sadio Mane. Once again, he proved why he is one of the best players in the world and why it was a disgrace that Cristiano Ronaldo beat him to 3rd place in the Ballon d'Or. He is without question one of the most in-form footballers in the world.