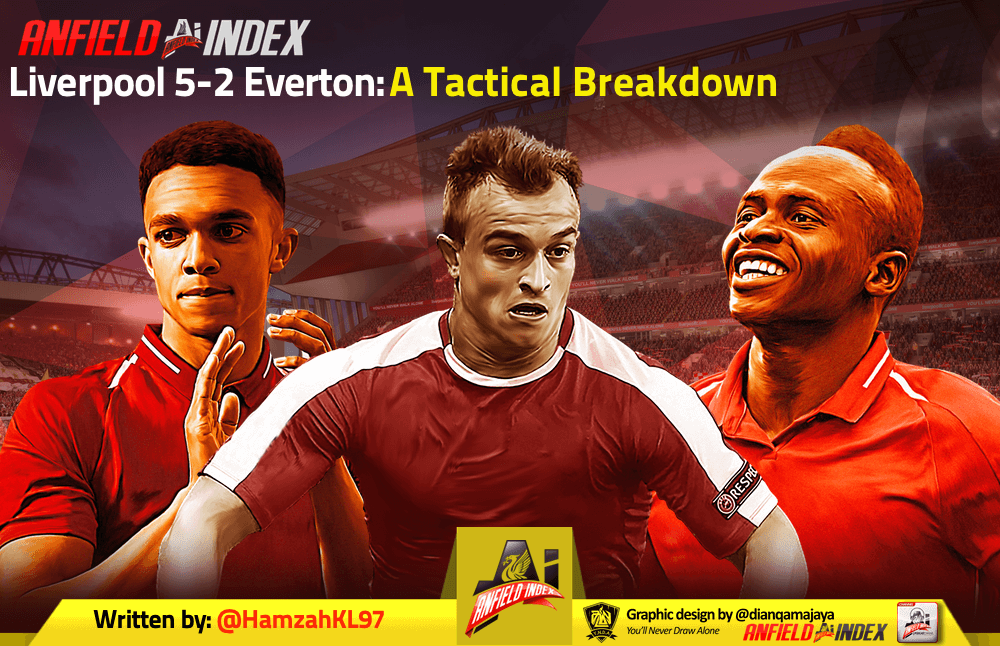 Liverpool 5-2 Everton: A Tactical Breakdown
The fixtures seem to flash past in a blur. It's hard to imagine how it feels for Jürgen Klopp, given his side barely have time to rest, let alone develop match specific tactics between recovery days and fitness top-up sessions. Rotation is a necessity for Liverpool if they are to get through this utterly chaotic wintery whirlwind of matches.
Against Everton, Klopp was exceptionally bold, with five players rotated out, and Origi, Shaqiri and Lallana all brought in for the derby, despite their lack of game time relative to the rest of the squad.
Everton, surprisingly, opted for a 5 at the back system, however, there were a number of issues with the manner in which Everton executed their gameplan. The primary issue came from the lack of positional cohesion from the side: the Everton back line pushed up high, in order to compact the pitch, however, the Everton midfield line and forward (Calvert-Lewin) did not press the Liverpool midfielders and defenders effectively at all. In doing so, the whole effort to push up their defensive line was made redundant, with Liverpool able to play passes over the top with ease, and break into space beyond the Everton defensive line.

The space between wing-back and centre-back became a huge problem for Everton, as Mané and Shaqiri operated within that channel freely, able to receive the ball without pressure, and the opportunity to run at the centre backs, on the inside of the wing backs. This lack of spatial awareness and compactness by Everton indicated that not only would they be utterly overwhelmed when caught in transition, but also when settled into their defensive shape too, because of the freedom afforded to Liverpool's players, who were able to pick passes and break lines with ease.
Underscoring this critical issue for Everton was Liverpool's first goal, a brilliant fast break down the left side, with Origi the beneficiary of one of many moments of Mané magic from the night. The goal itself was a classic move of Liverpool in transition, carrying the ball forward at pace, breaking into space, not letting the opposition back line settle, constantly moving the ball, and this meant Everton suddenly had no game plan other than to double down.
In the opening period, Liverpool pressed well, and created chances aplenty, scoring again through Shaqiri, whose movement pattern swapped with Lallana – as Lallana took up a wide right position, and Shaqiri ran in from deep. This time the move itself was instigated by Alexander-Arnold, whose switch pass took advantage of Everton shifting their defensive line over to his side of the pitch, and found Mané, who was able to control beautifully, carry the ball forward, come inside, and then play a brilliantly disguised reverse pass into Shaqiri's path, which caught the entire Everton back line by surprise.
With Liverpool 2-0 up the game, as a tactical contest, seemed over. Liverpool had space they could access and exploit with ease, and consequently, dropped into a deeper position, primed to counter attack and finish Everton off. Much like against Brighton, or Chelsea or Southampton, Liverpool dropped too deep, and invited Everton onto them. A small error by Lallana when stepping out to press Davies afforded extra space for Iwobi, who capitalised on it and fired a powerful but awkward cross into the box, where it was met by Lovren, but finished by Keane.
Despite being handed a lifeline back into the game, Everton had not addressed the tactical deficiency that was the lack of pressure on Liverpool's players. Indeed, most teams Liverpool play against usually deploy at least one forward to press Liverpool's defensive midfielder or centre backs, in order to force the ball backwards, or those players into making less dangerous sideways passes. This lack of pressure though allowed Lovren to look forward and take advantage of the Everton line, which had pushed up, despite the midfield and forwards not reciprocating that action. He drove a brilliant pass in behind, but it was a Dennis Bergkamp-esque touch by Divock Origi that lit up Anfield, before he cooly struck the ball beyond Pickford.
Another break from deep on the left side was led by Alexander-Arnold, who drove forward with the ball at his feet, committing the last man before passing into Mané, who somehow struck a sublime shot off his weaker foot, from outside the box, with the ball coming across him, first time. Exquisite.
From here it could only be errors from Liverpool that could cost them, and indeed it was, with a spurious decision to drive forward with a minute left until half-time punished by Everton's Richarlison on the counter-attack. Klopp, furious, brought his team in for their half-time break and hammered into them a defensive discipline which saw Everton create next to nothing for the opening twenty minutes of the second half.
With two substitutions though – the introduction of Henderson and Firmino for Origi and Lallana – Liverpool added some attacking impetus, and the game opened up once more – and the lack of ball pressure on Liverpool's players became evident again, and was nearly punished – with Henderson, twice, able to pick the ball up in the right half space and pass into Mané, who should have converted on both occasions. Ultimately, it was not to matter though, as Liverpool's very own no.5, Gini Wijnaldum, scored Liverpool's 5th of the night, courtesy of an effortless faux-flip-flap by Firmino, leading into a pass to the unmarked Wijnaldum.
Klopp was always expected to make changes to the side, given the number of games Liverpool face in quick succession, but the sheer volume of changes, and the effectiveness of them can only be lauded. Everton certainly did play into Liverpool's hands, and gave Liverpool's players far too much time on the ball, and left spaces between their midfield and defensive line, and especially between their wing backs and centre backs – the areas in which Liverpool's forwards thrive the most. Everton's frequency to get caught out in transition was remarkably high, and Liverpool were extremely efficient in punishing Everton in these moments. To concede two goals, and 3 "Big Chances" is a little disappointing, but given Liverpool have lacked the same level of offensive fluidity and effectiveness compared to last season, it's extremely promising to see the side put in such a well rounded, creative offensive performance – a sign which is extremely ominous for the teams set to face Liverpool in the coming weeks, for it looks like this side is just about to play even better.