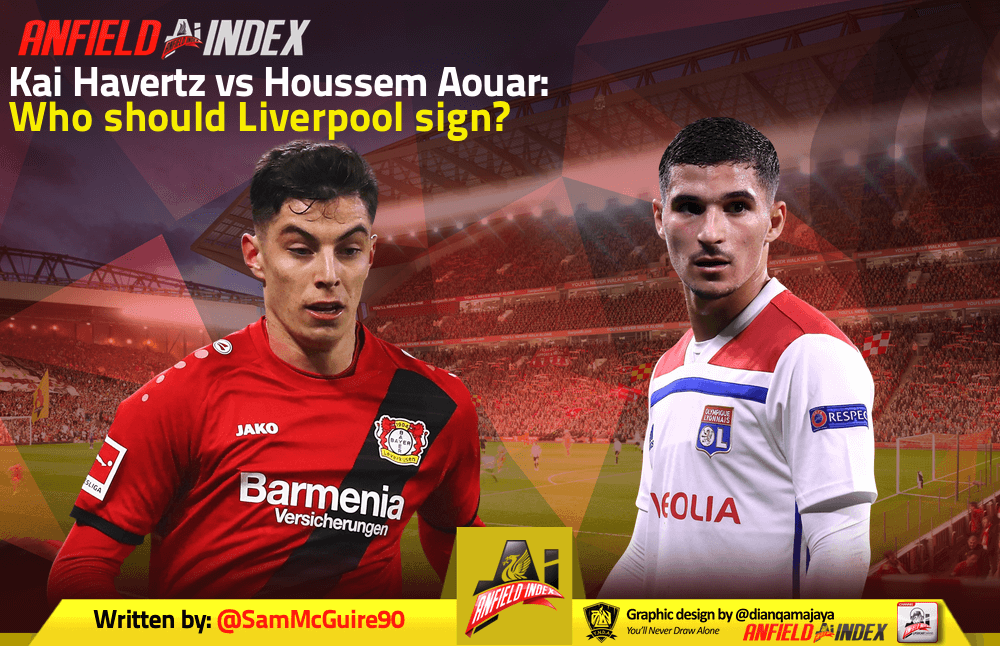 Kai Havertz vs Houssem Aouar: Who should Liverpool sign?
If reports are accurate, Liverpool plan to flex their financial muscle in the near future. Countless outlets have linked the Premier League leaders with Jadon Sancho while Kylian Mbappe remains a dream target for fans. The new link to Nike has only strengthened the belief that one of these two could soon be plying their trade at Anfield. 
However, they aren't the only players reportedly on the club's wishlist. According to David Maddock of the Daily Mail, Liverpool are long-term admirers of Houssem Aouar. Interest in the Frenchman has been mooted by the media for a number of years now but the fact Maddock namechecked him suggests the interest in the 21-year-old is more than just a casual flirtation. 
The Reds will need to do some restructuring in the middle third over the next year or so. At the end of next season, Jordan Henderson will be 30 while Adam Lallana and James Milner will be well into their 30s. Given how much running is required to patrol the middle third in a Jurgen Klopp system, it is safe to assume there's a lot of mileage on their legs. 
Freshening up that area of the pitch will be on the agenda, no doubt about it. Marko Grujic could return from his loan spell at Hertha Berlin but it looks likely that the Reds will cash in on him with a number of German teams keen. 
Now, Liverpool reportedly have a good relationship with Lyon after the way in which they handled Nabil Fekir negotiations and the aftermath of that. If Aouar is a target, he would've already been sounded out. His price will be known, as will his demands. If the Reds remain interested, as hinted at by Maddock, then there's a deal to be done. 
And while he's undoubtedly a talent, is he the best one available to the European champions? A potential rival could be Kai Havertz. Liverpool's interest in the German midfielder dates back a couple of years now and despite the issues at Bayer Leverkusen – different managers using different systems – the 20-year-old continues to impress. 
Last season he netted 20 goals in all competitions, finishing the campaign with a record of a goal every other game. What makes that even more remarkable is the fact he wasn't playing as a striker. He flitted between being a midfielder and acting as a wide forward. 
The Germany international hasn't been as prolific this time around but he's still scored twice in the Bundesliga. His expected goals per 90 average is 0.22. Post-shot expected goals looks at where the shot is taken from and where it lands on target, it's a stat used to see which players add value to their efforts. Havertz definitely does, with his average rising to 0.30 when looking at this one. It might not seem like a big difference, just 0.08, but over a 38-game season that equates to an extra three goals. 
Havertz is also a bit of a creative force, too, with an expected goals assist average of 0.18. This term, that average is higher than what Aouar is managing with Lyon (0.09). The Frenchman is having a difficult season in many respects. Bruno Genesio was replaced in the summer with Sylvinho coming in. The former Arsenal full-back didn't last long and now Rudi Garcia is at the helm. Different systems and different tactics have hurt Aouar. 
On paper, it may appear to be strange to compare the Lyon No.8 and Havertz with the latter being more attack-minded. However, when the Ligue 1 side planned to sell Fekir, it was Aouar who was tipped to replace him as that goalscoring midfielder. He upped his output last season and all of his underlying numbers spiked, too. It highlighted that he could be a regular threat going forward. Perhaps not in the same league as Havertz but nonetheless, he has a goal in him and the desire to get into the box is something that can be shaped by a manager. 
If Liverpool want a high energy, goalscoring midfielder than Havertz clearly trumps Aouar. If, however, the Reds want more of a well-rounded middle third man then the Lyon maestro would be the player to opt for.