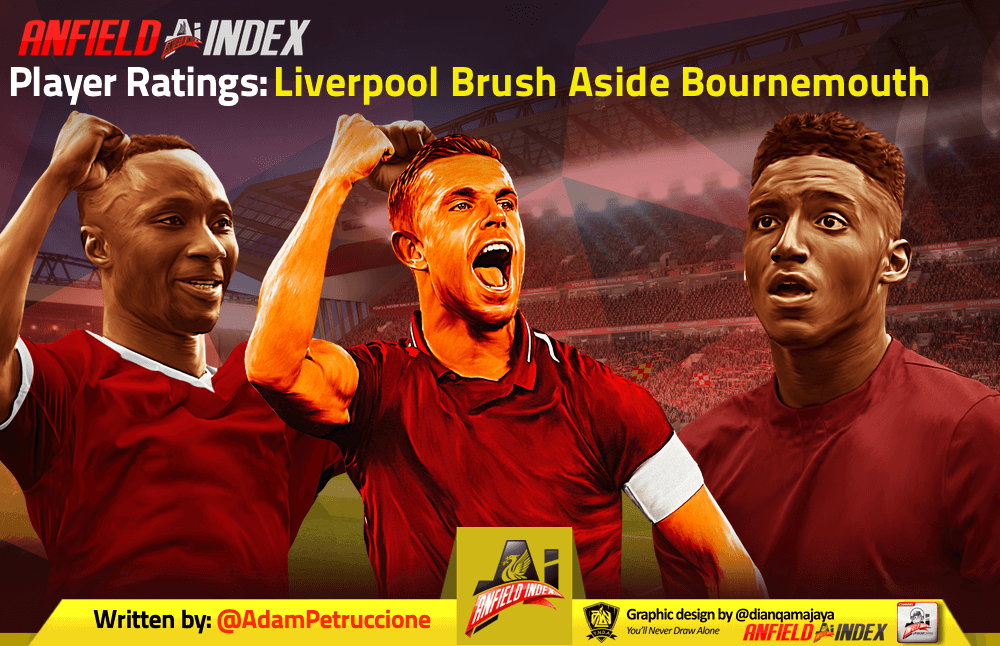 Player Ratings: Liverpool Brush Aside Bournemouth
If you are one of the many Reds worried about the midweek match against Red Bull Salzburg you couldn't have hoped for a better result than this. Liverpool have seen tougher opposition on the training pitch than this Bournemouth side who were flattered by the 0-3 scoreline.
Firmino, Salah and Henderson returned to an eleven masterfully rotated by Jurgen Klopp to deal with December's congested calendar.
Remember Clean Sheets?
Alisson (7): Good to have the Brazilian back in net and racking up clean sheets regardless of how little threat there was. 92% passing and 4 of 6 long balls is a nice warm-up for a critical match on Tuesday.

Joe Gomez (8): With such inconsistent playing time, to come in and have his best match at right-back and his best match at centre-back in one afternoon is quite something. Depending on the severity of Lovren's injury, Gomez may be paired with Van Dijk for the next month.
Virgil van Dijk (8): A vintage performance from Virgil, robbing Solanke of a big chance and bossing the match from deep with 91% passing and 8 of 11 long balls.
Dejan Lovren (6): Seven matches without injury appears to be the limit for Lovren. He's been solid but ticking along with a mistake or two every match to leave the door open for Gomez to retake the position for himself with a good run.
Andy Robertson (6): An unspectacular match from Robbo, but just the fact that he continues to gut out match after match without a break is remarkable. There's been no sign of Larouci on the bench so it looks like it will be Milner if anyone is going to provide a rest for Robertson.
Naby is back!
Naby Keita (9): An early giveaway had the Twitterverse perched over their keyboards, but Keita put everyone's worries to bed quickly after that, linking up masterfully with Mo Salah. A goal and an assist from a Liverpool midfielder? It seems we haven't seen that kind of production since Keita was injured against Barcelona.
James Milner (7): Energy, composure and 111 passes from the boring one. Milner continues to show his value and versatility as he enters the last six months of his Liverpool contract.
Jordan Henderson (9): Any opportunity for hot-takes were ruined by simultaneous, stellar performances from Hendo, Keita and Chamberlain. 160 touches, a spectacular assist and dominant in the middle; this was just what the doctor ordered with Fabinho out for a few more weeks.
The Mo & Ox Show
Oxlade-Chamberlain (8): For Chamberlain to provide the opener while playing out of position is huge as Liverpool dominated from then on. Hopefully he won't have to play up front often, but his production today was vital.
Mo Salah (9): A rejuvenated Mo had his swagger back and tortured Bournemouth all afternoon. A goal and a gorgeous back-heel to set up Naby's goal was a welcomed sight from a player who struggled in recent weeks.
Bobby Firmino (6): Energy wise, Firmino looked up for it, but the chances his attacking colleagues had never materialized for our number nine.
Bench
Trent Alexander-Arnold (7): Dictated the action from the moment he came on in what was supposed to be a rest day for the best right-back in the world.
Curtis Jones (7): He's been impressive in the U23's and didn't look out of place with an energetic and composed performance. If only he could have kept that volley down.
Shaq (6): The calf show came on late and didn't have time to do much, but looks sharp enough to be a factor in the coming weeks.