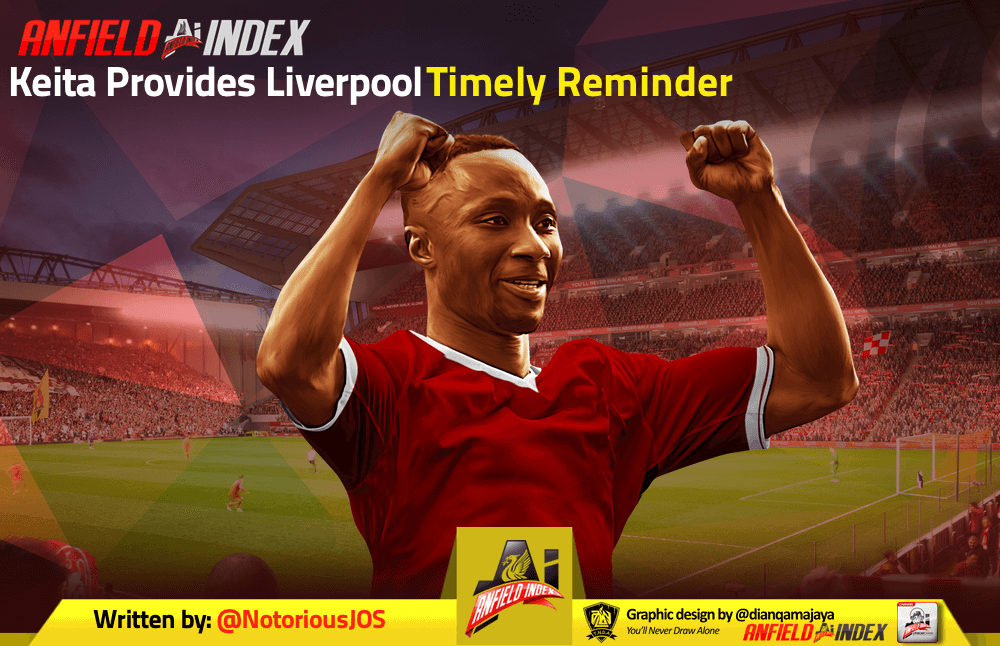 Keita Provides Liverpool Timely Reminder
Let's face it, if we're calling a spade a spade, Naby Keita has not lived up to his billing since his highly publicised move from Red Bull Leipzig.
The midfielder failing as yet to be the potential superstar prophesied by many familiar with the Bundesliga is not black and white, however; there is a large area grey area of nuance to consider when assessing his time at Anfield so far.
The real stumbling block for Keita has been injuries and never, as some have suggested, a lack of quality or the tactical acumen to play the number 8 role in the Reds' engine room.

That is why the suggestion that Saturday's win away to Bournemouth — the Guinean's first start of the Premier League season — was a chance for the 24 year old to impress Jurgen Klopp does not tally with fact.
Keita, after a slightly shaky first 15 minutes — which was only natural for a player who, until that point, only had 14 minutes of league football under his belt this season — was imperious throughout and added a goal and an assist as the European Champions romped to a 3-0 win.
The number 8's performance was not the beginning of a new, improved Keita, it was rather the continuation of the rich vein of form that he ended last season; a fact that is often overlooked when assessing his career at Liverpool to date.
Last season, despite being hampered by injuries, the difficulties that moving league and lacking fluency in a language engenders, the midfield maestro started on 22 occasions, 17 of which were in the league.
The importance of the games Keita was trusted to start in puts paid to the narrative that Klopp doesn't trust him. In a title run in, the Guinean started 5/6 games in April of last season — a run in which he scored three goals — and his game time wasn't just restricted to domestic competition.
The Guinea captain started big European games against Bayern Munich, a quarter final versus Porto(in which he scored) and a semi final away to Barcelona(a game in which he started well before an inexplicably unpunished Ivan Rakitic foul ended his participation and season).
Speaking to reporters after the Bournemouth victory, Klopp explained why Keita has not played as often as he would have hoped. He did, however, admit that bad luck, more than anything else, has been a determining factor in his start to life with the six times champions of Europe.
"Naby had injuries, the team is in really good shape, so then do you change? We are not flying, it's not like we won all of the games 4-0, or 5-0, so we had to bring on a player who helps us with defending set-pieces.
Then Naby is sitting outside thinking, 'why don't I play?' I get all that. So we stayed in contact, we talked and we spoke a lot about it.
But in the end of course a player needs to have this evidence that the manager still believes in you. I was never in doubt about that.
It was just unlucky and in life you need luck always. He started really well – everybody forgot that – then got injured. And again, we had two really good seasons.
I was never in doubt about his quality," the manager said with a genuine enthusiasm that would convince you, even if spending 50+M on the player doesn't.
Keita's showing versus Bournemouth — where there was signs of a nascent understanding with Mohamed Salah, both of whom assisted each other for goals — was a timely reminder of what the third most expensive transfer in the history of Liverpool Football Club can do.
With his manager in full belief of his capabilities and, judging by events on the pitch, evidently team mates of the calibre of Salah, all the Guinean needs is a stroke of luck and an already brilliant team could become even better.