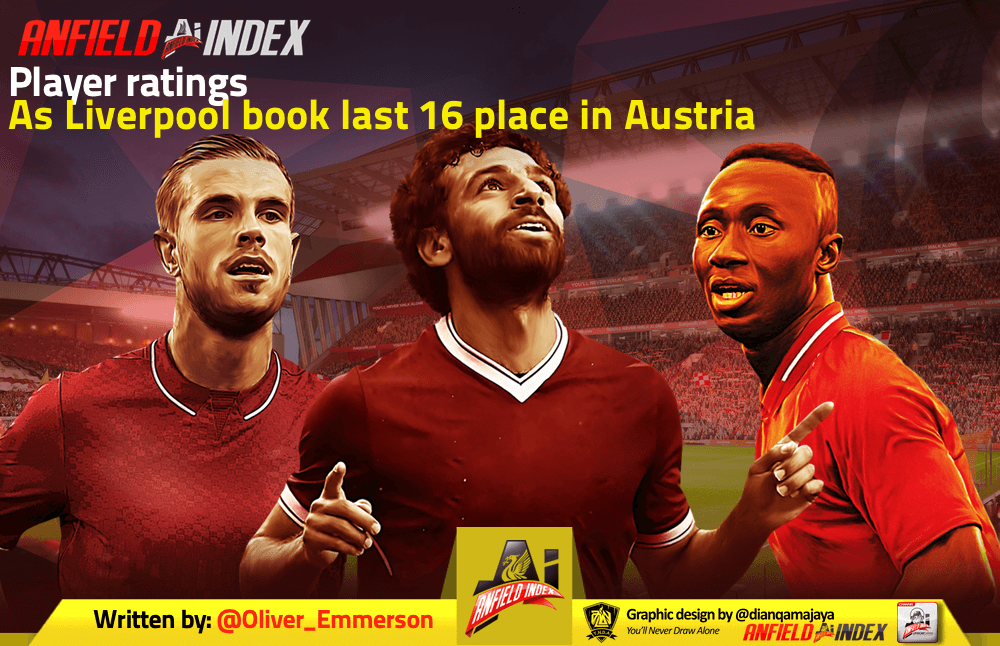 Player ratings as Liverpool book last 16 place in Austria
Get in! The reigning European Champions once again move into the last 16 of European competition under Jurgen Klopp, with goals from Naby Keita and Mohamed Salah securing a 2-0 win for Liverpool against Salzburg.
In a fairly hostile atmosphere, the fixture delivered what was expected. There was high paced football with chances at both ends, the Reds eventually coming through stronger as Keita's header forced the opening goal before a superb finish from Salah shortly after.
Liverpool go into Monday's draw as group winners.
Alisson and Van Dijk provide timely reminders
Alisson (8): Tonight reminded me of his Champions League final in a lot of ways. No particularly difficult saves, but no saves made to look difficult. A calm, assured performance in a big game as he snuffed out Salzburg on multiple occasions, even if their finishing left a little to be desired.
Trent Alexander-Arnold (7): Didn't try to get himself sent off which made a nice change from his last midweek performance. Would really like him to assert a little more dominance on dead-ball's though, Salah and Robbo shouldn't be anywhere near them.
Dejan Lovren (6): Given the run around by Ivan Drago and Boris Johnson's love child a couple of time but the only real concern was him getting injured, which of course he did. Hopefully a quick recovery because as I count it, Liverpool currently have *four* fit first team defenders.
Virgil van Dijk (9): Set the tone for his performance after about 20 seconds as he easily shrugged a goalbound Halland off the ball, doing similar to Hwang a couple of minutes later. A magnet to the ball aerially, he used it beautifully on the floor to set up some swift attacks. Brilliant game.
Andy Robertson (7): Finding some nice form at the moment, good at both ends tonight. Played lots recently so I wonder if he might be one to drop out for Milner at the weekend.
Naby. Keita. Szn.
Jordan Henderson (7): Think some of the praise on Twitter is going a little overboard given the amount of times Salzburg walzed past his space in the first half, but I do agree that Hendo was very good on the ball this evening. One little dummy before releasing Firmino smartly really impressed me, his defensive work picking up in the second half.
Gini Wijnaldum (7): Cor, what an arse. Saw a tweet saying his arse could probably save a collapsing building. Hard to disagree. Nigh-on impossible to dispossess.
Naby Keita (8): Naby season babyyyyyyyyyy. The way he floats past players with one little burst of pace is beautiful. What a touch, should have an assist for Mo, could have scored more than one. Absolutely sensational, a joy to watch.
Salah gets his reward
Mohamed Salah (7): Not his night in terms of finishing, until he scores one of the goals of the season. Even when he's not putting the ball in the net he's always alive, sets up Naby nicely and is a constant threat.
Roberto Firmino (6): Really not at it going forward with quite a few sloppy touches, good tracking back though which hauls him up to a six.
Sadio Mane (7): Did you see the amount of players they had on him? Genuinely think that after the Argentine lad that plays for Barcelona, he's the most feared forward in the world at the moment. Good display all the same, deserved more fouls than he got.