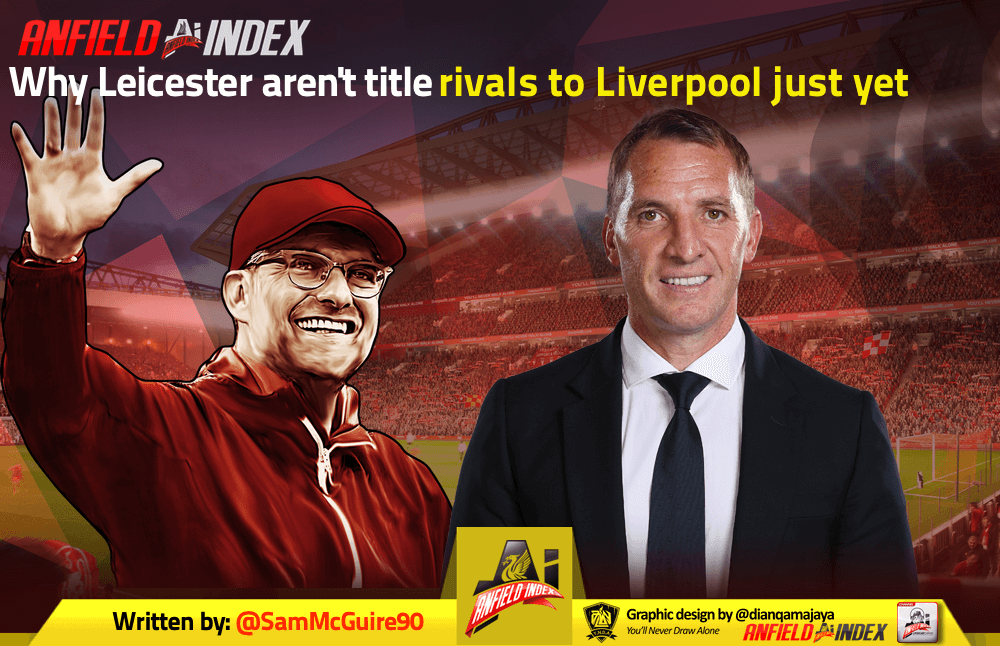 Why Leicester aren't title rivals to Liverpool just yet
Very few people envisaged Liverpool heading into the festive period with a 14 point advantage over Manchester City, yet here we are. Even fewer people would've expected Brendan Rodgers' Leicester City to be the team's nearest rivals at the summit of the Premier League table. But this is the situation we currently find ourselves in. 
The Foxes currently occupy second position and have a six point lead over the reigning champions. They find themselves eight behind Liverpool but the two meet on Boxing Day in what could be a season-defining match for the 2015/16 champions. The clash arrives just five days after Leicester travel to the Etihad. 
If Rodgers manages to navigate those two fixtures without taking a loss, they'll likely be viewed as genuine title contenders. However, until that happens, Leicester should be treated as an annoyance and nothing more. That isn't to disrespect them. What they've achieved so far is nothing short of remarkable. 

The Bournemouth pressing heatmap is why we love Eddie Howe. Right across the front 3, so much opportunity.
35 possession wins from pressing in a game where we have 74% possession. https://t.co/1tlYyQrYeB pic.twitter.com/MCmDVSw0Lp

— AIUnderPressure (@AIUnderPressure) December 10, 2019
Rodgers has Jamie Vardy firing again. He's got James Maddison pulling the strings, Youri Tielemans looks right at home beside Wilfred Ndidi while Çağlar Söyüncü and Jonny Evans look like a genuinely formidable partnership. They have the best defensive record in the Premier League having only been breached on ten occasions while they're just one shy of Liverpool's total of 40 goals this term. 
As Josh Williams mentioned on Twitter, Leicester have been utterly dominant over recent matches. In five of their last seven league outings, the Foxes have had an expected goals total of over 2.5. And in all of those games, the opposition have failed to break the 1.0 expected goals against barrier. 
Liverpool, on the other hand, haven't been quite as dominant. They've racked up wins at an alarming rate but goals are being conceded and most games have been harder than they perhaps should've been. 
But this, in a way, highlights why the Reds are the real deal and why Leicester are still viewed as something of an unknown. Jurgen Klopp's side have had to dig deep. They've shown their powers of recovery and they've been able to win matches in various different ways. 
Rodgers' side, however, haven't yet faced adversity. Not really. They've rarely been behind this season, a positive in the eyes of many, so their resilience hasn't truly been tested. Yes, they came from behind to claim a point against Chelsea and they managed to overturn a 1-0 deficit against Spurs to pick up all three points. They lost to Manchester United and Liverpool dominated them at Anfield. The Reds needed a stoppage-time winner but the result didn't tell the whole story. 
The Foxes have played four of the five available teams from the top six and they've failed to pick up maximum points in any of the matches. From the 12 points on offer, Leicester have taken two. Compare that to Liverpool who have claimed 10 from the same number of matches. 
Not performing in big games isn't a sign of a bad team but it does hint at a team not being a genuine title threat. 
https://twitter.com/AnfieldIndex/status/1204516181966757888
Another way to judge a team's merits is to look at their underlying numbers. The best teams always outperform expected goals and expected goals against, but not by much. Leicester are running hot at the minute. They're close to 12 over their expected goals total and defensively they're seven better off where they're expected to be. And we're only 16 games into the season. No other team comes close to such an overperformance and sooner or later they will revert to the norm. 
Which, as of right now, is 1.73 expected goals and 1.03 expected goals against per 90. Oliver Emmerson penned a piece looking at title-winning averages between 2010/11 and 2017/18. Teams tend to score 86 goals and concede 34. At their current rate, Leicester are expected to score 65 and concede almost 40. To hit those averages, Rodgers' team need to overperform. Massively. All while hoping Liverpool drop off. Massively. 
For a bit more context, Liverpool's averages are currently 2.06 expected goals and 0.97 against – 79 scored and 37 against over the season – and under Klopp Liverpool always improve on their expected numbers. 
You also have to remember that in two of the games, the 5-0 win over Newcastle and the 9-0 victory against Southampton, Leicester faced ten men for the majority of both matches which inflates their numbers. This can all change over the next month but as things stand, Rodgers' side are ones to watch and not ones to worry about.