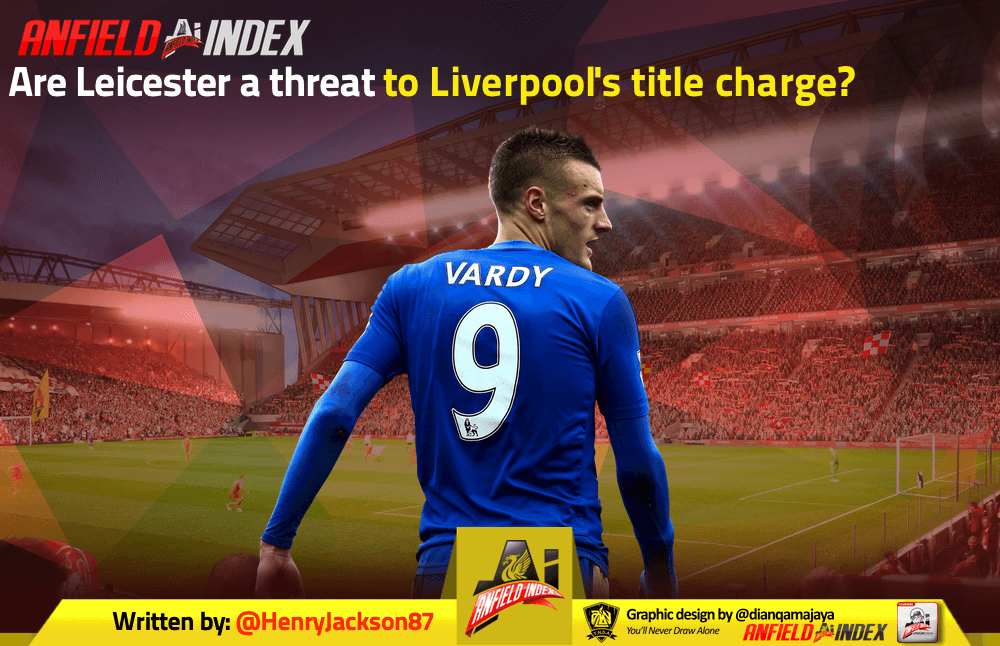 Are Leicester a threat to Liverpool's title charge?
Picture the scene: It's mid-August, the Premier League season is about to get underway and you're told that Man City beating Leicester might be a good thing four months later.
Unfathomable, right?
Yet here we are, 16 matches into the league campaign, with Brendan Rodgers doing his very best to upset his former club.

Liverpool continued their outrageous form last weekend, making it 46 points from a possible 48 this season. On top of that, they are the only points the Reds have dropped in the league since March.
Once Bournemouth had been seen off with total ease on the south coast, we were able to sit back and watch City's latest disaster, as they were outplayed and defeated at home to Man United.
A 14-point gap was opened up between Liverpool and the champions – something that would have been scarcely believable back in the summer.
You could be forgiven for expecting City to be the Reds' closest challengers, but Leicester have come from nowhere, producing a superb campaign in their own right.
The Foxes are eight points adrift of Jurgen Klop's men, winning eight matches on the bounce, including an authoritative 4-1 victory at Aston Villa last Sunday.
Given Liverpool supporters' ability to find negatives in anything, there is a growing narrative that Leicester are suddenly the team to fear, not City. Even typing that feels ludicrous.
On paper, they actually look stronger than the team that won the title back in 2015/16, who incidentally were three points worse off at this stage than they currently are.
A few past heroes remain, most notably Kasper Schmeichel and Jamie Vardy, but a host of new stars have arrived, not to mention the eternally-divisive but talented Rodgers.
Ricardo Pereira and Ben Chilwell are the second-best full-back pairing in the country; Jonny Evans and Caglar Soyuncu are excelling at centre-back; Wilfred Ndidi, Youri Tielemans and James Maddison make up an imposing midfield and Vardy is scoring goals for fun.
So are Leicester actually the real deal?
The Foxes' aforementioned title success is proof that anything is possible, at a time when they were barely tipped for a top-half finish, let alone first prize. They were 5000/1 to win the league that season, whereas they now find themselves as a 14/1 shot.
In terms of reasons to be concerned, Leicester's ability to keep players fresh could become a huge luxury as the season progresses.
They have no European football to contend with, much like Rodgers' Liverpool side back in 2013/14, which affords week-long spells on the training ground and no midweek commitments.
Not only does it avoid the risk of fatigue setting in, it also lessens the chance of injury. It is no coincidence that Rodgers was able to field exactly the same starting lineup six matches in a row, prior to making a few changes at Villa Park, out of choice.
Some people loathe the word momentum, but I am one who believes in it to an extent. Leicester have it in abundance, much like Liverpool.
With each passing game, the more their belief grows and the more they create an aura, with the Foxes suddenly looking unlikely to drop points in any game. Opponents are becoming more wary of them, which plays into their hands.
When you search for positives from a Liverpool perspective, however, there is a strong argument that say that Leicester won't be making it two title wins in five seasons.
For starters, they simply aren't as good as the Reds, who are threatening to be an all-time great English team. They are already eight points better off, too.
Leicester are given a three percent chance of winning the title as things stand, according to FiveThirtyEight, whereas Liverpool stand at a whopping 85 percent.
That says a lot how much of a threat Leicester should really be perceived and there is also a feeling that they are over-performing.
While Liverpool are outperforming their expected goals by seven, the Foxes are outdoing theirs by 11, while in terms of expected goals against, the Reds are outperforming it by 1.55, compared to their rivals' seven.
Leicester deserve great credit for the run they are on, but it also shouldn't be forgotten that they haven't exactly faced a taxing run of fixtures.
Their toughest match, certainly on paper, was at home to a beleaguered Arsenal outfit, but the rest of their opponents have either been mid-table outfits of Premier League strugglers.
When they have come up against top sides this season they haven't always convinced, losing away to both Liverpool and United.
The win over Arsenal, as well as a home victory against Tottenham, came at a time when both north London clubs were in wretched runs of form.
Leicester's results are understandably irritating, and they do look the second best team in the league right now, but the bottom line is that they are performing above their actual level, and are not close to Liverpool's.
The upcoming pair of matches against City (December 21st) and the Reds (Boxing Day) are ultimately going to show how good this Leicester outfit are, once they inevitably see off Norwich at the King Power Stadium on Saturday.
Should they win twice, Reds supporters would have genuine reason to start squirming a little, but losing both would highlight their limitations and suggest they have been over-performing.
Chances are, the best they will manage from the two games is a couple of draws.
Such is the agonising wait for Premier League glory, it is only natural that some are already growing agitated by Leicester's refusal to disappear, but they shouldn't be seen as a real threat.
Liverpool are in a league of their own this season – they just need to keep their composure.