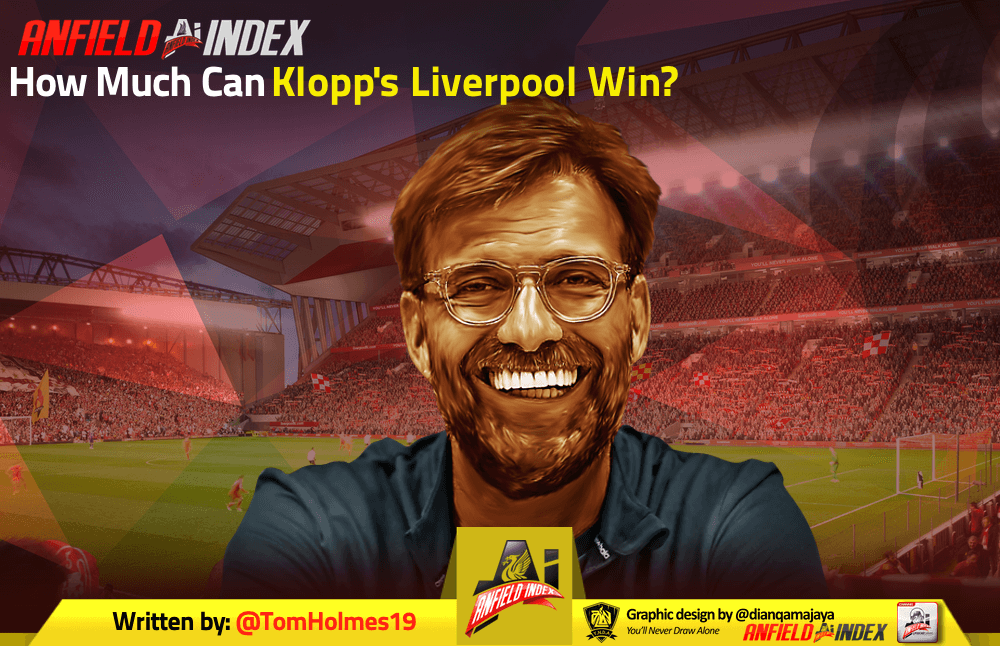 How Much Can Klopp's Liverpool Win?

For a lot of Liverpool fans, it feels like waiting for the other shoe to drop.
16 wins out of 17 in the Premier League and topping their Champions' League group, the Reds have suffered just one defeat across those two competitions, and ahead of the Club World Cup in Qatar, leave the Premier League with a 10 point lead, and their closest rivals – Manchester City and Leicester – play each other before the Reds' return.
The questions have been asked as to what point people declare the league to be done, to be dead. Liverpool have now won eight straight league games, winning four of their last five in the Champions League too.
The first team are dropping simply insane and exceptional levels of quality, and finding ways to win games.
Injuries have scarcely been a factor, with Alisson Becker missing eight league games through injury, Joël Matip starting just seven league games, and amongst others Naby Keita and Xherdan Shaqiri limited in terms of appearances.
Even the injury of Fabinho hasn't slowed Liverpool down, as the Reds have won four league games in a row and seen off Salzburg in the Champions League since he got injured.
The question is no longer about exactly how good this Liverpool team, but about exactly what they're going to deliver.
It would be foolish to assume that the Premier League title race is done and dusted, as we're less than halfway through the season.
But Liverpool don't need to get anywhere near the levels from the front half of the season to deliver the league title.
For the Reds to reach 90 points, they need another 41 points, or 13 wins, two draws and six defeats in the league's remaining fixtures. Liverpool haven't lost six games across the last two and a half seasons.
Comparatively, Leicester need to win 17 of their remaining 21 games, or pick up 16 wins, three draws and two defeats. The Foxes still need to face Man City twice and Liverpool again.
And as for City themselves, they are still 55 points short of the 90 mark, meaning 18 wins and a draw from 21 games.
That's the scale and size of Liverpool's advantage now, that less than two points a game from here on out will probably be a title winning margin.
Does that mean Liverpool can rest on their laurels?
No of course not, this is not a team that carved out a 10 point lead by relaxing at any point, this is a team that have worked incredibly hard and fought for everything over the last four months.
But it does mean that this team have a real opportunity now to prioritise the Champions League and deliver a historic double.
By the time the last-16 of the competition rolls around, Liverpool will have played at least 25 Premier League games, and by the time that the quarter-finals roll around, the team will have at least 28 games in the bag.
If Liverpool can maintain a double digit lead into that stage of the season, then their margin for error will be far greater, and the Champions League can be considered the priority.
Moreover, this is a Liverpool team that over three European campaigns have never lost a two-legged tie under Jürgen Klopp, and have never lost a European game at Anfield.
The weapons that Klopp has at his disposal, with hopefully a largely or even fully fit squad by the time that the knock-outs roll around, means that Liverpool will fear no team in Europe.
In terms of sheer quality, only Man City and Barcelona will have the firepower to oust Liverpool, and both have been dispatched over two legs in Liverpool's last two Champions League campaigns.
Whilst there are no easy games in the competition, and Liverpool will be forced to play out of their skins to beat various dangerous opponents, there's every reason to think that the Reds are favourites now for the competition.
This is a Liverpool side who are playing good football, defending solidly, riding their luck very hard and are running away at the top of the Premier League.
The only question remaining for Klopp's side to answer is delivering the silverware.
And not just delivering one trophy, but maybe even two or three.