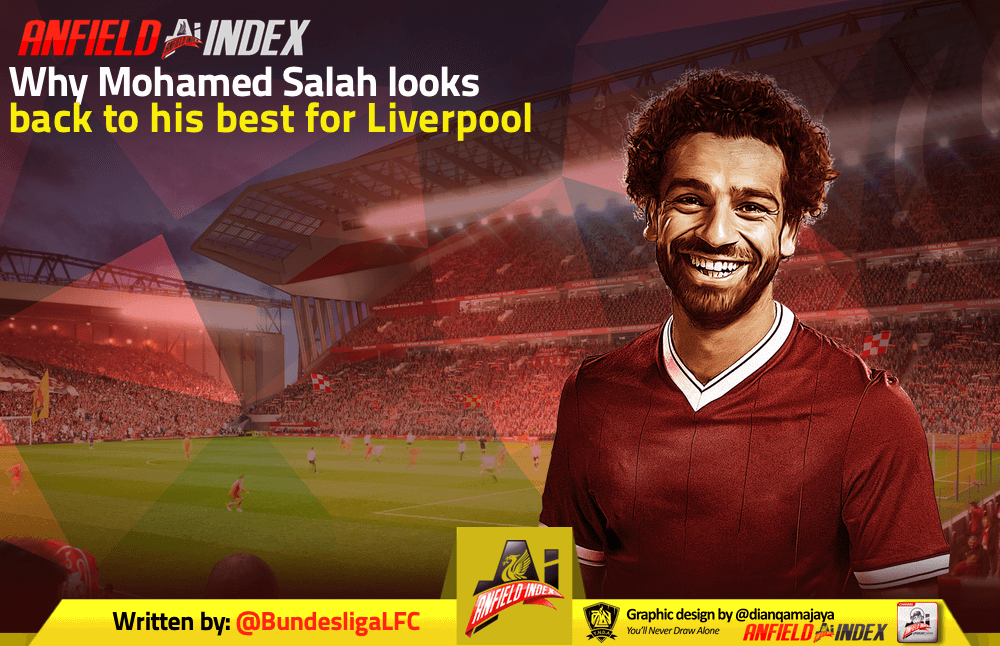 Why Mohamed Salah looks back to his best for Liverpool
Watching Mohamed Salah's performances over recent weeks as a Liverpool fan has been frustrating. Against Red Bull Salzburg, the Egyptian forward managed to miss countless chances before finally putting the ball into the back of the net from an utterly ridiculous angle on his weaker foot. 
He followed that showing up with what was at times a sloppy performance against Watford. Yet he finished the watch against the Hornets with two goals, both as equally as good as other and both via his right foot. The double on Saturday took his tally to five-goal involvements in his last three starts for the Reds. 
Not bad for a supposed wasteful player.

In truth, he's only perceived as loose on the ball because he tries so many risky passes and they're often in areas people remember. If the Reds are one pass away from a good goalscoring opportunity, the misplaced attempt lives long in the memory compared to, say, an overhit ball in the middle third to a wide player. 
On another day, he returns from the trip to Austria with at least four goals and an assist to his name. With better finishing at Anfield against Watford, he bags a hat-trick. During the 2017/18 season, both of those probably happen. 
But while people fixate on the misses, and I realise it's difficult not to, the real skill is going under the radar. Salah is a volume player. He relies on a high number of chances to be at his effective best. For some players, this would be a problem. For the Liverpool No.11, however, it isn't. You see, the former Roma forward's game is based on averages. Give him enough chances and he'll score. There is an argument that this would be the case with most players but very few actually get themselves into the positions that the 27-year-old does. 
That is the skill. That is the reason Salah has taken 21 shots across his last three outings for the Reds. He's averaging seven shots per 90 and of those, he's hitting the target with 48% of them. The ex-Chelsea man has tested the keeper on 10 occasions and four of those have resulted in goals. When you break it down like that, it doesn't seem so bad. 
Furthermore, his expected goals total over this period is 3.37. So he's actually outperforming that metric despite his streaky finishing. But this Salah and this has always been his style. One minute he's missing a chance many would deem to be a sitter, the next he's scoring a worldie. It's just how he is and why he's so valuable. With all the data in football these days, players aren't signed on the back of goals, they're signed because of the chances they have. 
Salah was identified as a player who would marry well with Firmino. 
The latter creates all kinds of space for team-mates, the Reds just needed someone who would make the most of it. Salah isn't perfect but no player is. Even Lionel Messi, the greatest player to grace the sport, relies on sheer volume. He isn't clinical. Over the past three seasons he's averaged 5.5 shots per 90 and he's returned a total of 74 non-penalty goals in La Liga. Over the same time period, Salah's scored 57 non-penalty goals in the Premier League and he's averaging four shots per 90. Over a 38-game season, the difference of 1.5 shots per 90 equates to 57 more shots. For further context, Salah's 57 goals have come from 330 shots while Messi's managed his return of 74 from 406. When you break it down like that you realise the legendary Argentine has managed just 17 more goals despite having 76 more shots in general. 
Salah's best season for the Reds saw him average 4.4 shots per 90 and after a blistering start to December his average for the 2019/20 campaign is creeping towards that figure. If he continues on in this vein of form, the 2017/18 version of the prolific forward will be making an appearance again. But one thing is for sure, however, if fans are noticing that he's sloppy then he's heavily involved and that is a huge positive for Jurgen Klopp's side.