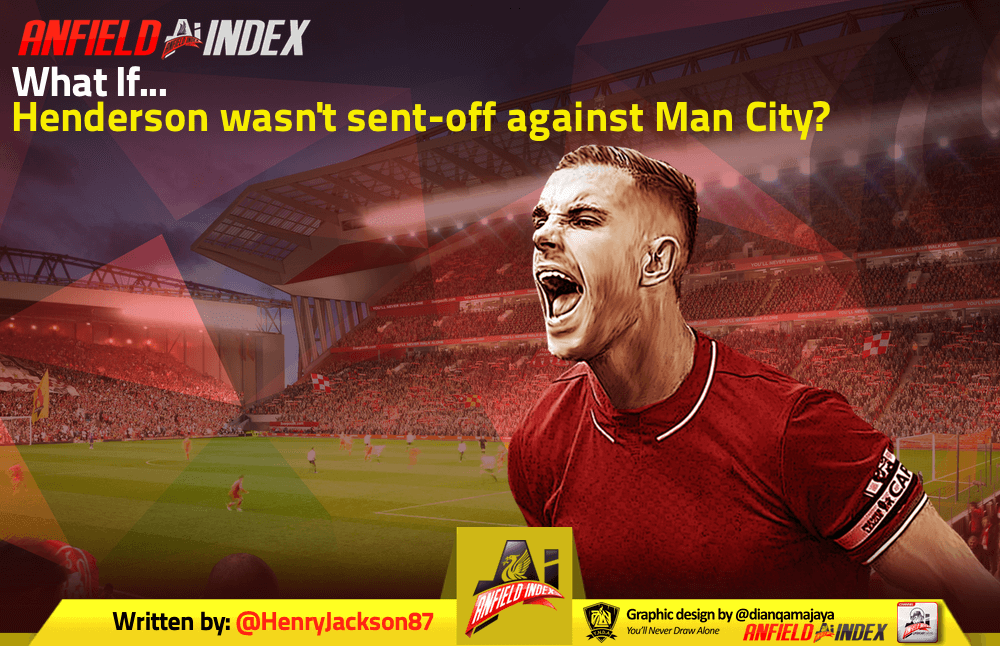 What If...Henderson wasn't sent-off against Man City?
In the latest in our 'What If?' series, Jordan Henderson's damaging red card against Manchester City is bemoaned by Henry Jackson.
Anyone who reads my work or has to suffer through my endless tweets will know that I am a big admirer of Henderson.
A player who has been almost ridiculously maligned by some down the years, he has now forged quite a career at Liverpool, captaining the Reds to Champions League glory.

Next May, he will hopefully become Liverpool's first-ever Premier League-winning skipper, which will only enhance his reputation and keep the naysayers off his back.
While a few are lazy enough to only praise Henderson for his performances in 2019, which have been largely strong, there was a spell when his influence at Anfield was even greater.
That memorable 2013/14 season under Brendan Rodgers was one of the most unforgettable campaigns in history, which Liverpool's gung-ho style making for pure entertainment and drama.
There were so many protagonists during that season, whether it be an ageing Steven Gerrard excelling as a quarterback, a young Raheem Sterling coming of age or a genius in Luis Suarez leading the line.
That's without even mentioning Philippe Coutinho and Daniel Sturridge, who showed why they were such inspired signings in January 2013.
Away from the headline-makers, though, Henderson was one of the key cogs in the machine. Without his influence, that season would never have happened.
Tasked with being a somewhat ugly ying to Gerrard's more eye-catching yang, the Englishman provided endless energy in a box-to-box midfield role, making up for the legendary captain's lack of legs.
At times, it almost felt as though Henderson was quietly holding the team together, while the rest of the midfielders and attackers focused on wreaking havoc, and the defence conceded goals at will.
That's not say he wasn't an attacking threat of his own, however, and he contributed four goals and seven assists in the league, including a crucial double at home to Swansea City, in a typically heart-stopping 4-3 win.
Henderson's stock had never been higher when Liverpool hosted Man City in a potential title decider on April 13th, 2014.
A thrilling afternoon at Anfield played out like a soap opera, from Sterling's unique opener to City's comeback, right the way through to Coutinho's winning goal.
Just as it looked as though the Brazilian's strike was the crowning moment of the game, one final twist saw Henderson sent-off after a reckless last-minute lunge on Samir Nasri.
At the time, nothing was made of it, mainly because Liverpool had prevailed in one of the biggest league games in the club's history, with title glory on the horizon.
In hindsight, though, anyone with a clear mind and without a Henderson agenda can see what a damaging moment that proved to be.
In the next game, Liverpool battled their way to an unconvincing 3-2 victory away to Norwich City, but Henderson's dynamism was missing in a midfield made up of Gerrard, Lucas Leiva and Joe Allen.
Then, disaster stuck.
The Reds were flat in the now infamous 2-0 defeat at home to Chelsea and this was where Henderson's absence was felt the most, with Gerrard ailing after his slip and others struggling to overcome a physical Blues outfit.
Would the result have been the same if Henderson had started? Quite possibly. But the previous nine months of evidence suggests otherwise.
The painful 3-3 draw at Crystal Palace effectively killed any hopes Liverpool had of winning the title – the Chelsea match will always be the real killer, though – and Henderson being out again hindered his side.
Admittedly, Rodgers' men were 3-0 up and cruising without him, but when authority was required in those heartbreaking latter stages, Henderson was nowhere to be seen.
He may only have been 23 years of age at this point, but there were already signs that he had the ability to replace Gerrard as captain, even though some seem to think you have to be a great player to be a great skipper.
He would bark instructions, berate referees and lead by example with his professionalism and there was a complete lack of that nous without him at Selhurst Park.
It is no coincidence that Henderson won all the final 11 games he started in 2013/14, whereas Liverpool dropped five points in four games without him at the end of the campaign.
My gut feeling is that the Reds would have been crowned Premier League champions had Henderson decided not to jump in on Nasri in the dying seconds as Anfield.
We will never know if that would have been the case, and there are no doubt many who will feel it made little difference, but Henderson was a huge figure that season.
That remains the case in the present day, with the 29-year-old now one of Europe's most authoritative captains, as well as a key player for the Champions League winners.
He wasn't world-class in 2013/14, nor will he ever be, but Henderson's subtle, understated influence was massive then and it is now.
Perhaps another suspension this time around, or an injury, will make more people realise that.