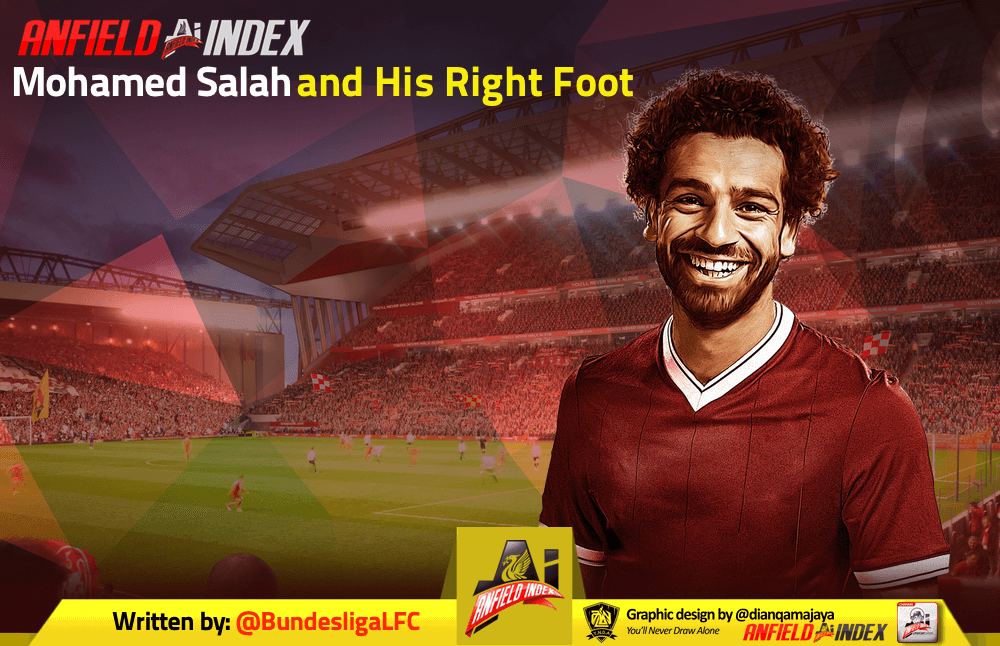 Mohamed Salah and His Right Foot
Mohamed Salah is a goalscorer supreme, he's explosively quick and he's creatively a force of nature. But he doesn't have a right foot. 
To begin with, it wasn't a problem. Teams couldn't deal with the curly-haired, fleet-footed Egyptian and he'd find a way to wriggle back onto his favoured left foot when it mattered most. His debut season with the Reds saw him break a Premier League record with 32 goals from 36 appearances. 
He followed that up with another Golden Boot, sharing the award with Sadio Mane and Pierre-Emerick Aubameyang after plundering 22 goals. However, of those 54 goals across the two domestic campaigns, only nine came via Salah's right foot. For a bit more context, the Liverpool No.11 scored 16% of his goals with his weaker foot. Over the same period of time, Sadio Mane scored 29% with his weaker foot. 

Many of Mane's goals stem from his unpredictability. Opposition players aren't sure whether to get tight to him or leave him in space. They can't show him onto his weaker foot because, well, it isn't that weak. While Salah is still one of the most feared players on the planet, teams know that he's always trying to work the ball onto the left side and it makes him easier to read. It doesn't always make him difficult to stop, with the former Roma man often breezing past players, but his style is easier to plan for. 
In theory at least. 
It can be a cause of frustration for Liverpool fans. There are countless examples of him being in space before chopping back onto his left and straight into a number of players. It doesn't go down as a missed chance but they are still good opportunities. 
The chances of him scoring obviously increase if he's taking shots with his trusty left foot. But the entire world knows that to be the case so as soon as he shapes to shift it inside he's smothered. Planting that seed of doubt will go a long way to creating space for himself. If teams fear he's going to use his right, there's a conundrum for them to solve. And give his glut of goals with his weaker foot over recent weeks, this may soon be the case. 
It's clear that he's working on his right foot usage. The goal against Red Bull Salzburg was instinctive, as was his second against Watford, but there have been instances in both games that highlight the fact he's comfortable shooting with either foot. And he's getting better opportunities because of it.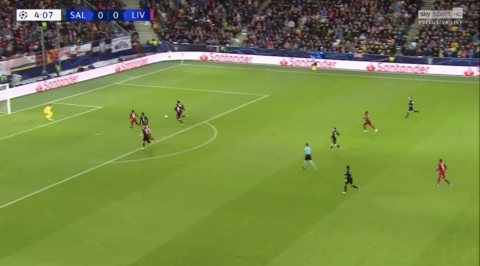 Firstly, the above chance may seem like an obvious one to take with the right but very few would've been surprised if Salah had looked to work the ball back onto his left. Instead, he takes it fairly early with his weaker foot and forces a good save out of the keeper. Some may argue it was straight at the Red Bull Salzburg shot-stopper but the Liverpool forward showed he was confident enough to take it on, and that is a huge positive.
He carried that confidence with him into the Watford game.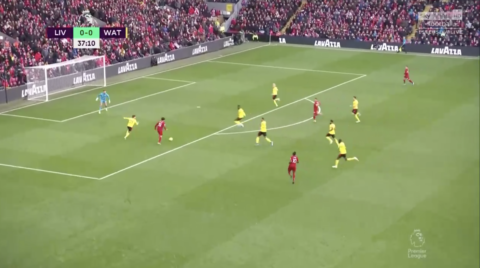 The finish is lauded, it's near perfect, but what really makes this goal is the touch he takes before finally getting his shot off. There's a moment, after cutting onto his right, that Kiko Femenia is struggling and Salah could quite easily turn back onto his left and look to drill the ball across goal. But as soon as he takes that touch to get the ball out from under his feet, it's clear the Liverpool No.11 is trusting his right foot. It's a superb finish. However, the biggest plus was the fact he didn't use his dominant foot.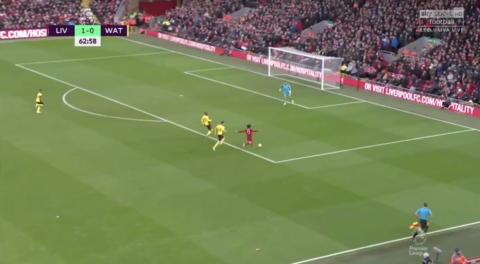 You see it above, too. Watford are expecting him to shimmy back onto his left and they have two players in close proximity to potentially steal the ball and nullify the attack. Instead, Salah takes the shot early and again he does so using his right foot. It's a poor finish this time, with the ball rolling out for a goal kick, but in having that effort, he's building up the evidence to suggest he's happy to use either foot now. Managers and coaches will be telling their players about this and this will inevitably lead to Salah getting better chances on both feet.