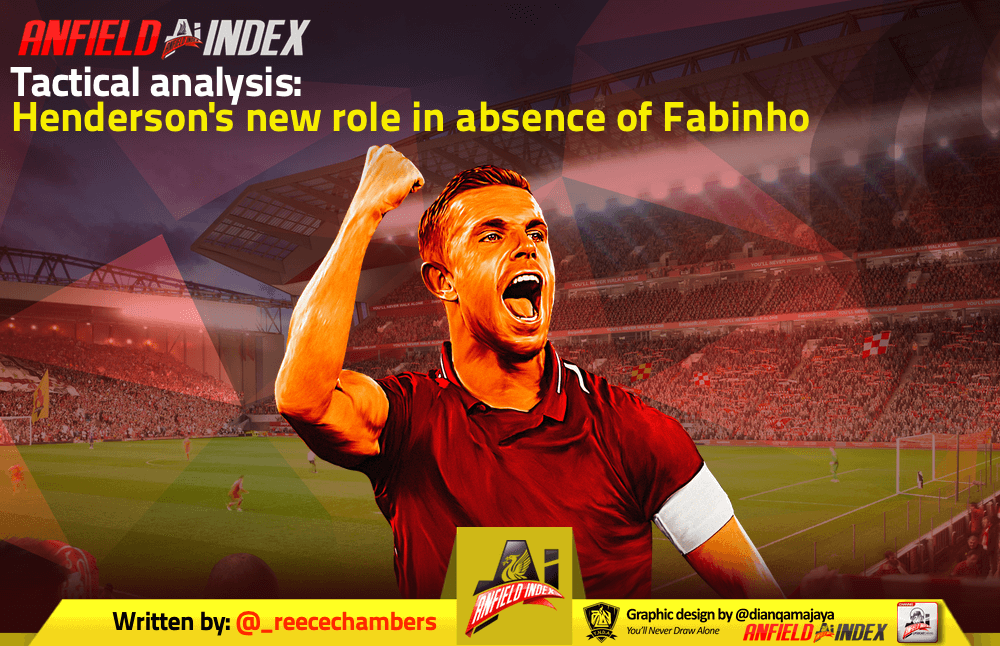 Tactical analysis: Henderson's new role in absence of Fabinho
By Reece Chambers
When Liverpool signed Fabinho from AS Monaco in July 2018 for an estimated £40million, there was a degree of uncertainty as to what he would bring to Jurgen Klopp's team. 
He had previously played at right-back and centre midfield for Monaco, and did so to great avail, as he helped his side reach the UEFA Champions League semi-final. But with a scarce international career with Brazil, many fans were left to speculate what he would provide at Anfield. 

18 months later, Fabinho has become an integral part of Liverpool's incredible team. He has made the defensive midfielder role his own and contributed hugely to the club's success. 
As a holding midfielder, he is able to dictate the tempo of passing and pressing – doing so to great effect, more often than not. On top of that, his performances have developed since arriving at Anfield and the Brazlilian continues to evolve as one of the world's best in his position. 
However, an ankle ligament injury against Napoli in the Champions League has seen him unavailable since November 27. With his absence set to stretch through until the new year, the 26-year-old could miss up to 13 games in total. 
Given such unavailability, the role of Jordan Henderson is pivotal with such a hectic schedule over the festive period. The captain is certainly no stranger to playing as the defensive midfielder in a three, but the standard that Fabinho has set means Henderson's performances are expected to be just as high. 
Having played a few games in Fabinho's preferred role, and with their several more games for Henderson to fill in, it's worth looking at what he can bring to the defensive midfield position. 
For a start, the 29-year-old boasts an impressive passing ability. Whether its short or long, he has all the attributes needed to be able to distribute the ball to great effect from a defensive midfield role. 
Since starting there in Fabinho's absence, Henderson's passing network has noticeably increased. In those six games, he has completed a total of 307 passes compared to 203 in the six games before the Brazilian's injury.
Henderson's change in role has added a different dimension to the way Liverpool distribute the ball. His long-range assist for Alex Oxlade-Chamberlain's goal versus Bournemouth highlights his ability to find a key pass at a distance. 
While Fabinho is more of an influence in terms of dictating the tempo of play, Henderson's passing range is a clear advantage of his role in defensive midfield. He has completed an average of 7.7 long passes per game this season, compared to Fabinho's 6.01. His role enables the Reds to stretch the opposition more directly than when Fabinho fulfills that position – as shown against Bournemouth. 
The England international's passing network versus the Cherries, too, shows an incredible involvement with 137 completed passes. In a routine victory against a depleted Bournemouth side, this was the perfect chance for Henderson to showcase his abilities with the ball at his feet. An assist, as well as continued involvement in starting attacks – predominantly down the right-hand side – illustrates Henderson's suitability to the role as well as adding something slightly different to Fabinho. 
But something that will need to be improved is Henderson's suitability to protecting the defence. With Fabinho's astute defensive attributes making him perfect for this role, his absence is far more noticeable. 
The Brazilian's ability to break up dangerous attacks and nullify threats before they materialise is one of his greatest assets. In his absence, Henderson has been expected to replace Fabinho in that role.
But the 29-year-old's defensive positioning in the absence of Fabinho has left the Reds open to more counter-attacks. Against both Brighton and Watford, Klopp's men have been vulnerable to counter-attacking situations. 
As shown below, Henderson's positioning leaves a significant gap between midfield and defence for Brighton's attack to utilise. The attacking passage of play materialises and the away side create a good chance that Aaron Connolly failed to convert. 
Against Watford, too, Liverpool looked vulnerable to counter-attacks on a number of occasions. In both matches, Fabinho's ability to break up play looked to be sorely missed. If Liverpool had been playing teams with more quality in attack, that absence of Fabinho could prove detrimental. 
It's a position that Henderson hasn't played regularly for a couple of years, but his defensive positioning is certainly an area to improve on. If the Reds are to continue their relentless winning streak in the absence of Fabinho, Henderson's understanding of his defensive duties will be a vital ingredient. 
However, there is no denying that Henderson brings an energy to the defensive midfield role that supplements a high-press perfectly. He was once criticised – in some quarters – for only being able to run and not do much else. And, whilst his form over the last couple of years debunks that myth, his running capabilities are still highly valuable. 
In Klopp's pressing formation, the Reds look to pressure opposition teams high up the pitch. With the defensive midfielder – currently Henderson – having to mark the opposition's playmaker, his role involves asserting that high press to force a mistake. 
With an impressive average of 9.57 Press Per Defensive Action (PPDA) so far this season, the Reds have continued their pressure from last year when games are in the balance. To put that into context, Liverpool's opponents this season average a PPDA of 17.71. 
Henderson's short stint in Fabinho's role this season has seen the England international continue that style of defence. As highlighted below against Brighton, the 29-year-old's press forces a mistake from the opposition midfield and allows Liverpool to gain possession high up the pitch.
Henderson's high intensity is one of his biggest strengths in this position and it fits perfectly in Liverpool's intense pressing system. Pressing to this extent only works when players are able to orchestrate such a style with precision and at a high intensity.
That's not to say that this system doesn't come without its risks. As previously mentioned, Henderson's defensive positioning has been slightly off of the high standards set by Fabinho so far. Therefore, a key challenge for the midfielder is being able to find the right balance between a high press and fulfilling his defensive duties in front of the back four. 
The likes of Georginio Wijnaldum and James Milner are crucial cogs in the wheel when it comes to finding this balance. Against teams have fast attacking options that can counter-attack with great effect, Klopp almost always starts either Wijnaldum or Milner. 
For Henderson, this gives him some sense of security from a defensive point of view. And, for as long as Fabinho remains absent, that defensive base in midfield will be crucial to continuing the Reds' fantastic form in all competitions. 
Whilst Fabinho is one of the world's best in his position, Henderson is a suitable replacement during the Brazilian's recovery from an ankle injury. The England international brings several attributes to the defensive midfield position and slightly changes the dynamic in the absence of Fabinho. 
If the 29-year-old can begin to showcase the same defensive qualities as Fabinho, Henderson's role as the defensive midfielder could be something we see more of as the Reds continue to rotate their squad during a hectic period of fixtures.