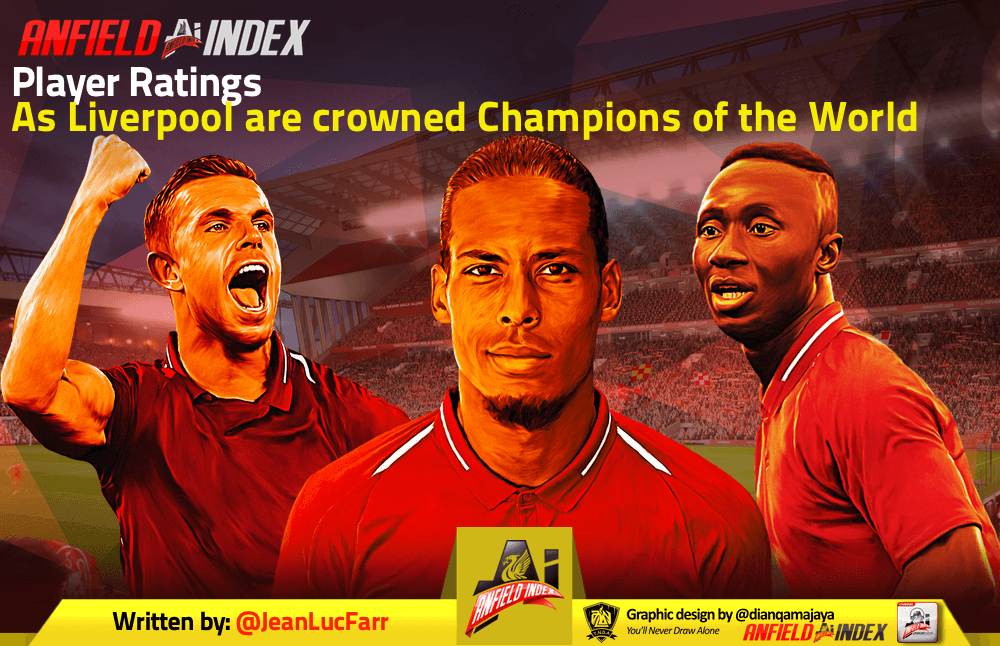 Player Ratings as Liverpool are crowned Champions of the World
Well it wasn't easy, but Liverpool are Champions of the World for the first time in their history. It was far from a stellar performance, but once again the Reds did enough to get the victory.  Now, let's see how each player performed individually.
Alisson – 6
A few poor passes and didn't look as assured on the ball as usual. However, he made a couple of important saves.

Alexander-Arnold – 6
Got caught out a couple of times defensively and wasn't at his best going forward; an average performance.
Gomez – 7
Defended well throughout. Showed incredible pace at one stage in the first half after Flamengo got in behind Trent and managed to get a crucial block in.
Van Dijk – 7
Always seemed to be in the right place at the right time. Was nearly an 8 but a couple of dodgy clearances let him down a touch.
Robertson – 6
Flamengo rarely attacked down his side and he didn't show too much going forward.
Henderson – 7
Decent game from Henderson. A bit too safe on a few occasions on the ball but solid nonetheless.
Keita (Off 99 mins) – 6
Didn't quite hit the heights of his last 3 or 4 games but wasn't bad by any means. Will be hard to drop after this past month of impressive showings.
Oxlade-Chamberlain (Off 75 mins) – 5
Not a great game for the Ox. Couldn't get anything to go right and sadly picked up what appeared to be an ankle injury before going off. Hopefully it's not too serious.
Salah – 6
Wasn't his most influential of games but still managed to cause a few problems for the Flamengo defenders.
Firmino (Off on 105 mins) – 6
If he hadn't scored the winner, he'd have been given a 4. Missed 2 absolute sitters and struggled with his linkup play for the majority of the match. He did play a lovely through ball to Mane late on in the initial 90 which should have led to either a penalty or a sending off for Rafinha. As it was, though, we required extra time and Bobby showed excellent composure to take the goalkeeper and defender out of the game before slotting it into the net.
Mane – 6
Similar story to Salah, not his best game but was still a threat. Showed great awareness for the Firmino goal, claiming an assist for that one.
Lallana (On 75 mins) – 6
Ran around a lot and combined nicely on one instance down the left hand side.
Milner (On 99 mins) – 6
Came on and did exactly what you want from him. Kicked a few Brazilian lads and held it in the corner.
Origi (On on 105 mins) – 6
Wasted time admirably.