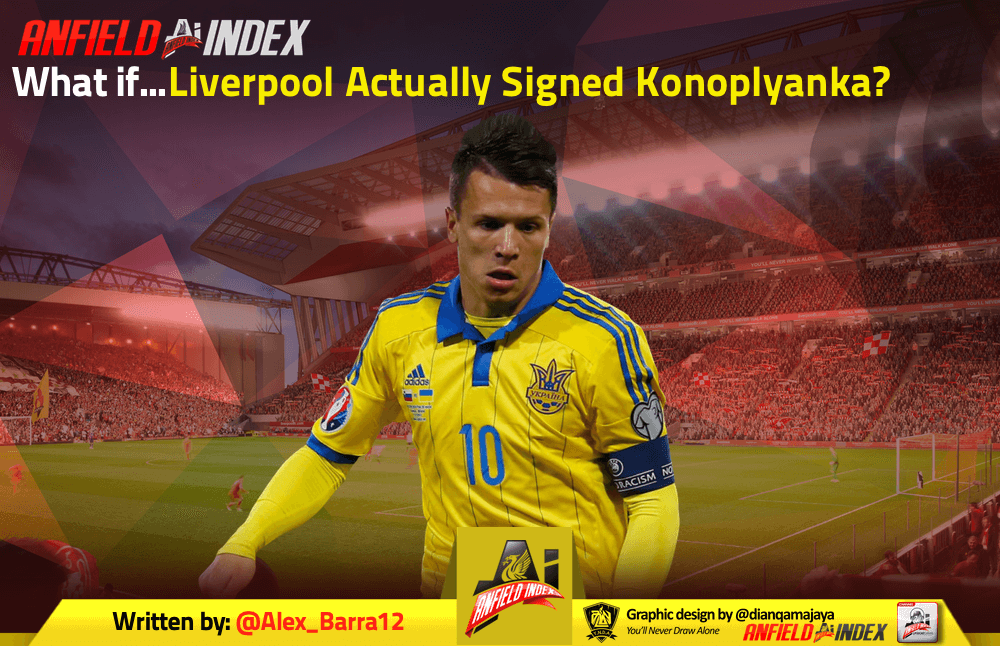 What if...Liverpool Actually Signed Konoplyanka?
Regret's a funny thing, isn't it?
When any Liverpool fan sees the words "What if?" their thoughts could very easily be drawn back to any of the misfortunes befalling the club since the famed night in Istanbul, over fourteen years ago.
That, to any reasonable Red, was the night their team sold their soul to the devil. The last fourteen years has been the payment, staggered in instalments. Of course, they endured Hicks and Gillett; that was perilous and depressing enough, as all hope was drained from the fanbase's spirit, but before that there was hope: quashed by Alex Ferguson's relentlessness and a chaotic 4-4 draw with Arsenal. That glimmer of hope; a chance at glory snuffed out by a cold, villainous hand would keep popping up: in Liverpool's first European final since Istanbul, which they lost 3-1 to a Spanish team, and then in Liverpool's next European final; a 3-1 loss to a Spanish team containing Sergio Ramos.

Liverpool, as an institution, know exactly what it means to endure those "What if?" moments. But none stung as much as the 2013/14 season.
One moment in particular could be very easily plucked out and held up as the devil's cruellest trick. There was clearly no logical reason why Steven Gerrard, the man who guided Liverpool to some of their greatest triumphs, and the man who dragged his side through the mire on so many occasions, could possibly slip when he did.
But that was entirely down to chance, not something that could've been predicted, or changed. What this new series from Anfield Index is looking to do is figure out where things could've possibly been different, where people could've made different decisions or the winds could have blown in a different direction. The devil dragging Steven Gerrard towards the depths, allowing Demba Ba to stroll in and ruin Liverpool's hopes of that elusive Premier League title, after Gerrard had specifically said the words "this does not slip" was an act of divinity and therefore not what we're looking for.
However, there was a decision, months earlier, that could well have ensured Liverpool's first Premier League title.
If there's anything Liverpool should regret about 2013/14, it's that they didn't reinforce in January. What if Liverpool actually did sign Yevhen Konoplyanka from Dnipro?
It was the anti-climax of the season (or seemed it at the time) when, after tense negotiations, Dnipro Dnipropetrovsk president Ihor Kolomoyskyi refused to sanction the departure of his star winger. For Ian Ayre, Liverpool's then managing director and de-facto Director of Football, it meant Liverpool would miss out on the reinforcements they desperately needed.
Some say Ayre is still in Ukraine to this day.
It was a failure; given Brendan Rodgers admitted to needing another winger, having missed out on Willian to Spurs and then Chelsea (that was bizarre), Henrikh Mkhitaryan to Dortmund (where he would play under a familiar face) and Diego Costa (that would've been fun) all in the summer.
Then, in January, Rodgers' primary target was a left-footed winger from Basel by the name of Mohamed Salah.
On a tangential note, what if Liverpool had gotten their primary target and signed Salah? Would he have become the footballer that arrived at Jürgen Klopp's Liverpool side, primed and ready to break countless goalscoring records at the club? Probably not, for anyone who remembers Salah back then. He was uber-direct, had little goalscoring refinement and hadn't properly associated himself with the wide-striker role yet.
Also, a key part of Mo Salah's incredible rise to prominence has been the system he's playing in; Roberto Firmino is the ideal striker for Salah to prosper, and Sadio Mane allows for the fluid interchanging front three. It's not like he wouldn't have gotten anything out of the inimitable Luis Suarez, but he certainly wouldn't have been playing in the same position as now.
So, thanks Jose.
Missing out on Salah meant that Liverpool's attentions were turned elsewhere; to Ukraine in fact, where Yevhen Konoplyanka was thriving as a big fish in a small pond. He'd impressed on the European stage (in the Europa League, where he'd drag Dnipro to the final) with 4 goals and 2 assists in 7 appearances and was clearly ready for a bigger move.
Liverpool, meanwhile, were shifting between a 4-3-3 with one of Sturridge or Suarez out wide and the 4-4-2 diamond that became Brendan Rodgers' wildcard, allowing him to fit Suarez and Sturridge up front together while playing Coutinho deeper in midfield AND playing a #10 on top of that. While Raheem Sterling had gotten minutes, he would make the bulk of his 24 starts to the season after the January window, perhaps as a result of Liverpool's failure to make a signing.
However, it's likelier that Sterling would still have been able to start games, producing the superb performances he did without being put under quite so much pressure. The fourth winger (Victor Moses doesn't count) would have added the necessary firepower to deliver in games where Liverpool were flat.
Konoplyanka would've been that firepower.
He was fast, strong and very used to cutting in off the left-hand side. Despite a lack of end product at times (something that would become an issue in Spain) it's safe to say he would've been elevated by the sheer brute force of the SASAS.
And, not simply for the sake of adding another problem for already terrified defenders to contend with, it would've allowed Rodgers to change things up when they weren't going his way.
It was a manic, cavalier kind of chaos that saw Liverpool go eighteen unbeaten in the second half of 2013/14. Would Konoplyanka have added anything to that run? Well, Liverpool did win 16 of those 18, and the last time Liverpool dropped points on their run to their first Premier League title was two days after the end of the January window, when they drew 1-1 with West Brom in what is colloquially known as "the Kolo game."
But, the lack of reinforcement in January spoke to a larger problem that would only rear its head when Chelsea came to Anfield, and Liverpool only needed a point to retain their advantage in the title race.
Chelsea came and parked the bus. When Liverpool needed answers, when Suarez and Sturridge weren't firing and when those longshots kept being fired from pointless distances, there was nobody to call on. When Liverpool most needed their reinforcements to come, they were left alone on the battlefield, with a wounded Captain and broken spirit.
In that one moment, Rodgers had failed. He'd failed to understand the requirements of this particular battle, and he'd failed to strengthen where Liverpool most needed (though perhaps Dnirpo's eccentric President should shoulder that blame). There is no assertion that Yevhen Konoplyanka would have changed the game, maybe it would've ended the same.
But Liverpool fans were left wondering, what if? What if they weren't subjected to Iago Aspas and the worst corner kick in their club's history? What if they managed to prod Chelsea just enough to get an equaliser? What if they had a stronger position going into the calamitous Crystal Palace game?
That's the thing about regrets, they're sort of pointless. Because nobody will ever know.
And if you dig deeper, you'll inevitably find that whatever happened afterwards led you to where you are now.
Yes, Brendan Rodgers may have guided Liverpool to their first Premier League title, but would he have then been granted the keys to the kingdom, allowed free reign of the transfer market? In that case, Liverpool would have surely regressed: he wanted to sign Ashley Williams, remember, and did manage to sign Christian Benteke, Dejan Lovren and Adam Lallana.
There's a solid chance Liverpool wouldn't have ended up with Roberto Firmino, who was famously the choice of the much-maligned "transfer committee." It's fair to say that Michael Edwards, with his laptop and air-conditioned office, has done more to contribute to Liverpool's success than Rodgers ever did.
Would Konoplyanka even have been a successful transfer?
Well, probably not.
England would have suited him better, obviously, but his career path has hardly been glorious since then. Sevilla was an example of how La Liga's sluggish pace doesn't suit electric wingers, and by the time he had arrived in a league that suited him, it was at Schalke, who were about to go through a turbulent time, narrowly avoiding relegation twice.
It's hard to say, really, but Konoplyanka could well have blocked the path of Sadio Mané's signing, too, given Coutinho was Liverpool's only real option on the left-hand side when Mané signed, and that was because Sterling left. There's a good chance Konoplyanka would've simply been a rotation option, not helped by the lacklustre transfer dealings of that time.
And, if Rodgers had delivered the Premier League title, would Liverpool have ever gotten Klopp? For a club that is so fully entwined with the cult of the manager – needing an iconographical figure at the helm (the concept of Shankly) – Klopp was the perfect pairing. Perhaps he would've found his way to Merseyside eventually, or perhaps Rodgers would've banked enough merit to stay another season.
As Liverpool surge towards a second half of the season that could well deliver them to the Premier League promised land, is there not a part of every Liverpool supporter that savours how sweet it will be when the club finally lands that elusive league title?
After all, every win is sweetened by time's contribution: making the Premier League the sweetest thing of all. For all the desolation of 2013/14, it would only make winning the Premier League all the more wonderful.
And Liverpool have learnt from their mistakes. In Takumi Minamino, they have done what they did not in 2014. They got their January reinforcement.
The spirit of Ian Ayre is probably quite happy, wherever he is.