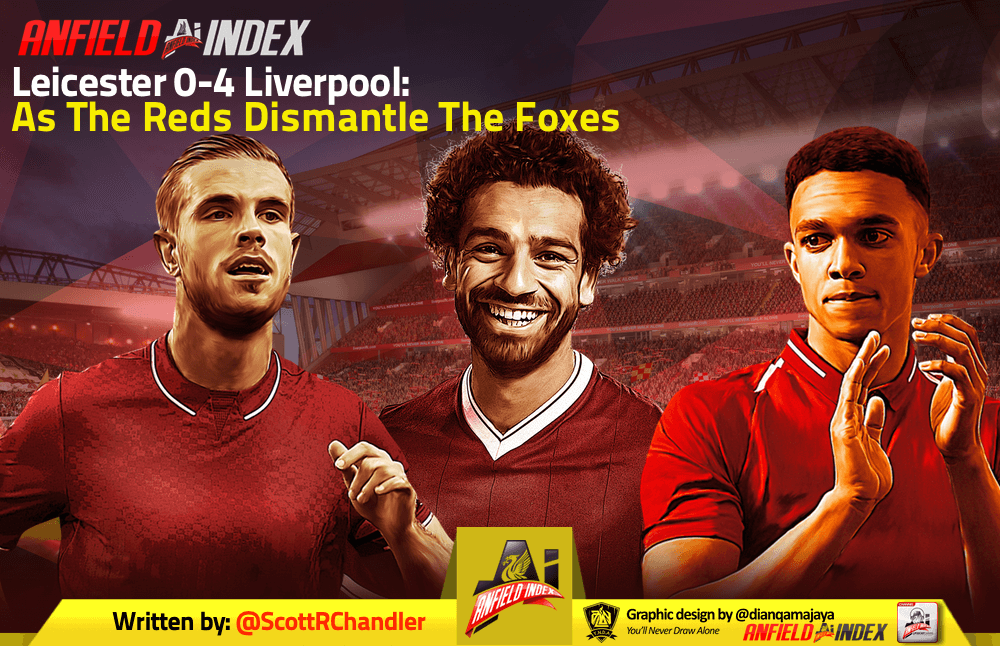 Leicester 0-4 Liverpool: As The Reds Dismantle The Foxes
Before the match, both Jurgen Klopp and Brendan Rodgers refused to talk about what this match meant as to the title race. Maybe they both knew what was coming because no one watching this game would have pegged it as a title decider. The gulf in class between Liverpool and Leicester was immense, and the scoreline reflected it. There can be no doubt now that the Reds are the best side in the world and that the Premier League title is theirs to lose.
Starting XI:
Alisson – 6

Had virtually nothing to do. His few touches involved some wayward distribution but also one valuable intervention before Liverpool opened the scoring. This was basically a day of rest for him near the end of a stellar calendar year.
Robbo – 8
Was strong and tenacious in the tackle and in defense. Found more space going forward in the 2nd half and constantly harassed Leicester up and down the Liverpool left flank.
Van Dijk – 9
A 9/10 is quickly becoming his standard level. Every time Leicester threatened, it seemed like VVD was there to stop them in their tracks. Not content with merely dominating his own half, Big Virg also sent forward several incisive passes to put the Foxes on their heels.
Jomez – 8
Was not very noticeable early in the match but in the best possible way. His positioning and defensive work eliminated threats before they could happen. Leicester unsurprisingly tried to go at him a bit rather than face VVD, and he silenced Vardy in classy fashion. Joe's immense potential if given a consistent run in the side is plainly evident.
TAA – 10
Hard to imagine a better performance from a right back. He carved Leicester open like a surgeon after getting far too much space off a corner. His ball in to the far post was so good that he set up two potential goalscorers. He was a rampaging force in the 2nd half constantly driving forward to win the ball and then put in a good cross or pass. His two assists were enough to make him MOTM, but his missile of a goal into the bottom far post sealed it. We're watching the emergence of a global superstar.
Naby – 9
Continued his consistently excellent form and was the best midfielder on the pitch. His injury issues have been beaten to death, but his incisive dribbling and passing give Liverpool something they can't get from any other midfielder. His burgeoning connection with Salah continued, and while it didn't lead to a goal today, many more are coming.
Henderson – 8
One of Hendo's better displays in the 6. He wasn't great in the final third, but he bossed the middle of the pitch. His defensive work and solidity on the ball kept the Foxes from forging attacks and put Liverpool back on the front foot.
Gini – 7
More of a Ghost performance, but his touches were much of what you'd expect from Gini. He broke up play, held onto the ball, and then got it forward to the more dangerous players.
Mane – 7
Like his counterpart on the opposite wing, he was dangerous but left his finishing boots at home. Could have scored two goals but managed to not find the back of the net. Brought some humor to the proceedings when the home faithful booed him in the first half to show their displeasure at Mane having the temerity to go down in the box after being fouled at the end of the reverse fixture at Anfield.
Bobby – 9
The song ain't wrong: Pass the ball to Bobby and he will score. TAA brilliantly teed Firmino up twice and this match, and the Brazilian didn't disappoint. He linked up play well in the first match but went a bit missing in the 2nd half until he scored a brace. Every time he touched the ball he exuded class.
Salah – 8
On another day, Salah could have had 2-3 goals. Had a great cross early to Mane that wasn't finished and then Mo outdid Sadio by missing a couple golden chances of his own. However, he was a constant threat to Leicester, who were terrified of his movement and pace. His running in on Chilwell opened up acres of space for Trent to dominate the match.
Subs:
Milner (On 70) – 7
With his first touch of the game, Milly embarrassed Kasper Schmeichel from the spot and doubled Liverpool's advantage. He didn't have much to do the rest of the match, but his icy cold calmness from the spot is yet another weapon for this top of the table side.
Origi (On 70) – 5
Had virtually nothing to do as the players around him sealed the victory. Best thing he did was give Mo some rest ahead of a potentially tricky match vs. Wolves.
Lallana (On 82) – N/A
Human Victory Cigar. Brought on only to protect a more valuable player.