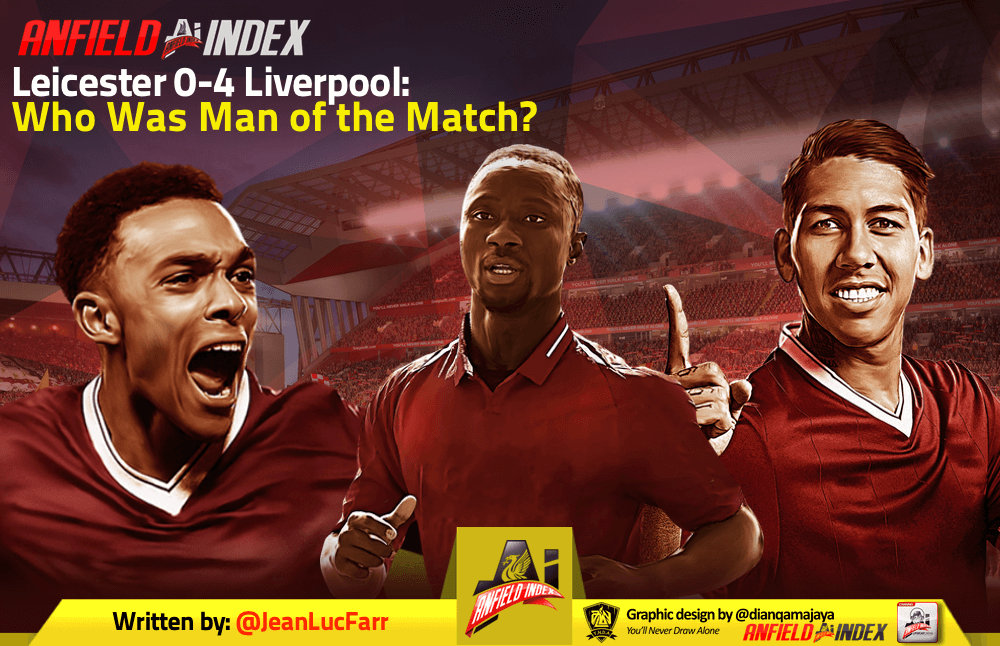 Leicester City 0-4 Liverpool: Who Was Man of the Match?
What a performance. We go away to the team sitting in second place in the league and make them look like a bunch of part-timers. A truly scintillating display from start to finish and, in truth, 4-0 flattered Leicester. This was always going to be one of the harder games on the schedule, but the Reds dealt with it superbly.
In goal, Alisson had absolutely nothing to do. Not one shot on target for the Foxes, nor any dangerous deliveries into the box. An enjoyably quiet afternoon for our gloved Brazilian.
There's only one place to start on defence and that's at right-back. Trent Alexander-Arnold put in one of the best fullback displays you are ever likely to see. 2 assists, 1 goal and he also managed to win a penalty. It wasn't just his incredible attacking display that was impressive, though. Going the other way, he let nothing past him and looked so assured throughout. Robertson also posed a serious threat going forward as well as letting very little past him defensively. Van Dijk and Gomez kept Jamie Vardy quite for the full 90 minutes, too. A brilliant evening for the back four.

In midfield, all 3 men who started the game can be very pleased with how they played. Henderson , Keita and Wijnaldum were selected to begin the match and they were all excellent. Each of them were very good defensively while also being influential when building attacks. Jordan Henderson put in one of his best performances of the season, while Gini Wijnaldum decided against becoming invisible and performed very well. Naby Keita went on a few brilliant runs and was a thorn in Leicester's side up until he was replaced by James Milner. Amazingly, Milner's first touch after coming on was to dink the ball into the back of the net from the penalty spot.
The first choice front 3 started up top and, after scoring in both Club World Cup games, Bobby Firmino helped himself to two more goals at the King Power. He was very wasteful in Qatar but he was anything but in this one. Mane, on the other hand, elected to be the guy to spurn a couple of sitters. Two glaring opportunities in the first half passed him by. Thankfully, it didn't cost us any points. Mo Salah wasn't at his best and he came off midway through the second half for Origi. To take the Egyptian off so early perhaps suggests he was feeling fatigued, which would explain his performance.
Man of the Match is an easy one today. It can be none other than Trent Alexander-Arnold. Without question the best right-back in the league and possibly the world at the moment. A generational talent running top level Premier League games from fullback – at 21 years old.